Well hello again little duckies. Day 5 of my 100 Day Project and I'm learning quite a bit so far.
One of the things I'm learning is that I actually can make it a priority to write every day, no matter what. It's really interesting the way our minds can convince us of why we can't reach our goals.
But all it takes is making a decision one time, which takes the "am I going to do it or not" decision anxiety out of the picture completely. Once you commit to something, and really commit to it fully, it just becomes another thing you do in your day like making a meal or brushing your teeth. You just make the time to do it. Although I will say that writing does take me a little bit longer than cooking or brushing my teeth. :) Even for a short blog post, it usually takes me at least a few hours to write and get it published. 
Moving on to today's topic, it's an exciting and important one.
Stress, Anxiety & Sleep
One of the things that's been happening for the last few days is I haven't gotten much sleep.
Sleep is one of my favorite things. I LOVE getting a good night's sleep!! Sleep is the most magical tool for total body and mind rejuvenation. Everything in life feels better when I'm on the good sleep train. I went a bit more in depth here about : 8 Ways To Supercharge Your Sleep. 
Not getting sleep is one of the most frustrating things ever, because it really impacts your mood, clarity, immune system, memory, decision-making, and and it can cause extra anxiety and stress – everything just feels more difficult when you're exhausted. And if you go a couple of nights with no sleep, the anxiety and stress of simply wanting to fall asleep or being nervous that you won't be able to fall asleep…that creates a heightened stress response in the body. And it ain't a fun time at all. 
I don't often go through periods of sleeplessness, but if I do, it usually happens when I need to get up super early for something the next day, and I'm up late, and I already know I won't get as much sleep as I'd like to. In those cases, if I try to "force myself to go to sleep" which never turns out well – the anxiety over trying to sleep and constantly checking the clock to figure out how many hours of sleep I could potentially get – that's not a recipe for a calming night at all. It's inefficient and uncool.
My friend Jamie just posted a blog on How To Overcome Anxiety and the breathwork section helped me so much the other night with falling asleep. Thank you Jamie!
Stress Hormones, The Nervous System & Insomnia
When something is going on in my body and brain, I always need to understand exactly what's happening so I can experiment with solutions and achieve a new level of self-mastery.
You can find me jamming out to the Nervous System Song set to Jason Derulo's "It Girl"…embarrassingly often. I think it might even be better than the real song. I'm working on memorizing the whole thing. "Bring it to the glands, bring it to the muscles! oh-oh-oh-oh, nervous system!!!" So good. 
So… I've spent the past couple of days doing some deep research into anxiety and sleeplessness. This study is truly an awesome read. 
One thing that happens when we experience anxiety or stress at night, especially when we're already exhausted: the defense system of the central nervous system is on high alert, and stress hormones (adrenaline, cortisol, norepinephrine) are pumping through our bodies, as if we'll need to defend ourselves from danger. Increased activity of the nervous system and the rise of these stress hormones causes alertness (aka the opposite of relaxing into sleep).
Read more: Adrenaline, Cortisol and Norepinephrine: The Three Stress Hormones Explained
As you can imagine, while that might be helpful if we need to run away from a baboon, this isn't conducive to falling asleep – at all. But the adrenaline/nervous system activation can be really hard to break out of when we're stressed out about wanting to fall asleep. 
According to studies:
Insomnia causes physiological responses like those in stress situations. In a state of insomnia, cortisol, heart rate, central temperature, and oxygen consumption are increased. Stress causes pyschophysiological responses that are incompatible with normal sleep, and insomnia causes a cycle of stress-insomnia (which means insomnia creates more stress and stress creates more insomnia).
Yep, I know what you're thinking. We gotta learn to chill ourselves out!!!
How Anti-Anxiety Drugs (Like Xanax) Work
Please remember I'm not a doctor and I'm not recommending anyone get on or go off of any meds, nor am I here to judge anyone who chooses to get on medication for any reason, or saying that I never would. Everyone can make their own decisions based on their unique circumstances.
I am simply here to share information I've found interesting or insightful, so you can continue to do your own research alongside your health care practitioner. To be clear, I do not ever recommend relying on someone's blog post to make major medical decisions. I think we're on the same page here, but if we're not, please read the Healthy Crush full medical disclaimer.
Now, many people who suffer from stress, anxiety, and insomnia take anti-anxiety medications, one of the most commonly prescribed in America being Xanax.
I was just reading this article — Why Xanax Is Is The Most Popular Anti-Anxiety Drug In America
It says, "Not quite a disease, or even a pathology, low-grade anxiety is more like a habit. Its sufferers gather in places like New York, where relentlessness and impatience are the highest values."  Sigh…
Xanax is the brand name for alprazolam, is used to treat anxiety and panic disorders, as well as general anxiety and social anxiety. It belongs to a class of medications called benzodiazepines ("benzos"), which work to calm the nervous system. 
This works by enhancing GABA, a neurotransmitter that acts as a natural tranquilizer to down-regulate excitatory inputs – this keeps us calm and relaxed. This is why many people rely on drugs like Xanax to help them sleep.
One of the biggest issues people experience when it comes to Xanax is becoming addicted and dependent on the drug (often without even realizing it's happening) and the withdrawal symptoms can be major – panic attacks, heightened anxiety, even more sleep disturbances than before, and more.
I'm not going to go into a huge explanation of anti-anxiety drugs here or else I'd be researching and writing for weeks and I would probably end up applying to medical school. But I will link to a couple of the most common side effects of Xanax that many report, which is generally why people begin to look for more natural remedies. 
Again, do your own research — but there's another long list of reported Xanax side effects.
Don't ever attempt to quit your meds without a doctor's assistance. Healthy Crush Full Medical Disclaimer
Now that we've got that covered, let's talk about my newest finding, Lemon Balm, which also has an enhancing effect on…you guessed it…GABA!!
What is Lemon Balm? 
Lemon Balm is an herb in the mint family. It's also known as Melissa officinalis. The leaves have a mild lemon-mint scent.
What does Lemon Balm Look Like?
It looks like this. Those are the fresh leaves, and on the right, the dried leaves, that can be used in tea. You can also purchase lemon balm tea here.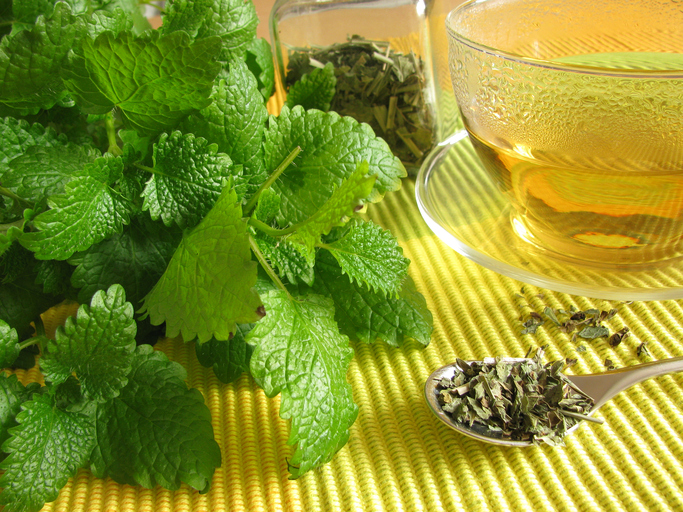 Lemon Balm For Anxiety And Insomnia
The other day I was hanging out with my mom and telling her that I was having trouble sleeping. She started doing some Googling and found an article where someone was experiencing the same thing as I was (trouble sleeping and then stressing about not sleeping, which just continued the cycle of not sleeping well). Someone said lemon balm capsules have helped them tremendously with sleeplessness and anxiety, and helped them fall asleep peacefully. 
I had never heard of lemon balm, but I was really intrigued. I started researching.
Studies have shown that treatment with Lemon Balm extract demonstrated a significant improvement in anxiety, anxiety-associated symptoms and insomnia, with no adverse side effects.
I looked it up on Amazon. In particular, I was reading about the Lemon Balm extract, but I also read every single review for the capsules. Reading Amazon reviews is one of my favorite things to do when I'm learning about something. It's like thousands of people experimented and are sharing their findings with me. And I don't only read the positive ones. If a supplement has 467 reviews, and I'm considering buying it, believe me, I will read every single review in explicit detail, and then I'll pick another brand and read every review on that one too. I find this is really helpful in determining what exactly a supplement is helping people with most, and what the common complaints are, if any. I do the same with hotels when traveling. I might be nuts, but I think it's the most helpful thing ever. :)
As you can see in these reviews, hundreds of people reported Lemon Balm extract helped them with sleep and anxiety.
One review of Lemon Balm Tea:
"I was reading about lemon balm and all of its health benefits, and I cannot be happier with this tea. For the first time in my life, my anxiety is GONE. I mean, really gone. I always had a horrible feeling of anxiety in my chest my whole life, and now that I drink this tea, it's simply not there anymore. It helps me sleep, I'm calm and relaxed every day, and my depression is gone now too. When I bought this tea, I did not buy it for the mood benefits but wow, that alone makes this tea worth its weight in gold."

As I did further research on Lemon Balm, I found this pretty in-depth explanation from herbalist Richard Whelan.
I loved these little notes of how lemon balm was thought of traditionally…
400 years ago, the English herbal physician John Evelyn wrote "Lemon Balm is sovereign for the brain. It strengthens the memory and powerfully chases away melancholy."
"For the right person, Lemon Balm can have a marvelously healing effect. It calms and soothes in such a gentle but sure way; watching it melt away a person's tension is like seeing someone who has become chilled put a warm cloak around them."
The 10th century Arab physician Avicenna wrote 'Balm causeth the heart and mind to become merry' and in Europe for many centuries it was a common adage that Lemon Balm will 'comfort the heart and drive away melancholy'.
Lemon balm has been used medicinally for centuries to address sleep disturbances, including restlessness and insomnia; reduce anxiety and promote a sense of calm; and alleviate digestive upset. (from Dr. Weil). 
Lemon Balm: Capsules, Extract, or Tea?
I went to the local health food store and looked for any kind of lemon balm. It turned out they had lemon balm capsules (with the dried herb in them), lemon balm extract (liquid), and lemon balm tea (dried lemon balm herb, in teabags).
I bought all 3 (the exact brands I bought are in the links above).
I don't think it makes a huge difference which one you take, it just depends on your preference. 
I talked to the girl who worked at the health food store and told her I was having trouble sleeping. She said she takes lemon balm twice a day for her anxiety, and it works like a charm. She said the liquid extract has a stronger and quicker effect than the capsules (as I'd say is usually the case with herbal extracts vs. capsules), but all of them can be a great choice depending on what you like.
I've tried the capsule, tea, and extract at separate times over the past couple of days and I haven't found much of a difference in the effects of each kind, they all sort of just subtly relax me. I find the tea the most enjoyable to drink at night to calm down.
I've been taking a capsule of lemon balm (400mg) about 30 minutes before I plan to go to sleep, and making a cup of lemon balm tea as well, and I find it calms down my mind before bed, makes me more mellow, but not groggy – just subtly, pleasantly relaxed. I still have the same thoughts I'd normally have, but they don't stress me out.
For the past 2 nights, it's helped me to calm myself into sleep. I can definitely feel the difference. 
Dosage: take as directed on the bottle, with the guidance of your health care practitioner, a naturopath or herbalist.
For reference, the capsules I have are 400mg of lemon balm in one capsule, and the directions call for 1 capsule per day. It will likely take a bit of experimenting.
I'm going to keep taking lemon balm before bed and see how it goes –  I like it a lot so far. 
Remember…I'm not a doctor, just an illuminator of information. In case you missed it… ;) Healthy Crush Medical Disclaimer
Have you ever tried lemon balm for sleep or anxiety? What was your experience?