Hey guys! I'm on the Amtrak train from Boston to NYC right now. It's December 30th (when I started writing this post), which means obviously I'm reflecting back on the past year. At this time last year, I decided my focus for 2014 was going to be getting out of my comfort zone. It was a lot of fun and I had some incredible experiences (I linked to a few of them in this post), and I can honestly say I'm proud of myself for it.
A few of my blog posts from 2014 about getting out of my comfort zone also happen to be the most popular ones from this year. And they are DEFINITELY the ones that people bring up to me the most when they see me in person. Interesante – no?
A couple of highlights-
Staying Sober At Burning Man
My Experience At The Landmark Forum
Why I Went To Co-Ed Naked Yoga
Getting out of my comfort zone is still going to be a focus moving forward, probably forever, but I have a new focus for 2015 — one that I really want you to join me on. It definitely goes hand in hand with the whole comfort zone thing, it's just a different way of thinking about how you live your life.

LIVING A BETTER STORY.
What do I mean by this? I just finished the book "A Million Miles In A Thousand Years" by Donald Miller. If you aren't familiar, I suggest you pick it up immediately. It's the first book I've actually read cover to cover in a long time. I was inspired to read it after Joel told me this book was instrumental in him starting his blog. His blog is so cool it makes me wanna punch things (in a good way), so I knew this was gonna be a special book.
I felt so inspired reading this book, I knew I had to make it my focus for the entire year (and hopefully beyond). And THAT is big time, peeps.
The concept of "living a better story" in this book came from Donald Miller's life. Without giving away the entire book, basically some movie producers wanted to create a movie about his life, but when they actually went to create the movie, they had to change a ton of things to make it a better story — a story people would actually want to watch.
He realized through this experience that he wanted to make his ACTUAL LIFE a better story, one that he would want to watch. I've loved this concept for a long time, making your life a movie you'd want to watch. I remember thinking about that when I was younger. I'd pretend I was in a movie and think about what a movie character might do to make it more interesting.
Donald Miller spent a long time researching what makes a great story, what remarkable stories all have in common. He took courses in story writing.
So what's the difference between just living, and living a GREAT STORY?
I'll tell ya, and you're gonna want to blast off into 2015 living more memorable moments, creating more exciting stories, and doing stuff that freaking blows your own mind.
First — think about your favorite stories. Your favorite movies. Why are they so good?
A GREAT STORY INVOLVES: A character who wants something and overcomes conflict to get it.
A character. (You)
Who wants something (What do you want? No – seriously. WHAT DO YOU WANT?)
And overcomes conflict (Obstacles aren't a bad thing – they make a better story!!!)
To get it. (Whether you get "it" or not, it's gonna make a damn good story if you try).
Now. The thing about living a good story is you need a reason, you need a desire. In storyteller talk, it's called the inciting incident — something happens in your life that forces you to change, or forces you into action. You can create your own inciting incidents, it doesn't have to be something that happens TO you, but sometimes it is. In the book, Donald Miller signs up for a hike up Machu Picchu, which he was in NO physical shape to do — with a girl he has a crush on. He had no choice but to get into awesome shape ASAP (which really, he'd always wanted to do but never followed through on). Then he signs up to bike across America and is forced, once again, to push himself out of his comfort zone and really work towards something.
A few gems from the book:
"We don't want to be characters in a story because characters have to move and breathe and face conflict with courage. And if life isn't remarkable, then we don't have to do any of that; we can be unwilling victims rather than grateful participants."
"Once you know what it takes to live a better story, you don't have a choice. Not living a better story would be like deciding to die, deciding to walk around numb until you die."
"You can call it God or a conscience, or you can dismiss it as that intuitive knowing we all have as human beings, as living storytellers; but there is a knowing I feel that guides me toward better stories, toward being a better character. I believe there is a writer outside ourselves, plotting a better story for us, interacting with us, even, and whispering a better story into our consciousness."
"People love to have lived a great story, but few people like the work that it takes to make it happen."
AWESOME RIGHT? I know.
I'll be completely and unapologetically honest with you guys about a couple of things I want right now (aside from a life generally filled with travel, adventure, and romance ;) ), here are just a few of my specific, very bold desires at this very moment:
I want to be in the best physical shape of my life.
I want to make $20k+ every month from this blog, CONSISTENTLY, by creating meaningful content that helps people make more powerful choices in their lives. (I was gonna say $10k per month to sound more reasonable, but hey, "reasonable" is not really the goal here).
I want to find (and commit to) a bigger purpose, something that makes the world a better place and gets me out of bed every morning. And I want to write a book.
There ya go.
Are these things easy? Nope.
Do they take a LOT of hard work, dedication and discipline? Of course. Yes. A lot. So much.
Are they completely out of reach? ABSOLUTELY NOT!
The truth is I've wanted these things for a long time but I've been playing the half-ass game. What kind of story is that? A mediocre one that's not gonna cut it anymore.
"If hard work pays off, then easy work is worthless." -Nelly
If you want unreasonable results, you have to take unreasonable action.
So in my story, that's what my character wants and she's gonna face obstacles and conflict in order to make it happen. Obstacles and conflicts of time, resources, emotions, energy, finances, self-doubt, and all the other usual suspects. Lots of them. I can't ensure victory. But I can take steps that'll make getting close to victory more likely, and I'm willing to bet the story will get really interesting along the way – as long as I stay in the arena.
1- I can schedule out my workouts for the entire month of January (and push myself out of my comfort zone to make it happen).
2- I can create a work/writing schedule for myself (I NEVER SCHEDULE MY WORK), so I'm actually clearing the space to create, as well as a "pay attention to finances" schedule — to commit to the schedule for a solid month, tweak it based on what works well, and move forward. But the schedule will always include time for planning out the day's specific tasks and time for executing on them. (This is super out of my comfort zone, as I love winging it).

3- To be on top of my game in life, I've gotta be super clean with my diet, because I need to have the energy to do all this work and let creativity and inspiration flow in easily. "Super clean" is different for everyone, but for me it ALL has to do with the foods that have the biggest effect on my energy and mood — this generally means nixing sugar and coffee most of the time.

All this discipline may not sound like that much fun (and believe me, fun IS a priority), but being a successful entrepreneur and being able to have a life of freedom actually takes TREMENDOUS discipline — even though I rebel against it so hard. Because deep down I know the truth. Discipline = freedom.
Luckily for the unfolding of my story, I've had a couple of inciting incidents recently that are kicking my "character" into high gear — something I really need to be in shape for, and some big money owed. Now my character really WANTS something and there's a necessity portion to the story too, which makes it much more interesting.
BUT GUESS WHAT – the point of creating a better story isn't REALLY about getting the things you want. It's about LIVING — being in the story, and how you change in the process. How much stronger you become, how much more courageous you become by living through something and being changed because of it. The point isn't "the getting of the thing," but instead, the character transformation that occurs in the process of your quest. You're LIVING!
Donald Miller says — "Human beings aren't really motivated by goals; they're motivated by character transformation. Every story that we love is about a character that doubts themselves in the beginning and believes in themselves at the end."
I really love that.
A character is what he does…not what he thinks about doing. 
Making your life a better story is relative and you probably have way different interests than me, and they change all the time. Sometimes my desires are much more relationship focused than fitness/business focused, like wanting to love more fearlessly or allow myself to be more vulnerable or become more intimate with all of life. Ya know, easy stuff like that. ;) The focus of these desires evolve and change depending on what's happening in life, just as the character in a story evolves and changes.
What kind of story would make YOUR life something you'd want to watch or read about?

Maybe it's going for something you've always wanted. Repairing that relationship. Telling someone the honest truth. Taking a courageous risk. Finally creating that life you daydream about.
Embrace the obstacles you face. Because you know what makes an EPIC story, I learned? The stories everyone remembers? The movies that bring in the most money at the box office?
I'll tell you right now.
It's when a character's actual LIFE is at stake for what he or she wants.
Talk about obstacles.
I'm not suggesting you risk your life for anything – I mean come on, please. What I am suggesting is that obstacles and conflict are NOT your signal to just sit on the couch and watch TV instead of work towards what you truly want. Obstacles are the key to your story being more exciting and interesting.
OK! PEOPLE. Are you fired up yet, at all? If not, meh, fine, go find something else to read.

But if you are, come on, let's DO IT! PLEASE!

All you gotta do is
1) Identify what would make your life a better story – what do you want?

2) Identify what it'll take for you to make it happen
3) Start planning and executing :)
Here's a song to carry you into 2015 feeling powerful and ready to live a better story. This song (along with No Miracles by Kid Ink) is on my running playlist right now and when I listen to it I think I might take off and fly.
"One day you'll leave this world behind, so live a life you will remember."
Welp, clearly at least one of us is excited here. 
I could write so much more. But I think you get the point and this post is becoming a book instead of a blog (hey, see? I'm already writing that book I mentioned).
So I'm gonna stop talking now, and you're gonna have to read this book to understand the rest.
Ok, so now you know that 2015 is all about living a better story — I wanna know. What does that mean to you? Will you join me?
Please share in the comments. What do you want? What do you need to overcome to get it? How are you gonna get started?
Let's head out there and live a better story in 2015!!!!
"I started creating a few different stories at the same time. One was about finding my father. The other was about chasing a girl. And still another was about, well, riding my bicycle.
Your life is a blank page. Write on it."
-Donald Miller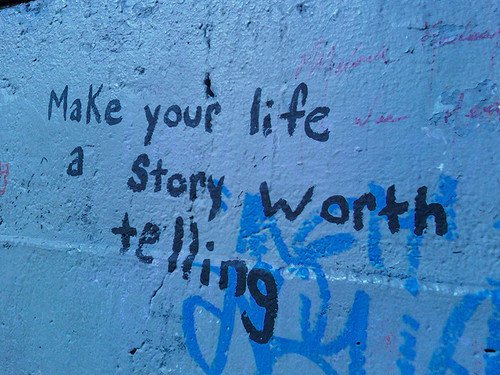 And get the book. Seriously.
#liveabetterstory
#beunreasonable
#blastoffinto2015
Love you guys. Let's go!!