Well, it's officially fall and PUMPKIN is in the air. Everyone is obsessively flocking to coffee shops for pumpkin spice lattes and pumpkin-flavored coffees. These drinks sound innocent enough, right? A little coffee, a little harmless pumpkin spice….can't be bad. Or can it?
The other day my (super awesome) personal trainer Sarah Petroski brought this issue to my attention. I was on the ground wincing as I performed some kind of moderately painful butt lift, and Sarah told me this haunting pumpkin tale.
The other day, one of Sarah's friends was super excited about her "healthy" pumpkin-flavored coffee from Dunkin' Donuts. "It's just black coffee, with pumpkin spice flavor!" the friend said.
Sarah investigated. She went to Dunkin' and got a small pumpkin-flavored coffee, black. She noticed it tasted sweet and knew there just had to be some other stuff in there. She checked out the ingredients.
Dunkin' Donuts Small Pumpkin-Flavored Coffee, Black: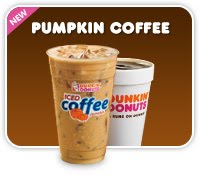 110 calories. 24 grams of sugar.
INGREDIENTS: Brewed 100% Arabica Coffee, Pumpkin Spice Flavored Swirl Syrup [Skim Milk, Sugar, High Fructose Corn Syrup, Water, Brown Sugar, Caramel Color, Natural and Artificial Flavor, Potassium Sorbate (Preservative), Salt].
DUDE! ……For reals? 24 grams of sugar in a small black coffee? Plus all those insane ingredients?
After hearing this, I took the liberty to personally investigate what was in the cult sensation that is the Starbucks Pumpkin Spice Latte. Here's what I found.
Starbucks Pumpkin Spice Latte, Tall, Skim, No Whip: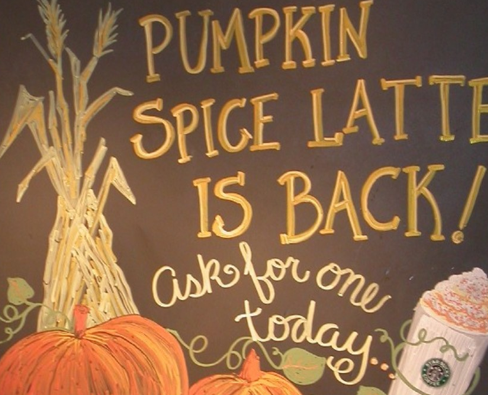 200 calories. 37 grams of sugar.
INGREDIENTS in Starbucks Pumpkin Spice Mix, before any additional milk is added: Sugar, condensed nonfat milk, sweet condensed nonfat milk, anotta (a colorant), natural and artificial flavors and caramel coloring.
Barf-tastic! Also, you can see from the ingredients that there is no way to make either of these coffee drinks vegan, because the pumpkin flavoring mixes contain milk before anything else is added.
What's a pumpkin lover to do?!
After realizing the tragedy that is coffee-shop pumpkin drinks, Sarah went home and proceeded to create her own pumpkin spice drink that she could share with her friends and training clients. Here's her version, which isn't full of disgusting ingredients like the scary stuff you get at most coffee places. I also seriously love her use of a mason jar here.
Sarah's Homemade Pumpkin Spice Latte:
Black coffee (your choice)
1 tsp stevia (you could also use a little honey or maple syrup if you prefer that)
1 tsp pumpkin pie spice (the one from Trader Joe's contains cinnamon, ginger, lemon peel, nutmeg, cloves and cardamom)
Milk of choice, optional (organic almond or coconut milk – unsweetened – is my preference)
Shake it all up in mason jar and enjoy!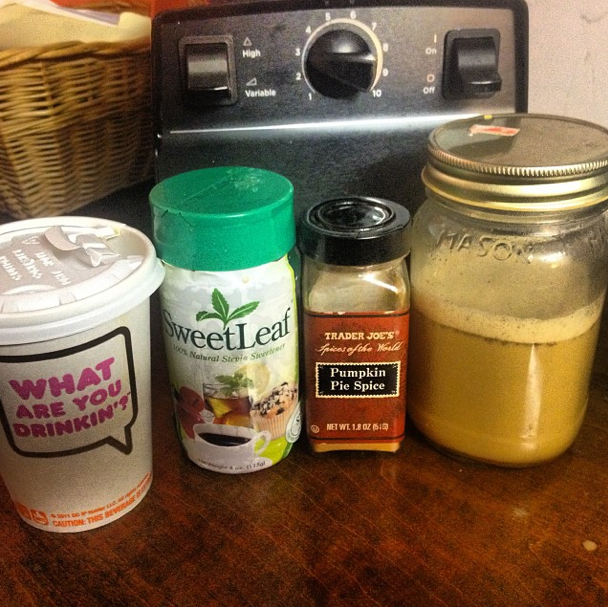 So there you go. Does it take a little more effort than just stopping into Starbucks or Dunkin' Donuts? Maybe, yeah, but it's cheaper and way better for you. If you're a coffee drinker, try it and let me know how it goes!
There are so many ways to enjoy autumn-spiced things that don't involve drinking crap. Thanks, Sarah! Follow Sarah on instagram
Happy Pumpkin Season. :)