Everyone loves mashed potatoes. Right? Mashed potatoes are the ultimate comfort food, and certainly a necessity at Thanksgiving. Well, how about taking the health factor up a notch and adding KALE? The inspiration came from Heidi at 101 Cookbooks, and I tweaked the recipe to make it my own. The tiny green flecks of kale are a welcome addition to a normally all-starch dish. These are power potatoes!
You can use any kind of potato you want. I decided to use fingerling potatoes because they have a special place in my heart — I learned how to cook them at a cooking workshop at the Omega Institute, so they make me me nostalgic and happy. Plus, they are small, easy to chop, and cook quickly.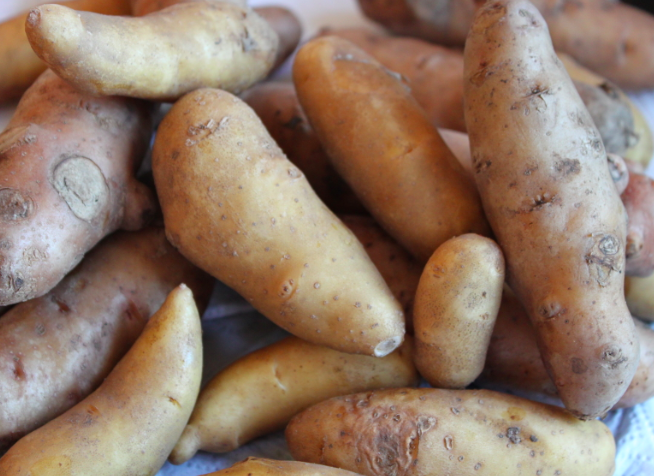 I made way more potatoes than I meant to, so cut down the recipe if you want to make less!
Ingredients (serves about 8):
About 6 cups of fingerling (or any other kind) potatoes, chopped into chunks
2 shallots
4 cloves garlic
4 tbsp olive oil
1 head of kale
1/2 cup coconut milk
sea salt + black pepper to taste
Wash and chop the potatoes. I left the skin on, but you can peel them if you want. Add the potatoes to a pot of boiling water and boil until tender, about 15-20 minutes.
While potatoes are boiling, chop shallots and garlic and add with 2 tbsp of olive oil. Saute until the onions and garlic are soft and begin to slightly brown.
Chop kale very finely, into small tiny pieces. Add the kale to the pan with the shallots and garlic and cook for only 1-2 more minutes, until the kale is bright green.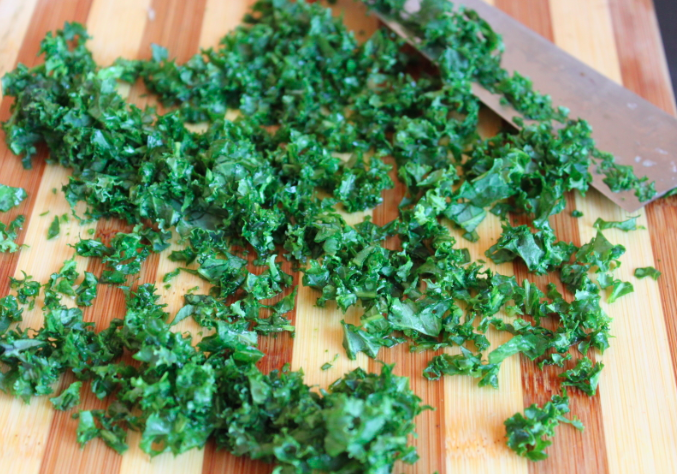 When potatoes are tender, mash with a potato masher. Add coconut milk, the other 2 tbsp of olive oil, and salt + pepper to taste. If you want a creamier consistency, add more milk slowly until it seems perfect.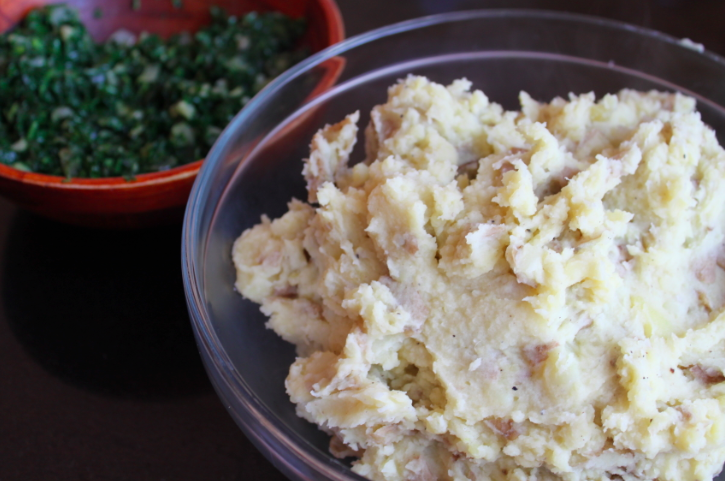 Mix kale/shallots/garlic gently into the potatoes – not mixing too much, or the potatoes will take on a green color.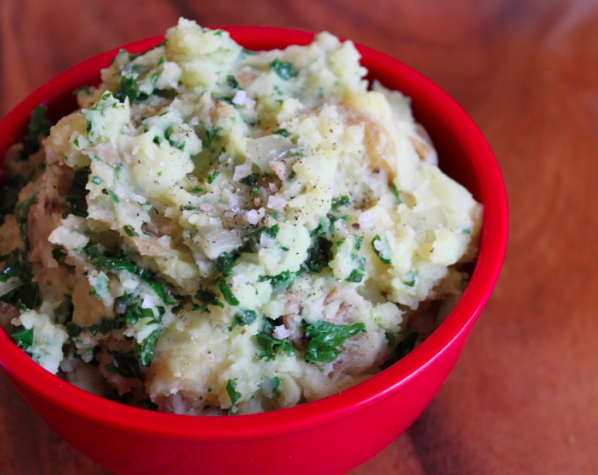 Serve with this delicious mushroom gravy! Happy holidays!