"Mushrooms can heal, feed and enlighten you – even possibly help save the world."
– Paul Stamets
Hello squirrels,
For the past few months I've been going hard with the medicinal mushrooms.
So hard that one of of the most frequent questions I'm getting over email and instagram (aside from my favorite CBD oil brands) is —
I want to try medicinal mushrooms, but I don't know where to start. What should I try? 
I've been writing people back with paragraphs describing each mushroom I use and why, so you know what that means. Time for a blog post. This is actually how I get most of my blog ideas – I start to get the same question from people over and over, I can feel there's a thirst for the information, and to the keyboard I go.
So here I'm going to provide a basic overview of what I've learned about medicinal mushrooms and their benefits, and where you might want to start if you're curious about them.
As you cats already know, please consult your physician before trying any new supplements. Healthy Crush Medical Disclaimer
Let's get one thing straight – medicinal mushrooms are not the same as magic mushrooms, although I would consider medicinal mushrooms to be pretty magical. These mushrooms we're talking about today have no psychedelic effects. Which is good, because you can take them daily without seeing trees turn into elephants or hear clouds talking to you. (But apparently, according to those who get into micro-dosing psychedelics, which you can hear about in this podcast, the effect of a micro-dose is so sub-perceptual that "the rocks don't glitter – even a little, and the flowers don't turn and watch you." A topic for another day, my friends).
Today, we're going to talk about medicinal mushrooms (also known as functional mushrooms). 
I'm going to list a few here that I've been personally using – feel free to chime in in the comments section and let me know what mushrooms YOU love, and why. I love learning from you.
First off, let's rewind for a second and talk about how I first got into medicinal mushrooms. 
My First Encounter With Medicinal Mushrooms
Back in 2011 when I first launched Healthy Crush, I wrote an ebook called "Your Guide To Mind-Blowing Healthy Highs" and I included medicinal mushroom tea as Healthy High #10.
This ebook makes me smile because I was SO PROUD OF IT when I first created it. In fact, I still am. You can download it for free here if you'd like to see what all my other "healthy highs" were back in good ol' 2011.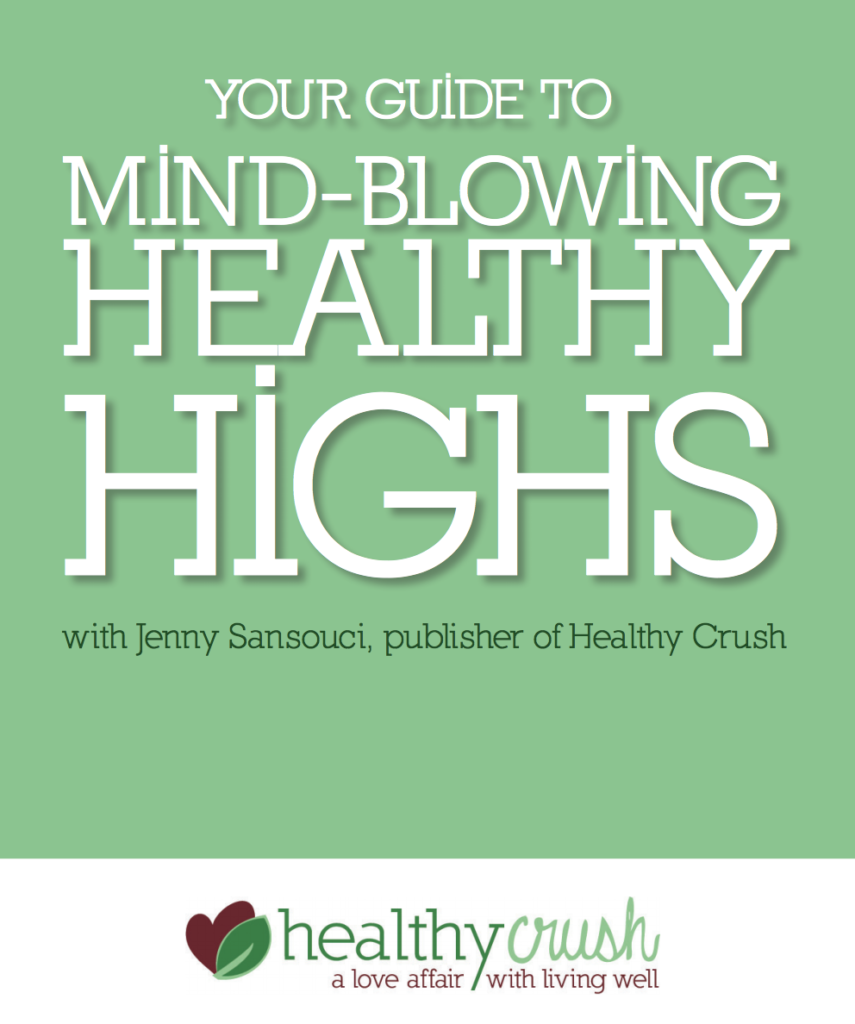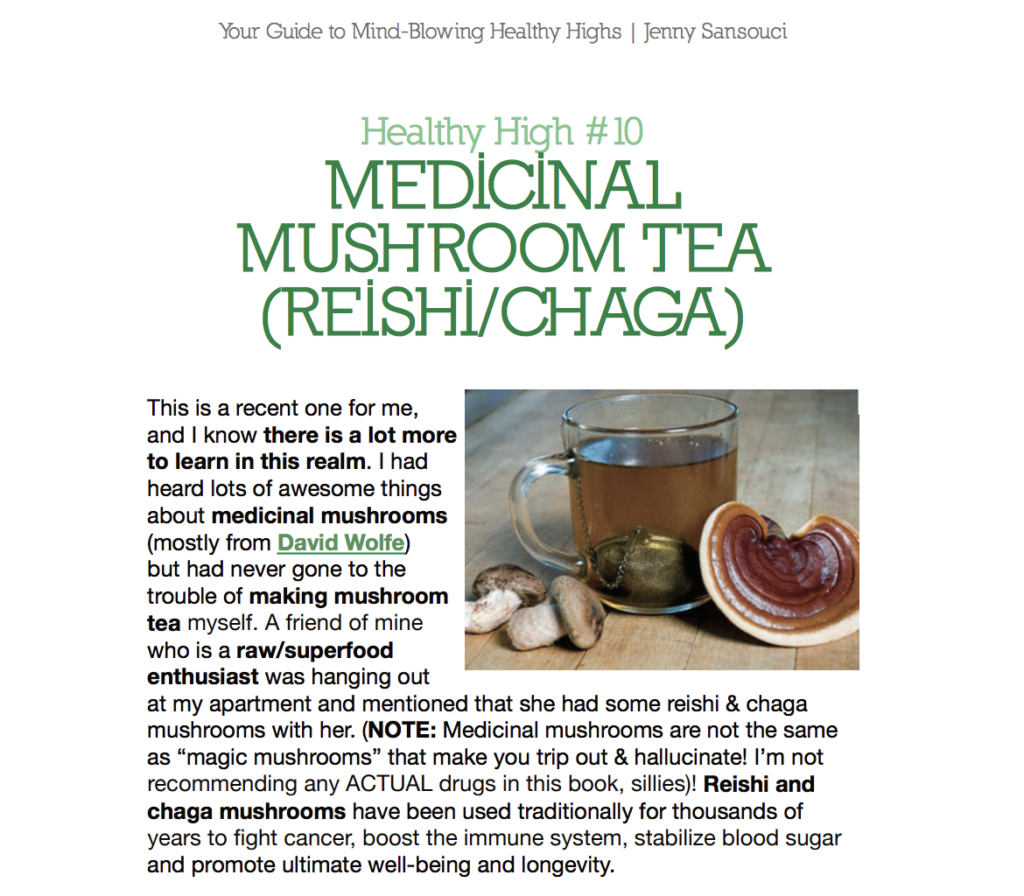 Side note: People are always asking me for ideas on how to build their email list — this ebook was what I first used to build my email list, which helped take me from 400 people to over 25,000. If you want to learn more about how I built my blog into a business, you can get a free chapter of my Get Paid To Live guide here)
When I wrote that ebook, I had only tried chaga & reishi tea once, with my friend Sydney who brought it over to my house. But it was a stand out experience for me. I felt so relaxed, clear, and blissed out while taking a walk in the park after drinking the tea, I knew it was something special.
And then, over the next few years, I forgot about medicinal mushrooms for awhile. Sure, I'd have a cup of chaga tea once in awhile if I happened upon a cafe that offered it, and I always liked it, but it would be years until I dove in fully.
As I started listening to the Tim Ferriss show regularly in 2015, I began hearing about Four Sigmatic mushrooms as they became a sponsor of his podcast. I got curious about mushrooms once again. (Tim says the first time he mentioned these mushrooms on his podcast, they sold out in less than a week!) And then on our Bali retreat last year, my friend Miles (a fellow Tim Ferriss aficionado) brought packets of Four Sigmatic elixirs and coffee and was handing them out to us at the breakfast table. I started drinking the mushroom coffee and I found it didn't give me as much of a crash as regular coffee — and I drank a packet of Lion's Mane elixir in hot water before presenting my workshop at the retreat. I felt so focused and clear while teaching, I knew I'd be ordering multitudes of mushrooms upon my return to the US…

I'm not sure why I always feel like my blog posts need to be complete autobiographies of exactly how I came to find each topic, but I know at least 10% of you guys probably appreciate that. So hi. And thank you.
In November of last year, I had the opportunity to visit the Four Sigmatic SHROOM ROOM in Los Angeles, where I tried all kinds of mushroom elixirs and learned about their properties. I started drinking Lion's Mane, Cordyceps, Chaga and Reishi regularly.
Just days after visiting the Shroom Room, I learned of my dad's cancer diagnosis. I knew I needed to get serious about supporting his immune system in the best way possible. Along with cooking him healthy meals, making him superfood smoothies, and generally trying to supplement his cancer treatments with all the immune-boosting foods I could find, I got on phone calls with my wellness network (a huge thank you to Dr. Frank Lipman and David Wolfe for your support) and I dove head first into research.
Using medicinal mushrooms (and CBD oil) to support my dad's immune system during chemo (and to support my own daily health as a caregiver, and a human being) is something I feel very strongly about. AGAIN – I am not a doctor –  these are simply my personal reasons for getting more educated. Here's that Healthy Crush Medical Disclaimer again just in case. :)
So. This where I come in — to provide you a place to start when it comes to medicinal mushrooms. To illuminate the mushrooms just like they are illuminated in that gorgeous photo at the top of this post (isn't it dreamy!?)
FINALLY – LET'S GET TO THE MUSHROOMS ALREADY 
Alright. Here we go.
Here are the 4 mushrooms that I personally got started with, and the reported benefits of each. The 2 companies I order from are Four Sigmatic (mushroom coffees, teas and elixirs) and Host Defense (for mushroom capsules and tinctures).
Head to Four Sigmatic and click on the "Learn" tab for more medicinal mushroom info than you could ever wish for. 
4 Mushrooms To Get Started With:
Cordyceps, Chaga, Reishi, Lion's Mane
Cordyceps: Performance and adrenal support.
This one has been my favorite for the past couple of months, as I've been spending long days at the hospital. The cordyceps mushroom has been known to support energy and stamina, so many people love to drink it before a workout. Personally, I like to drink it in the morning for a quick boost of energy to start my day — either alone in hot water, or mixed into coffee. I often bring a few packets of cordyceps elixir with me if I'm going to be out for the day, and I've been known to rip open a packet and pour it into my coffee or tea at restaurants. It smooths out the crash I might normally get from coffee and gives me a steadier energy. Studies have shown cordyceps mushroom to be effective in reducing fatigue and improving endurance. I've always been a bit of an energy junkie, so it's no surprise this one is my favorite.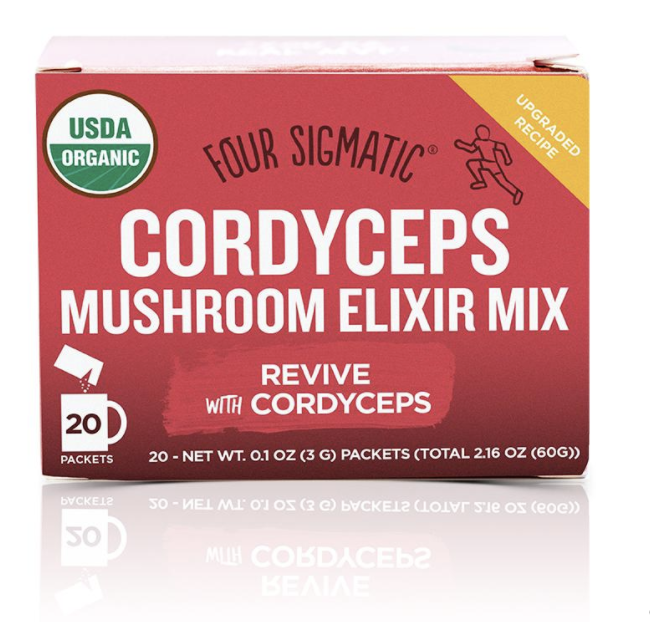 Chaga: Immunity and anti-inflammatory.
Chaga, known as the "king" of the medicinal mushroom kingdom (ok, reishi is also called king, they can both be kings in my kingdom), is a great daily superhero wellness mushroom. It's been known to boost the immune system, reduce inflammation, provide antioxidants and fight free radicals, and have anti-viral properties. And studies have shown chaga mushroom to have anti-tumor properties. I personally have a tin of chaga powder at home, and I put a spoonful into hot water daily. I also have chaga capsules.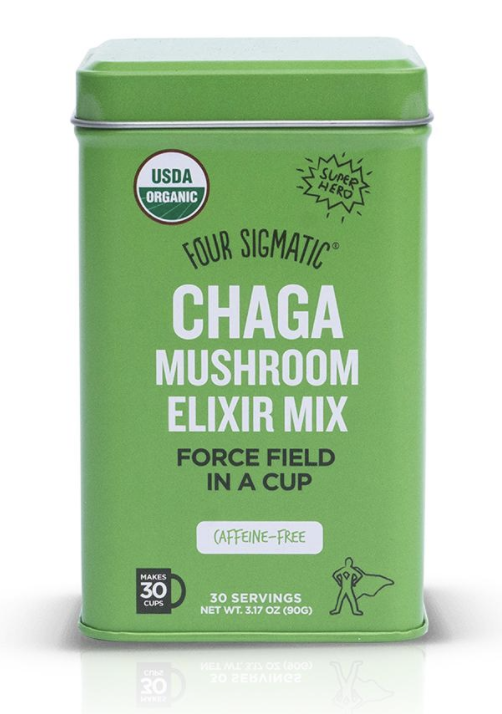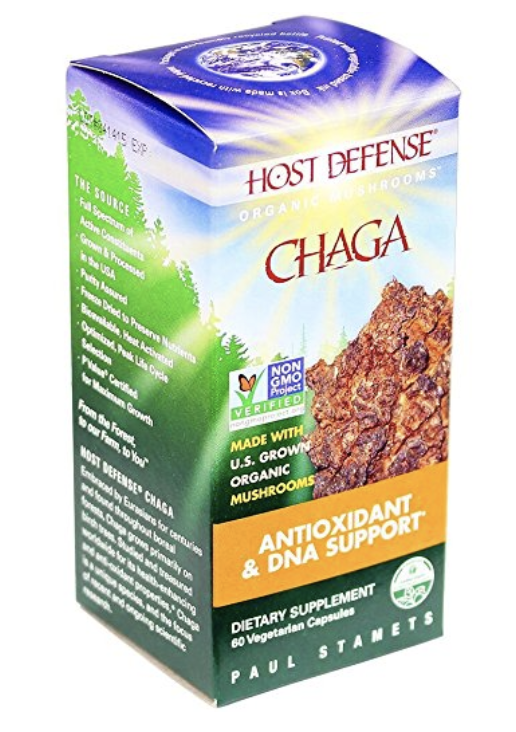 Reishi: Anti-stress and sleep.
Reishi is a calming mushroom that reduces inflammation, and it's wonderful to take in the evening or anytime you need to chill out. It's been shown to promote liver detoxification and support hormone balance, and is a powerful immunity mushroom. From Memorial Sloan Kettering Cancer Center, the beta-glucans in reishi mushrooms may stop the growth and prevent spread of cancer cells.
I love to drink reishi tea in the evening, it's perfect for curling up with a book or enjoying a late night talk with friends. In fact, I'm going to go make some right now (it's 8pm as I write this).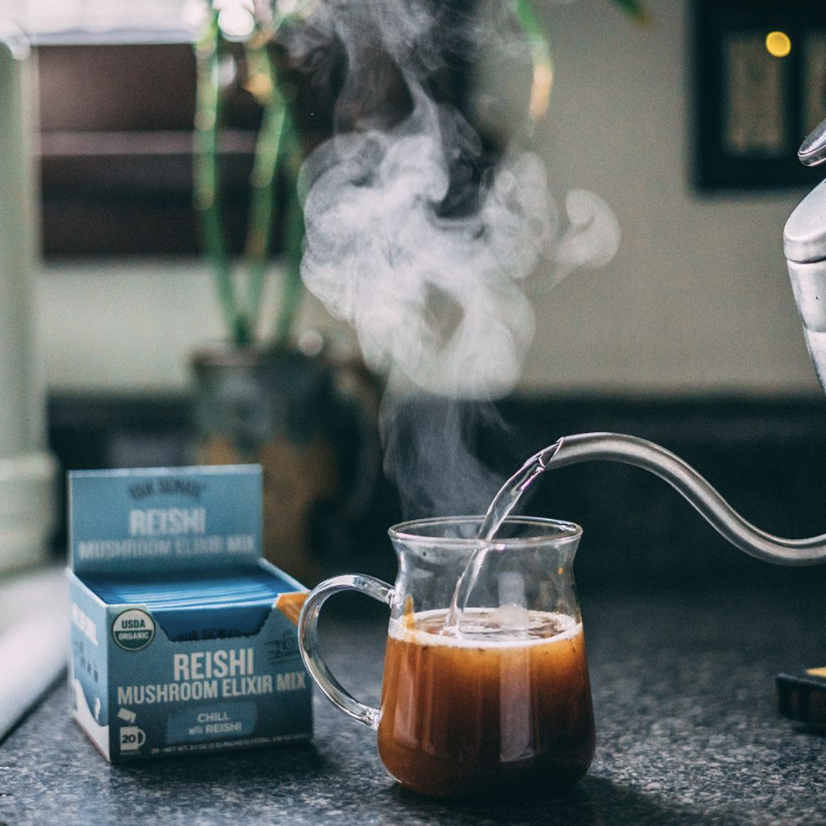 Lion's Mane: Brain boost and mental focus.
Lion's mane is one of the first mushroom elixirs I tried, and loved the clear, focused feeling it gave me. Lion's mane can support cognitive function, the nervous system, concentration and memory – so it's the perfect mushroom to take right before you sit down to work or study. Studies have shown Lion's Mane (hericium erinaceus) to improve cognitive function. I love sipping on a Lion's Mane elixir while I work, or adding a packet of Lion's Mane to my coffee.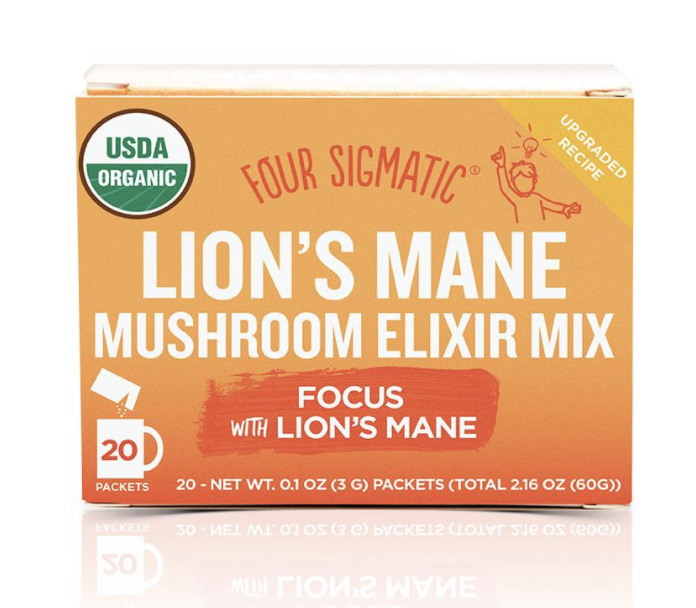 Another Awesome Mushroom To Know About
Turkey Tail – I first ordered turkey tail mushrooms because I heard about their cancer-fighting properties. Start at 7:50 in this TED talk by Paul Stamets about turkey tail and cancer. Particularly the story about his mother.
My mom and I have been giving my dad about a teaspoon of this turkey tail powder in his smoothie every day.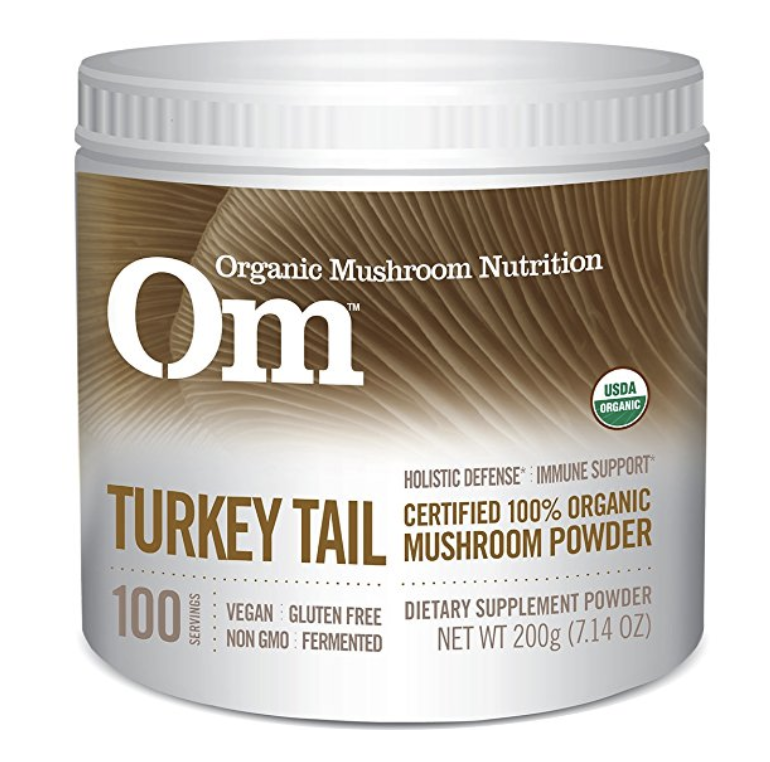 And here's the Host Defense option for Turkey Tail capsules: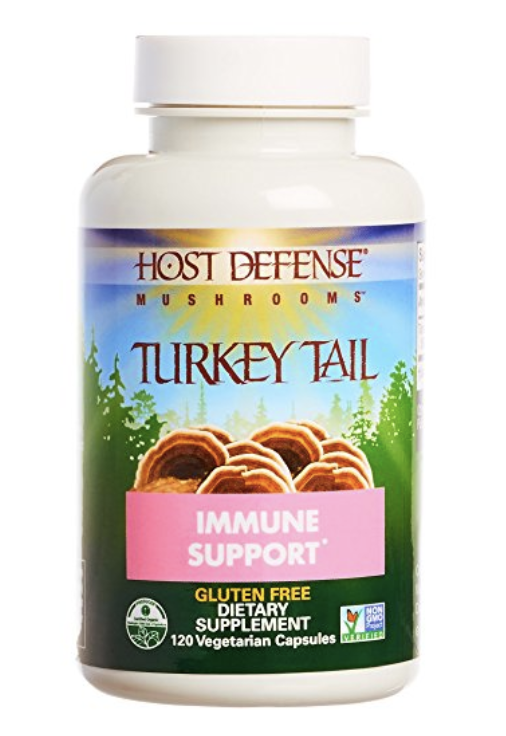 How To Get A Lot Of Different Mushrooms At Once 
If you want to get a bunch of different mushrooms at once, try Host Defense Comprehensive Immune Support Capsules if you prefer taking supplements in capsule form, or Four Sigmatic Superfood 10 Mushroom Blend if you'd like a powder to mix into your coffee, tea or smoothies. Use code HEALTHYCRUSH at checkout for a discount at Four Sigmatic.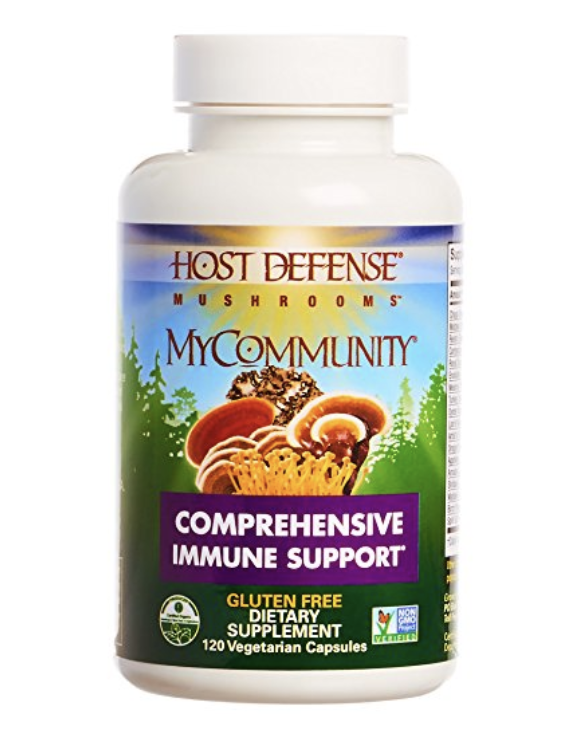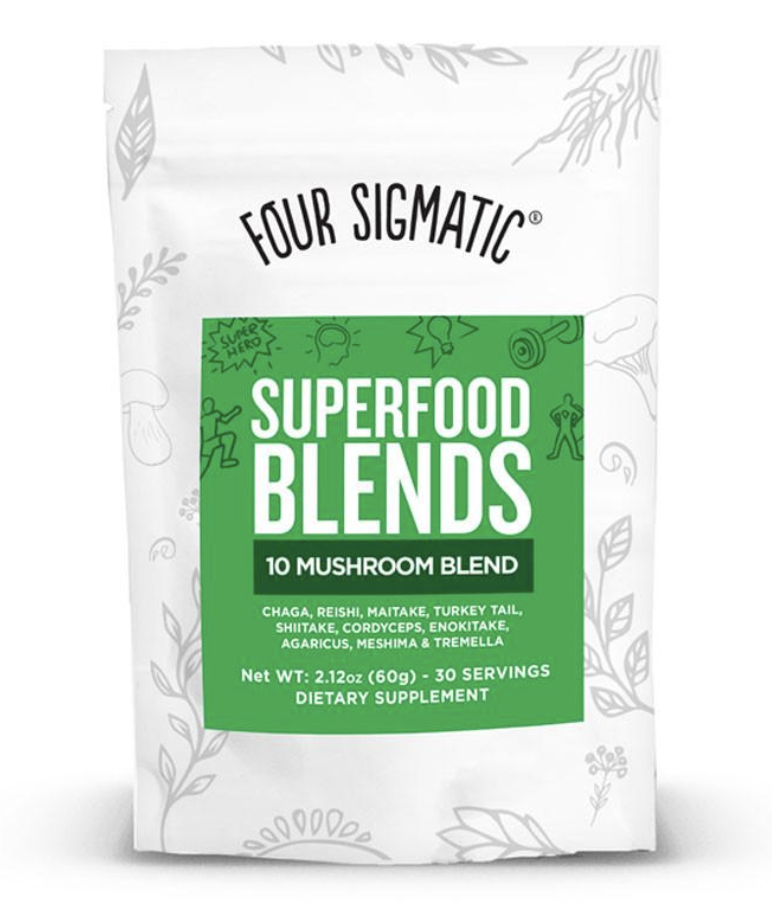 I've also been giving my dad AHCC supplements. (Thanks for the rec, Jamie!) These supplements have a proprietary blend of medicinal mushrooms that have been shown to significantly improve immune response and "natural killer cell activity" — our body's natural tumor fighting response. It is in clinical trials, and has been shown to decrease the negative symptoms of chemotherapy. Check out these studies on AHCC, and of course, my favorite, read some reviews of AHCC.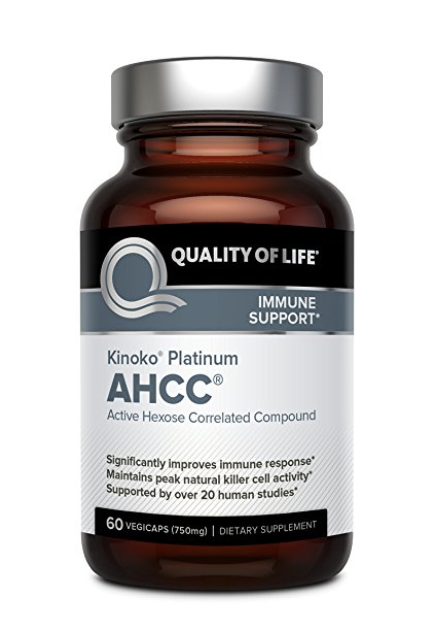 How I Use Mushrooms 
Here are some examples of different ways I use the mushrooms I mentioned above.
I don't do all of these daily, I switch it up.
A packet of Lion's Mane or Cordyceps in my morning coffee (Lion's Mane if I'm going to be writing or working, Cordyceps if I want a boost of energy before a workout).
2 capsules of Host Defense Comprehensive Immune Support as a daily wellness supplement.
A spoonful of Chaga powder in hot water to make tea anytime of day, (or 2 Chaga capsules), especially if I'm feeling like I might get sick.
A spoonful of Reishi powder in hot water to make a relaxing tea in the evening.
A teaspoon of 10 Mushroom Blend in a smoothie, coffee or hot water.
A teaspoon of Turkey Tail in a smoothie, or added to any savory dish like a soup or stew.
Use code HEALTHYCRUSH at checkout to get a discount on any mushroom product at Four Sigmatic.
Still Want More Mushrooms?
For extra credit points, here are a few more medicinal mushrooms to get acquainted with.
Shiitake
Maitake
Enokitake
Tremella
Agaricus Blazei
Meshima
Check out the book Healing Mushrooms by Tero Isokauppila to learn more about the different medicinal and culinary uses (+ 50 recipes)!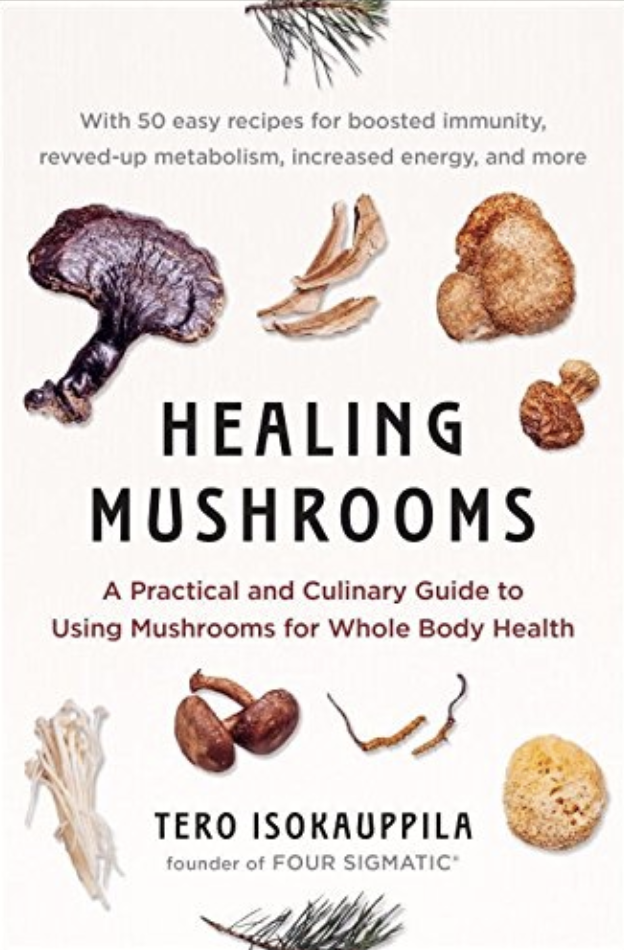 Learn a TON more here: The Benefits of Mushrooms
Another book recommendation: Chaga: King Of The Medicinal Mushrooms by David Wolfe
And a podcast to listen to: 
Paul Stamets on The Joe Rogan Experience (Paul is the founder of Host Defense).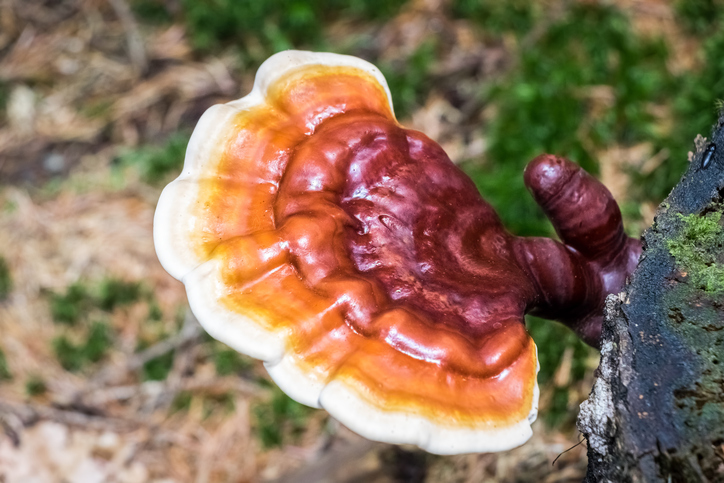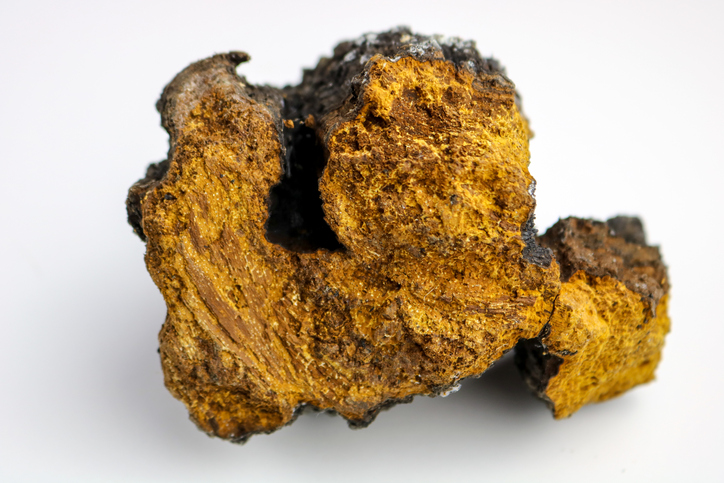 Have you tried any of these? Which mushroom is your favorite? Let me know in the comments!
Love and shrooms,
Jenny