Hey little dudes-
My friends at Bulletproof recently sent me this box of awesomeness (thank you!!!) with 5 different products in it, and I knew as soon as I posted a photo of it I'd probably get a bunch o' questions. So I'm here to give you guys all the details of each one.
The thing I love most about Bulletproof is that they are on a quest to optimize. Optimizing mental and physical performance. "For athletes AND mathletes." Haha! I don't consider myself to be an athlete OR a mathlete (maybe a laughlete? WAIT – that's actually a thing!) but I'm definitely into optimizing. 
So here's the lowdown on the 5 Bulletproof products I got in the box, along with the superpowers they provide.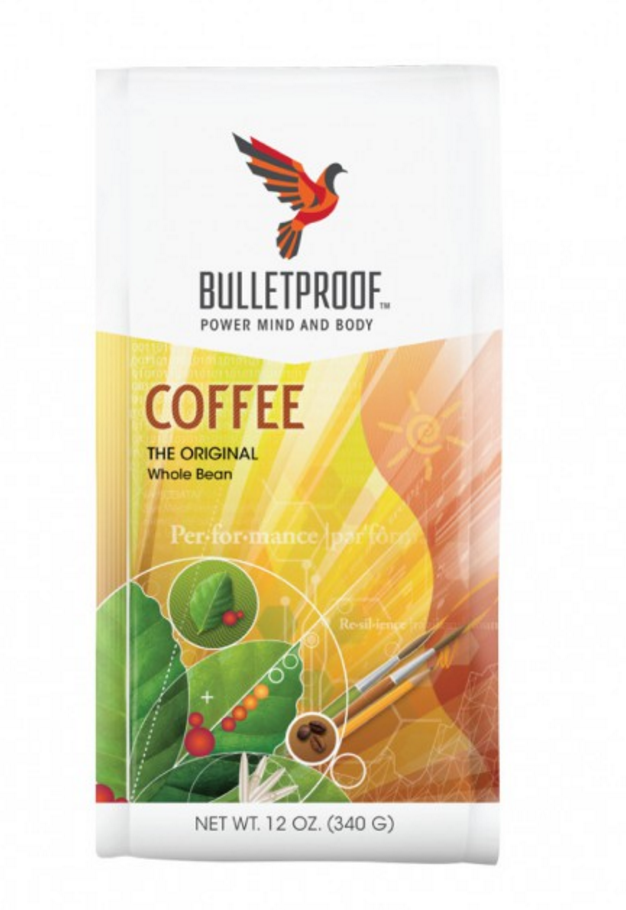 The first essential ingredient you need to make a cup of true Bulletproof Coffee. If you don't know what Bulletproof Coffee is, well, that link will explain it all (and includes the Bulletproof Coffee recipe too). Coffee is one of the most heavily pesticide sprayed crops, so the Bulletproof beans are "lab-tested to ensure they're free from 27 different performance-robbing toxins."
They say Bulletproof coffee beans provide you with a stronger cognitive boost compared to regular beans, and the beans comes from Rainforest Alliance-certified, passive-organic estates, where farmers grow coffee using traditional methods without chemicals (herbicides, pesticides, etc).
I have to admit, I am very sensitive to coffee and when I drink Bulletproof, I definitely experience a cleaner, longer-lasting energy without feeling irritable. It feels much different to me.
Dave Asprey says:  
The wrong coffee will sap your energy and leave you feeling lethargic and irritable.  This is the main reason people believe they don't tolerate coffee.  It's not coffee they don't tolerate, it's the mycotoxins in the coffee. Toxins in cheap coffee steals your mental edge and actually makes you weak, but clean coffee is actually healthy, and gives you important antioxidants.
If you buy the whole beans, just make sure you have a coffee bean grinder. :)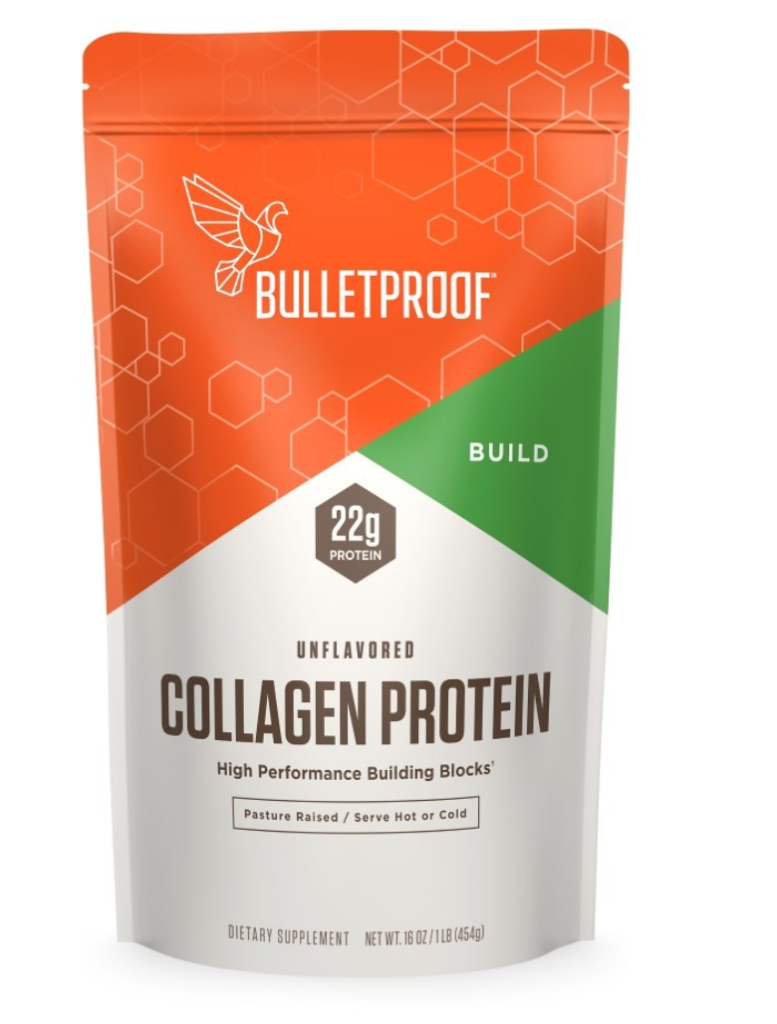 Bulletproof collagen can give you some of the same benefits of drinking bone broth (which is rich in collagen!) but instead of making bone broth you just have to sprinkle some collagen into your smoothie, coffee, or tea. It is pretty tasteless so it's easy to add into something you're already drinking. It has 22g of protein per serving, so more than most protein bars, and it's easily assimilated into the body.
If you don't have time to dedicate to bone broth making, collagen powder is your new best friend.
Collagen powder can help:
Lubricate joints
Build connective tissue
Heal injuries
Promote healthier, stronger, younger-looking skin, hair and nails
Regulate the body's metabolism
Reduce inflammation
Support hormone balance
Improve digestion
I mixed it into my tea this morning and I love adding it to smoothies. And you can definitely add it to your Bulletproof Coffee to make it a protein coffee!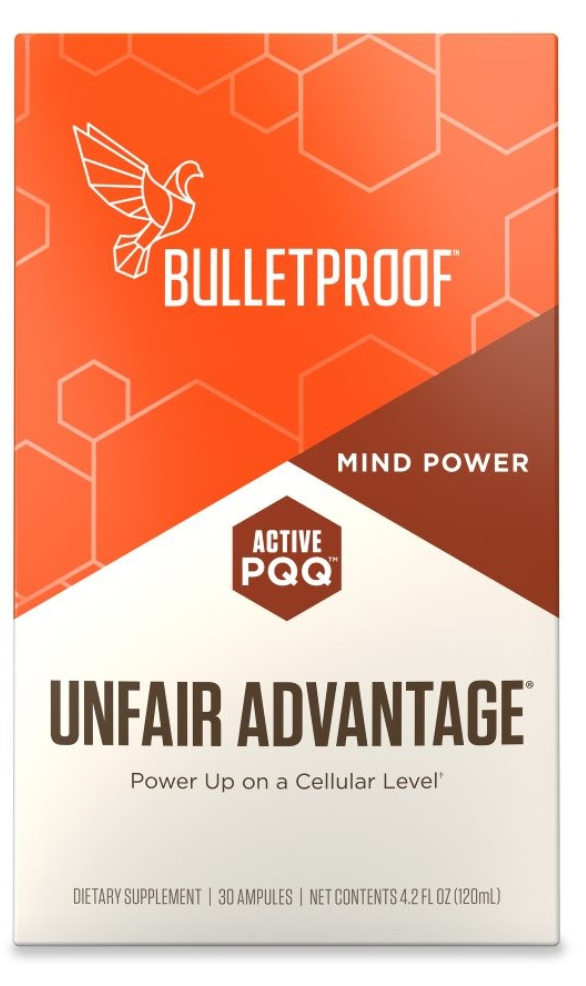 Unfair Advantage might be my favorite of these 5 products. First of all I just love the name. Second of all I remember being at Dave Asprey's biohacking lab and when I told him I was feeling tired before dinner, he handed me an Unfair Advantage ampule, and I actually did feel more clear-headed, energized and ready to socialize with a big group of Bulletproof enthusiasts. :)
I like these little pods because they give you an energy boost without caffeine. If I have caffeine too late in the day, I won't sleep, so I like that the energy in Unfair Advantage comes from PQQ and CoQ10.
PQQ
"One key action of PQQ involves a direct action on key enzymes involved in the energy producing compartments in our cells – the mitochondria. As a result PQQ improves energy production. In addition to PQQ's powerful antioxidant effect protects against mitochondrial damage."
Read: Is PQQ The Next Nutrient Superstar? by Dr. Michael Murray, author of the Encyclopedia of Natural Medicine.
CoQ10
"On a cellular level, the replenishing of depleted CoQ10 levels enables cells to function as efficiently as they did when you were younger."
Read:  5 Reasons To Get Your CoQ10 On by Dr. Frank Lipman 
Bottom line, PQQ and CoQ10 give us energy at a cellular level, and Unfair Advantage packs an energetic punch without the jolt of caffeine. Score.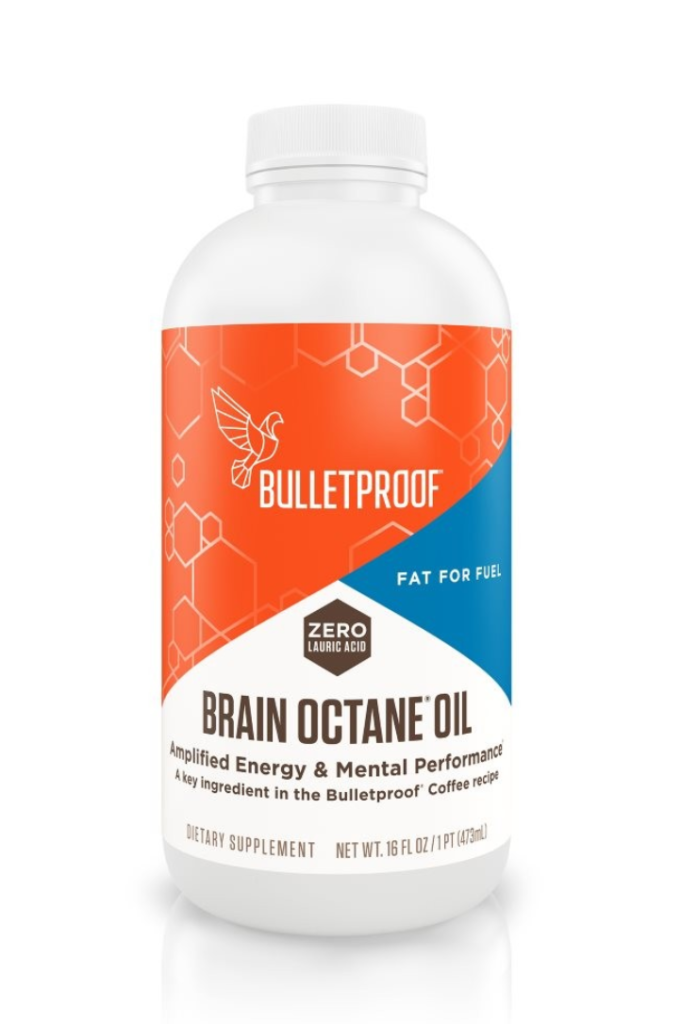 Brain Octane is another one of the primary ingredients in proper Bulletproof Coffee. Basically supercharged MCT oil: the medium chain fatty acids are used quickly in the body for energy and enhances your mental function, vs. being stored as fat. This Brain Octane oil in particular is 18x more powerful than using coconut oil!! It's great to add to smoothies and use in foods and it has no taste, so it just adds some nice extra healthy fats into your life. I usually have a bottle of this stuff in my cabinet and I'll break it out to put into a coffee or smoothie when I want a supercharging hit of healthy, energizing fats.
If you know me at all, you know I live for Amazon reviews… I spend hours reading them. 
Brain Octane Reviews (from Amazon):
"I was kinda skeptical of Bulletproof Coffee because I, like many people, thought that it sounded gross. But my brain fog was off the charts and I was ready to try anything to get some focus back. Well, it takes some getting used to, but it is no joke! I haven't been this clear headed in a LONG time! I'm a convert!"
My favorite review: 
"Love this stuff.  I've been making coffee the official Bulletproof way, with this Brain Octane Oil and grass fed butter and the actual Bulletproof brand coffee. I definitely notice a sustained lift and clarity when I start my day that way. I would say overall, I am starting to feel generally more energized and engaged with my life. No kidding. I have been a coffee drinker since I was way too young, so I'm an expert on how that generally makes me feel, and this is very different.
The other thing I notice is that my skin feels and looks quite different. I have been constantly applying chap stick and moisturizers for years. All of a sudden, I hardly need chap stick. My fingernails look smoother and are harder. My skin feels velvety. I also started using the Bulletproof Upgraded Collagen Protein at the same time, and I assume that also contributes, but the massive increase in feeling hydrated I would attribute to this oil.
One aspect of my health issues is that I have a lot of inflammation, and I notice a big reduction in the symptoms of that. For one thing, I used to have a fair amount of redness in my face. I'm 42 years old, and I had a handsome young man at a club a couple of nights ago tell me that my skin and complexion were gorgeous, that I was glowing. I wasn't wearing makeup on my skin. I dare say I would attribute something that noticeable to using this oil and the collagen protein, compared to how I looked a few weeks ago. I decided to try this stuff for the health benefits, but seeing noticeable physical changes tells me that this product is making other changes that I can't see that are beneficial. The reduction in inflammation is hugely significant to me." 
"My morning coffee will never be the same again! Bulletproof Collagen and Bulletproof Brain Octane in my organic coffee has made such a huge difference. Mental clarity, stamina – my skin! Everything Has improved since using these products. Ordered multiple times!"
LOVE IT. The best. The reviews don't lie. Shakira Shakira.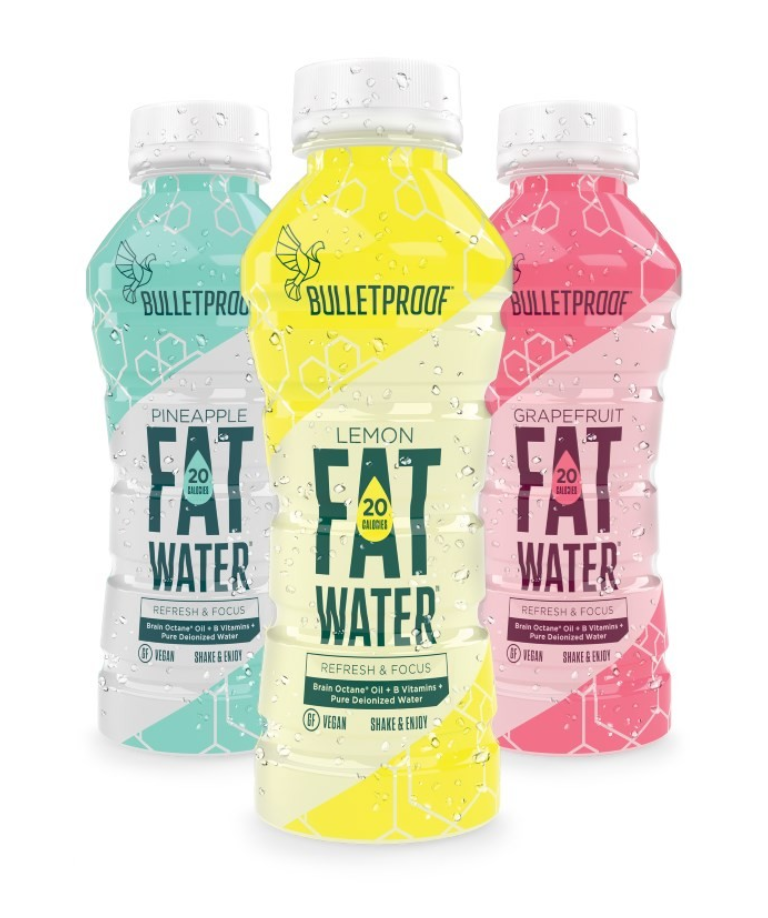 Ok here we go. FATwater is probably my personal least favorite of all these products – not because it's not awesome or useful, but I just don't love sweet tasting drinks. The sweetness in this drink isn't from sugar, it's from xylitol and stevia, so technically it's sugar-free but it's still a bit too sweet tasting for me. My boyfriend really likes them, though. If you are used to drinking things like Vitamin Water, Gatorade or other flavored waters / sports drinks, FATwater will totally be your JAM!!! 
FATwater has micro droplets of Brain Octane, and a stack of B Vitamins for energy, and comes in flavors like Pineapple, Lemon and Grapefruit. Definitely a much higher quality source of sustainable energy than sugar. And people love it – reviewers say it's thirst-quenching, energizing, delicious and curbs appetite. 
So that's the low-down for you, my little energy-seeking pals!
Have you ever tried any of these products? What did you think? 
Stay bulletproof,
Jenny