I can't believe mochi just became part of my life. How did I ever live without knowing how incredible it is? I'd seen the picture of pan-fried mochi in Alicia Silverstone's book, The Kind Diet, and always knew I'd cook it someday because it looked so-freaking-good. This week I happened to pass by some mochi at the store and thought, hey – let's give this a whirl. I'm SO glad I did. It is chewy, gooey and seriously scrumptious.
First of all, you may be asking, what the heck is mochi? Well, quite simply, mochi is brown rice. Brown rice that has been steamed and then pounded into a "rice cake" if you will. You can see the picture above for what it looks like packaged. And here's a link to the company who makes the mochi I used, for more information. It's gluten-free since it only contains brown rice. It is also easy for the body to digest and is physically strengthening. That is fab!
Anyway, I made mochi 2 ways – savory and sweet. Both of them were equally amazing. The savory version came from a dumpling craving I was having the other night. The restaurant across the street from my apartment in Brooklyn has out-of-this-world delicious vegetable dumplings. Once in awhile I give into a dumpling craving, but I never feel good about eating the white flour. Looking for a better alternative (and preferably gluten-free), I decided to experiment with mochi.
Savory Mochi Dumplings
Ok – I'll admit it. These aren't actually dumplings. More like a dumpling explosion. But they taste just like dumplings (maybe even better). Instead of the filling being inside the dumpling, you just eat it with a knife and fork. Trust me on this one – it's delicious.
What you'll need (makes enough for 2 people as a meal):
1 package of mochi (I used Grainaissance brand)
1/2 white onion
1 bunch scallions
5-6 shiitake mushrooms
1 large radish
1 carrot
1 clove garlic
1 tbsp fresh ginger
1 handful kale
1 small handful of cilantro
red pepper flakes
1 tbsp rice vinegar
1 tbsp tamari
1 tbsp sesame oil
a sprinkle of sesame seeds
First, dice up all of your veggies into tiny bits (the way the inside of a dumpling would be!) and mix together – EXCEPT for the cilantro – dice that up and set it aside.
Next, cut mochi into squares (mine made about 18 squares). Save 6-8 squares and set aside (to use for the sweet version later!)
Put your veggies in a pan with the rice vinegar, tamari, sesame oil and red pepper flakes. Cook on medium-low heat.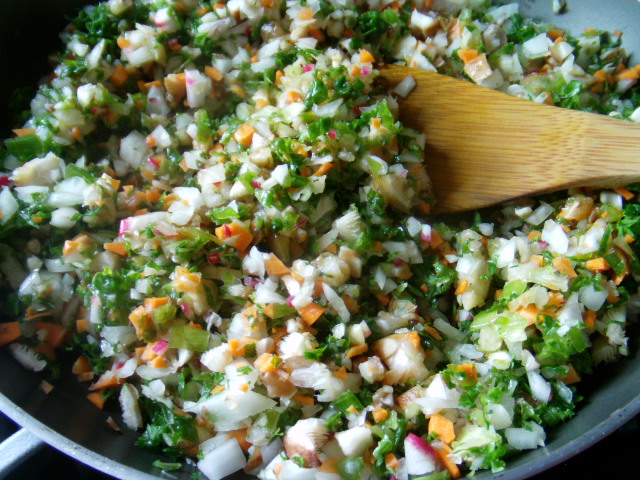 Put mochi in a separate pan with a drizzle of sesame oil. Be careful not to let the mochis touch, or they'll stick together!
Cook veggies for 10 minutes or so, until they are tender. Cook mochi for a few minutes on each side, until they are brown and puffed up.
Put the mochi on a plate.
Top with the veggies.
Sprinkle with cilantro and sesame seeds. Drizzle with a little more tamari if desired. Eat with a fork and knife. Dumpling delight!!

Sweet Mochi Squares
This tastes like french toast, but better. You will LOVE THIS!
What you'll need (makes dessert for 2):
6-8 squares of mochi (leftover from your savory dish)
Drizzle of coconut oil for cooking
Drizzle of brown rice syrup
Cook mochi in a pan, same manner as before, but using coconut oil instead of sesame oil. Put mochi on plate. Drizzle with brown rice syrup.
Admire your beautiful creation.
Eat with fork. Smile.
I'm sure I'll be experimenting with mochi in more ways in the near future! If you have a favorite way to eat mochi, please let me know! xoxo