Update: As soon as I posted this blog, I got comments and emails from people saying you shouldn't EVER ingest essential oils internally. I am not recommending you do, and now I am committed to understanding the truth so I can give correct information here. The intention of this blog was to share my experience with the essential oils so far, and to share information from my peers and from the essential oils company literature. Please do your research before trying anything and don't ingest them without guidance from a physician or aromatherapist. I honestly had no idea essential oils were this controversial (I'm so shocked!!) and I appreciate you guys bringing it to my attention so I can learn more.  Here is a good article to read for more on the safety of essential oils.  
Well good evening, wellness-enthusiasts…
There's something I've been enjoying privately for far too long without sharing the specifics about it, and I'm starting to feel bad about that. I've been using it day and night, and it's becoming a huge part of my life. I've shared a little bit on instagram, but not on the blog yet.
I'm talking about ESSENTIAL OILS. :)
What are essential oils?
Essential oils are naturally occurring, aromatic compounds, found in the seeds, bark, stems, roots, flowers, and other parts of plants. (Click on Essential Oils 101 here). They each have different therapeutic benefits.
Essential oils are typically used aromatically (diffused into the air or just simply smelling them), topically (absorbed into the skin), or internally (according to the essential oil companies, you can drink them in water or using them in recipes – some people say this is fine, some people say this is not fine). There are different oils that can be used in different ways so make sure you do research.

I first discovered essential oils in 2013, at the Hanuman Festival in Boulder, Colorado. There was a booth set up, and I learned about (and smelled) all kinds of oils. I looked through pamphlets and realized that each essential oil has different properties, and different ways you can use it. I was fascinated, and mesmerized by the incredible smells of all of the oils.
Back in 2013 I bought a "Family Physician Kit" of oils, and I used a couple of them pretty frequently, but I didn't take the time to get to know much about them.
Fast forward to about a month ago, my boyfriend's brother Jason got me thinking about essential oils again. He was using them for many different things – including helping him to breathe and sleep better with his diffuser.  My excitement about essential oils got reignited as I listened to him talk about all the cool ways he was using them.

I got home and ordered a diffuser for myself right away, along with one of the starter kits (the Home Essentials starter kit). I signed up for a Wholesale account, as a Wellness Advocate, so I could get cheaper prices on the oils and so I could also have the opportunity to sell the oils myself (just click "Join & Save" if you want to do that too). If you're a wellness entrepreneur/blogger, it could be a cool income stream for you to sell essential oils, if you end up loving them as much as I am. Of course, you can just purchase single oils without joining the Wholesale option, it will just be more expensive. I'm just starting to learn about the whole process, but the doTerra site explains everything, so just head over there if this interests you. :)
I love my essential oils diffuser so much that I got one for my Mom for Christmas. Here's photo of us texting each other with our diffuser pics!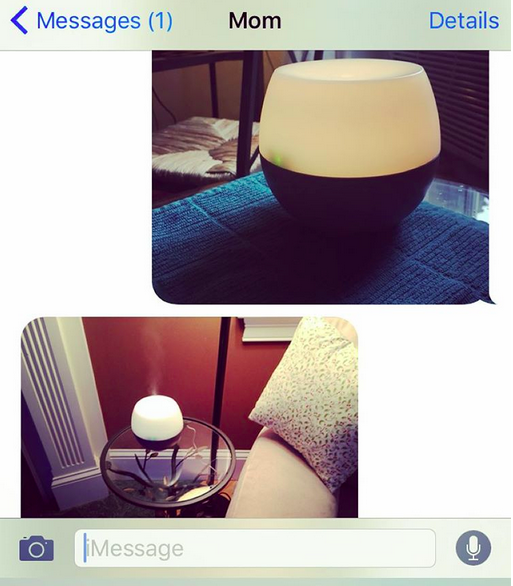 Essential oils are incredibly fascinating. When I was visiting friends out in Portland recently, we watched a video about how essential oils are made (nerd alert, I know). Check this out! It's SO incredible!
Essential oils are typically made with water/steam distillation (flowers and herb oils), or cold-pressing (most citrus oils). It's so cool to me. I loved essential oils so much more once I found out how they were made, for whatever reason. Because the oils are powerful and precious — and so much of each plant is infused into each oil.
I'm not going to pretend to be an expert on oils, although I heard there are certification courses about essential oils that you can take, so now that's one of my life goals. It's so cool to have things to be excited about, especially when it involves learning..
If you have a favorite way to use essential oils, PLEASE leave a comment! I'm becoming a fanatic and I need all the tips I can get.
I'm still an essential oils newbie, but here are the 5 oils I've been using most, and what I've been using them for.
My Favorite Essential Oils & How I Use Them
(Grab any of these essential oils here, and learn ALL about them!)
NOTE: Don't ingest essential oils internally without the guidance of a physician or aromatherapist. I'm sorry I didn't say that before, I had no idea it was such a serious issue, and now I'm concerned – and I am committed to learning as much as possible about essential oil safety.

If you do use essential oils topically, please dilute them with coconut oil first. 
LEMON: Lemon oil is amazing for cleaning, you can add a few drops to a spray bottle of water and clean your house. In the diffuser, I use it in the morning, because it's uplifting and energizing

.

I have added a drop of lemon essential oil to water before, and a drop to a recipe to give it a lemon flavor, which I thought was fine based on the dietary/ingestible guidelines from the essential oils companies –  but now I'm hearing otherwise. This article seems to state that ingesting lemon oil is ok, but others say it's dangerous. There is a lot of conflicting info out there. What do you guys think?

PEPPERMINT: Peppermint oil was my favorite one from the original kit I bought in 2013. I used peppermint to add one drop to my water, and I carried it around and always had minty fresh breath! Such a cool gum-free trick. I also add a drop to green smoothies to create a minty flavor.

(

But, now people are saying this is dangerous so don't do this if you don't believe ingesting oils is safe. I was fine with it but I don't want to make anyone sick).

Just use it in your diffuser. OY. 
OREGANO: Oregano is one of the ones I use more therapeutically. This one is super strong and tastes really intense (don't taste it alone, it can burn your mouth!) but if you put a drop in a glass of water and chug it down, it's very powerful when you feel like you're getting sick. You can also rub some diluted oregano oil (diluted with coconut oil) on the bottom of your feet to boost and protect your immune system. I use a drop of oregano oil in my oil pulling regimen if I feel like I'm coming down with something and it always helps.

I feel like I should edit this entire blog now because everyone is bugging!!! I've been doing a drop of oregano oil in my water for years when I'm getting sick, but please only do so under the guidance of a physician or aromatherapist.
FRANKINCENSE:

This beautiful oil is my new favorite for using in the diffuser. I use it during the day while I'm getting work done, and it makes me feel so uplifted. It smells incredible, too. According to the site, When inhaled or diffused, it promotes feelings of peace, relaxation, satisfaction, and overall wellness. I concur. :)
LAVENDER: Lavender is very calming, and I usually diffuse this one before I go to sleep. I also rub a drop on the bottom of my feet to help me relax at night. It smells so nice. You can even rub a drop into your pillow to breath in as you fall asleep. Sweet, sweet bliss.

So there you go. I actually just put in an order for some other oils – including grapefruit, lime and cilantro!! WHAT!!! So I'll try to learn as much as possible.
I feel very tender and cozy towards essential oils right now. They feel like a friend.
I'd like to learn from you, too. Please share your wisdom if you have any! Let's learn from each other in this beautiful, wild world of oils…
Learn everything you want to know about essential oils here.
Again, please use these oils only under the guidance of a physician or aromatherapist. I am not a doctor and I am not suggesting you use essential oils without guidance, especially ingesting them.

I've been reading so much conflicting info now about ingesting oils, including articles like this that say they are great to ingest…yikes! What's an essential oil enthusiast to do!?
Question – which essential oils are the best for giving a massage? I don't know how to give a good massage but I'd really like to learn that too…
I love you all,
Jenny