Hello health lovers. I recently got back from the Jillian Michaels Ultimate Wellness Cruise and I'm here to give you the scoop! It was 4 days of working out at sea, healthy food options, seminars with Jillian, and spending time with 2,000 other health-minded people. It was an amazing time, and it totally got me inspired and fired up to increase my workouts this fall!!
One of the highlights of the trip was getting to workout with Jillian. People keep saying "You're so brave! I'd be so scared to work out with her!" In reality, although it was definitely a hard workout, it was also a lot of fun – she is known as a tough bully on TV, but she was cracking jokes with us and was super motivational too. I'd love to have her as a consistent trainer. Maybe someday.
Here are a couple of pictures I managed to take during the workout – I had to sneak them so she wouldn't catch me and make me do extra push-ups. ;)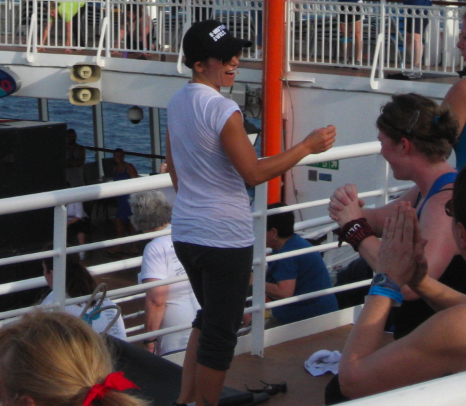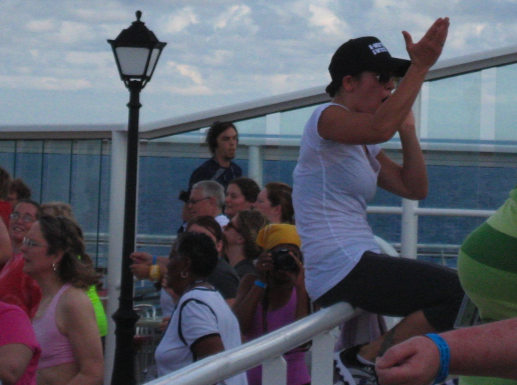 So what was the workout like?
Well, if you've ever tried out Jillian's 30-day Shred DVD (I highly recommend this — it's a 20 minute workout that really shreds you into shape quickly), I'll say that the workout was pretty similar to what Jillian presents in the Shred, except this workout was…wait for it…1 hour and 15 mins long! I kid you not, people were laying down at the end trying to sleep. You can bet that Jillian didn't let them rest for too long. ;)
If you haven't tried out the Shred, I'll give you an overview of what the workout was like. Jillian had us doing intervals of cardio, strength training and ab work, doing each exercise for between 1 and 3 minutes. The workout included:
Squats
Lunges
Crunches
Push-ups
Jumping jacks
Boxing
Planks
Jump rope
…and more.
We alternated these exercises for over an hour. By the end of the workout we were all aching and sweating, but felt great.
As I mentioned, the perfect way to get a Jillian Michaels workout in is to grab the 30-Day Shred DVD (only $8.99 on Amazon). This way, if you must, you can pause the DVD to breathe or take a water break! Jillian says the perfect way to a toned, lean body is to alternate cardio, strength and abs – so if you follow this workout routine consistently, you WILL see results.
Happy sweating!! :)