Today as I was strolling through the farmer's market in Williamsburg, Brooklyn, I noticed a sign showing different natural foods that can be used as egg dyes for Easter.
The guy working at the market caught me taking a picture of the sign and asked, "do you want the full list of natural egg dyes?"
"OF COURSE I DO!" I exclaimed. This is, after all – cool, hip, relevant information. I'm so on it. He gave me a sheet full of awesome, all natural egg decorating tips.
Using non-toxic egg dyes is much healthier if you're planning to eat the eggs – and also safer for your skin!
The information contained here is from Grow NYC.
NATURAL EGG DYES

BLUE: Canned blueberries, red cabbage leaves, purple grape juice
BROWN/BEIGE: Strong coffee, instant coffee, black tea
GOLD: Dill seeds, onion skins, paprika
YELLOW: Cumin, turmeric, saffron
BROWN ORANGE: Chili Powder
GREEN: Boiled spinach leaves
GREENISH YELLOW: Carrot tops, cilantro, parsley
ORANGE: Carrots, yellow onion skins
PINK: Beets, cranberries, cranberry juice, red grape juice, pickled beet juice
RED: Lots of red onion skins, pomegranate juice, raspberries
VIOLET/PURPLE: Violet blossoms, hibiscus tea, red wine
How to Make and Use Natural Dyes:
Wash hard-boiled eggs with soap to remove residue (the color will adhere better). Let eggs cool.
Use your own judgement of how much "dye" to use. Except for spices, place a handful of dye ingredients into a saucepan.
Add about 1 cup of water for each handful of dye ingredients.
Bring to a boil. Reduce heat to low. Simmer about 15 mins. Remove pan from heat.
Add 2-3 tbsp white vinegar to the dye liquid.
Pour hot mixture into a bowl or jar — enough to completely cover the eggs.
Lower the eggs gently into the hot liquid.
Leave eggs in the dye liquid until you like the color – a few hours or overnight. If you plan to eat the eggs, do this step in the refrigerator.
Lift eggs out with slotted spoon. Let them dry.
Naturally dyed eggs have a dull finish. If you want them to be shiny, you can rub the eggs with a bit of olive oil after they're dry to give them a shiny sheen.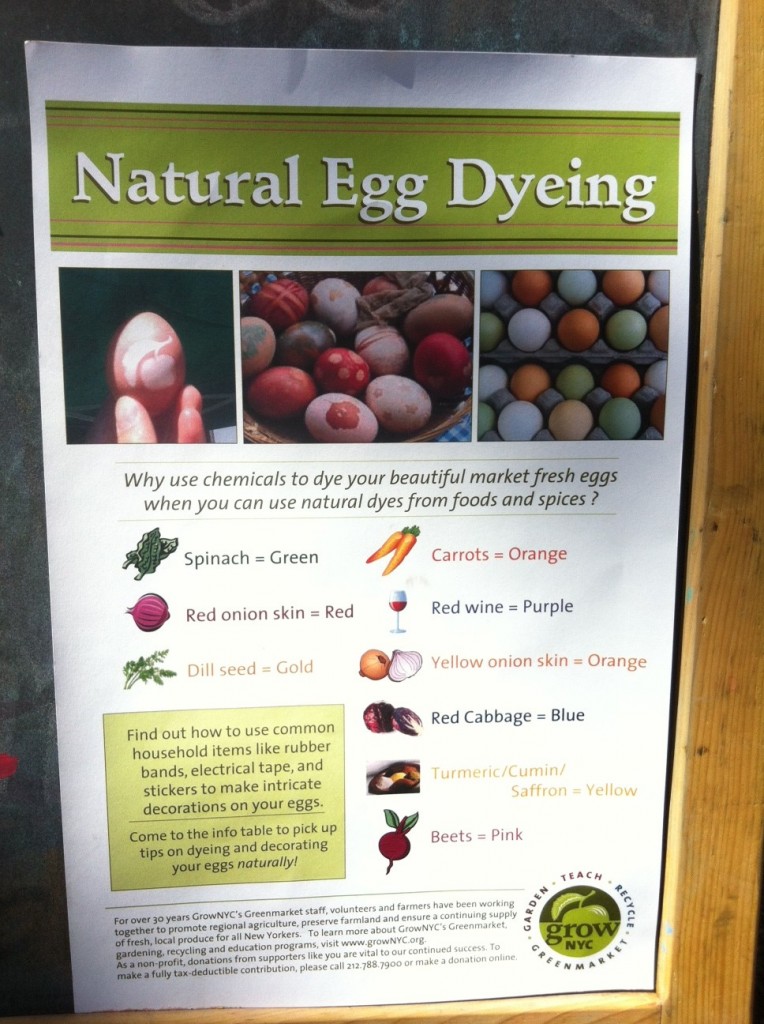 Have any favorite non-toxic, natural food decorating tips? Share!