My sister Lisa excitedly texted me from Whole Foods yesterday, saying there were 4 new Kombucha flavors out! She bought every one, and of course I planned on doing the same. I looked them up online and found this post who supplied me with a picture (thanks!):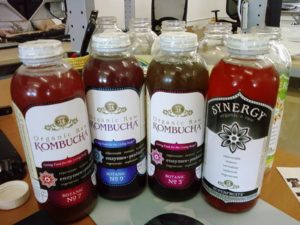 After a dinner last night at Spring Street Natural, I rushed over to Whole Foods on Bowery at 10:45pm (they close at 11) in order to be one of the first to sample these new flavors! I noticed that there are many ingredients in these new boochies that I've never heard of before. I had to investigate, of course. If I describe it below, it means that I wasn't aware of the ingredient/it's health benefits before now. My findings here….
Superfruits: Yumberry juice, Goji berry juice and Camu Camu juice.
Yumberry – super high in antioxidants
Camu Camu – more Vitamin C than any other known plant in the world
Botanic No. 3 – Lavender & Elderberry
Elderberry -antioxidants, potassium, vitamin C
Botanic No. 7 – hibiscus, orange peel, chamomile, ginger
Hibiscus- heart friendly, can reduce cholesterol
Botanic No. 9 – bilberry, honeysuckle, red clover
Bilberry -high antioxidants, help control blood sugar
Red Clover – strengthen immune system, help with congestion
Ok now that we've got it covered, I'll give you my opinion! I tried the Superfruits last night, and it was a bit sweet – but reminded me very much of the other sweet GT flavors (such as Passionberry Bliss).
Botanic No. 7 was not as fizzy as I expected! In fact, it didn't fizz at all when I opened it. Interesting. It's flavor was a bit more subdued, comparable to the Trilogy flavor.
I'm about to try No. 9 now – I've been waiting for it to un-fizz! It's been sitting on my desk for like 20 minutes, and each time I open it, it erupts! Whew, finally. I sipped it, and it has a slight grapey flavor.
I have yet to try No. 3 – it's waiting for me at home…but Lisa says it's fantastic.
Overall, I think the original, normal-style, unflavored Kombucha is the most refreshing. But sometimes when I feel a little snazzy I pick up a flavored, more sparkly one.
I recommend them all – especially because they are jam-packed with health benefits!!
xoxoxo