Hey kiddos!!
I've been having more fun with life lately. More specifically, I've been dancing more. I'm gonna write a full blog post about it, but as part of my Comfort Zone Crusade my roomdog and I have been taking hip hop dance classes in Brooklyn. It makes me feel so awkward, so uncomfortable, and so awful at times because I suck at it (for now) – BUT – it's really changing things for me. I've been listening to dancey music as I walk through the city, dancing in my bedroom, and reconnecting with the part of myself that's playful, bold, open, sassy and fun. Not to mention a little audacious and unreasonable. I've kinda been rocking my own world.
Am I throwing you off?
Didn't think so.
In the spirit of being more playful, I made this PB&J smoothie today. I consider this to be more of a dessert/treat smoothie than something to have all the time, because it's fairly sweet. I use almond butter instead of peanut butter, because well, to be honest, peanut butter = questionable vibe. You could probably also sub in tahini if you aren't into almond butter.
This smoothie series is part of my Vitamix giveaway. I've gotten some hilarious entries so far. You can still enter!! (to check out all the entries, search the hashtag #healthycrush on instagram).
This smoothie recipe was inspired by and adapted from Best Green Drinks Ever.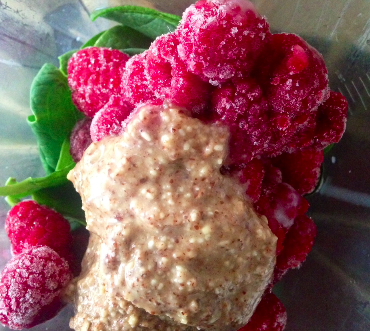 PB&J Green Smoothie
1 cup almond milk
1 cup spinach
1 cup frozen raspberries
1 tbsp almond butter
1 teeny pinch of sea salt (unless your almond butter already has salt in it)
1 medjool date (optional, for more sweetness)
Blend in Vitamix!!
Let me know if you try it.
Here's my playlist if you have Spotify and you wanna start jamming out in life. Listening to these songs actually makes me laugh out loud at myself in public. It's crazybrains.