As part of my Vitamix giveaway, I've been posting UNREASONABLE amounts of green smoothie recipes.
Check out these epic delights:
Mint Chocolate Chip Green Smoothie
This morning I woke up and opened up my cabinet to pick out some smoothie ingredients. I laid my eyes upon my coconut butter and realized I haven't been giving it enough love lately. Coconut butter is THE BEST THING EVER. If you're not familiar, it's different than coconut oil. Coconut butter is the whole flesh of the coconut, pureed into a nut butter like consistency. It's totally bombtown. I discovered it last year when I was in LA, and I think I ate an entire jar in like 3 days. Not recommended, but sometimes when I find new things I'm just too excited.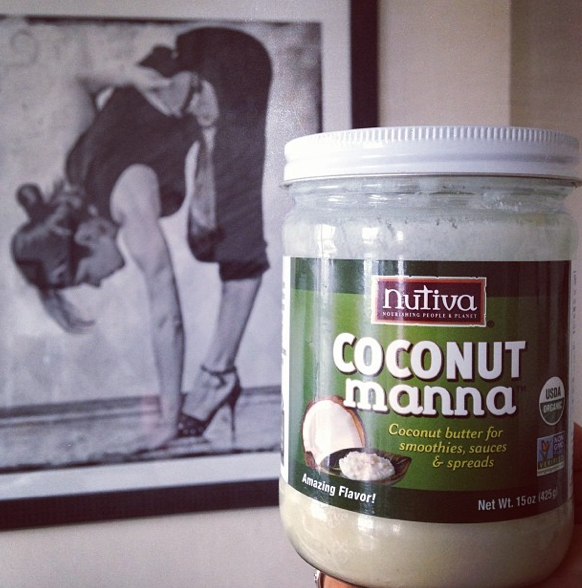 Just look at that badass chick in the background. I bet she loves coconut butter.
I used frozen peaches because obvi peaches aren't in season right now, but if for some reason you're in a place where fresh peaches are in abundance, you can use those.
Something to note — this smoothie does have a slight spirulina-y taste. If you don't like that (it tastes a little bit like…the sea…), use a green like spinach or kale.
I added chia seeds and maca to boost it up.
Peaches and Cream Smoothie:
1 cup frozen peaches
1 1/2 tbsp coconut butter
1 tbsp chia seeds
1 tsp maca
1/2 tsp spirulina (OR a handful of kale, spinach, whatever green you wanna use)
1 1/2 cups water (try using half water, half coconut water if you want it sweeter)
Blend all ingredients in Vitamix.
Bonus points: You can listen to this song while you drink your smoothie if you want to completely immerse yourself in the glorious moment that is your life. :)
There are just a couple of days left to enter my VITAMIX giveaway. Get in there.
Check out BEST GREEN DRINKS EVER for an incredible abundance of green smoothie and juice recipes.
Now go. Drink this smoothie and dominate!!!!