As part of the Foodbuzz Tastemakers program, I was sent a sample of Pure Dark chocolate to review.
Pure Dark's tagline is "chocolate harvested from nature," so I liked it already. Their thoughts are that chocolate should come from the earth and not be overly processed, and I couldn't agree more. They pride themselves on having "multi-sensory" chocolate — complete with fruit, nuts, different textures, spices and exotic flavors.
I'm a chocolate lover, as you could probably tell from my salty chocolate article. I must admit, though, I usually choose to eat raw chocolate that's sweetened with natural sweeteners (no white sugar – it makes me crazy). Alas, when I read the ingredients on these bars, I saw that they were sweetened with regular sugar, so I was willing to make an exception for this little taste test.
I received two samples — "Bark" and "Slab." Again, I was visiting my parents when I decided to test this out, so I got my mom's opinion on each.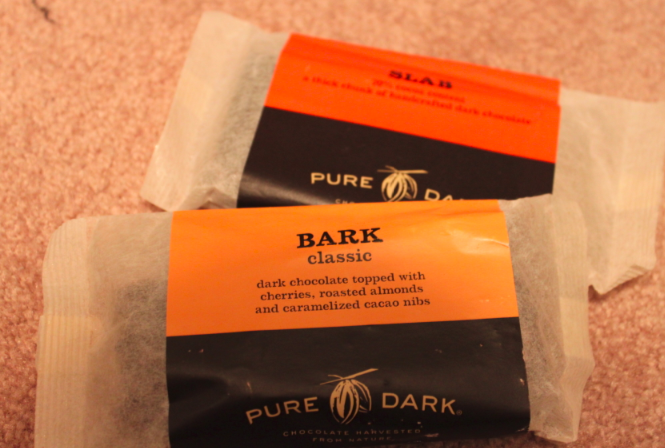 First off – SLAB. Well, it looks exactly as it's named. A big slab of chocolate.
Mom's opinion: "It's not overwhelming, not as bitter as some dark chocolate I've had. I like it. It's smooth and one bite satisfies my sweet dessert craving."
My thoughts — I agree. If you're going to eat regular dark chocolate, this one was pretty delicious. Not too bitter, not overly sweet. One bar is big enough to last you awhile — you really only need a little chunk at a time. It was a bit tough to bite into, though.
Next — BARK. This one was thin and loaded with goodies — cherries, almonds, cacao nibs.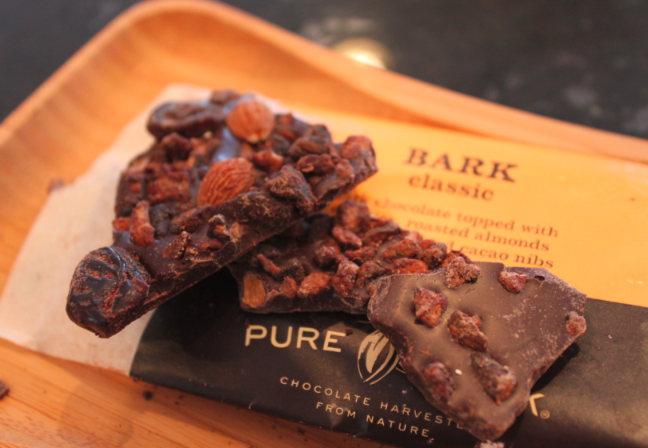 Mom: The flavors compliment each other and they don't overwhelm the chocolate. I could eat a lot of this. It's a good mixture.
My thoughts — I really liked this one! The textures, flavors and crunch made this one my choice over the Slab. It was also easier to break and eat. Lots of exciting things happening in this chocolate bar.
Overall — as I said, I try to steer clear of cane sugar at all costs, so that's the one drawback to Pure Dark. On the plus side, it is high quality, handcrafted, minimally processed, and uses some tasty, natural and fun ingredients. The company seems to have integrity and I'd say they are a pretty solid choice for dark chocolate. Now, if only they would switch to coconut palm sugar, this chocolate would make its way into my life on a more frequent basis. :)
Learn more about Pure Dark here.
What's your favorite kind of dark chocolate?