Whoa!
I'm a sucker for delicious treats that contain no dairy or sugar. Especially chocolately ones. When I saw this recipe in Healthy Cooking Camp, I knew I had to make it. Robyn assured me that I would, in fact, flip out when I made them. So today I decided to try, especially since it's so close to Chocolate Day (I mean…Valentine's Day).
I remember one very magical Valentine's Day a few years back. The guy I was sort-of-dating blew me off, and my mom sent me a big heart-shaped box of fudge. I spent that Valentine's Day alone in bed with fudge and Sex & The City reruns.
Aw. I know. That was a special day.
My point is, I think most people gravitate towards indulging in chocolate around Valentine's Day, so why not try doing it without overloading your body with sugar and dairy? This is a recipe so decadent, it rivals any fudge or brownie!! Whattttt! BELIEVE IT.
Raw Brownie Ingredients:
1 cup raw walnuts
1/2 cup raw almonds
1 cup raw cacao powder
1 1/2 cups medjool dates, pitted
1 tsp vanilla extract
1/4 cup almond butter
1/4 tsp sea salt
So listen. I don't have a food processor (ah!) so I used a Vita-Mix blender for this. If if you have a food processor, use that. I did manage to make it work in my blender, although it was a bit of a process, as I had to keep scooping the mixture out of the blender and re-mixing it, blending a little bit at a time.
Directions:
Add walnuts and almonds to food processor and blend until finely ground.
Add cacao and salt, blend.
Add dates, nut butter and vanilla. Blend until all ingredients are well combined.
This is what the batter will look like: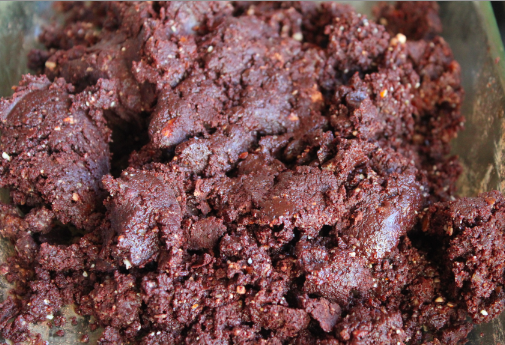 Spread the batter down into a cake pan.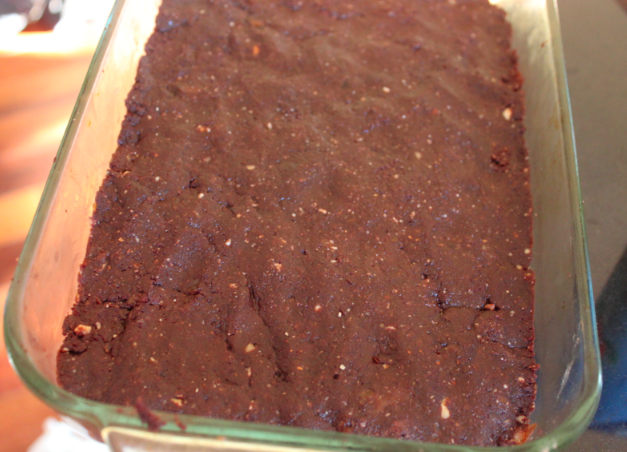 Freeze until ready to eat (they are easier to cut when they are cold).
When I bit into one of these brownies, I couldn't believe how much it tasted like an actual brownie!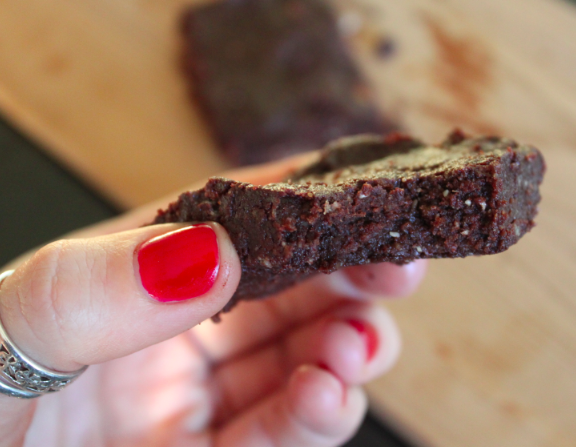 They are so decadent and rich, you really don't need more than one.
Yum!!
CHOCOLATE FOR THE WIN!!
xo
Jenny