What is life without raw chocolate? Seriously. I saw this cute card the other day and thought – YES – this is truth.
(click the image to enlarge).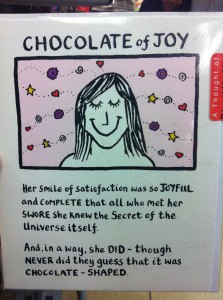 My love for raw chocolate may seem a little intense – I'm OK with that. Raw chocolate is made from unprocessed cacao, usually some form of natural sweetener…and sometimes other fun ingredients get thrown in too. Raw chocolate contains antioxidants and essential minerals, and may invoke feelings of happiness and love. :) It rocks my life.
Anyway, when I arrived in London a week ago, I thought "should've brought some raw chocolate with me." Little did I know there's heaps of raw chocolate to be had in the UK!
Here are 3 tasty brands that had me buzzing with elation:
Conscious Chocolate is based in Kent, England. Founder Emma Jackman says, "I was making raw chocolate in friends' kitchens, rolling truffles at festivals, selling unwrapped bars at Borough Market, and finally, dragging suitcases of chocolates to shops all over the UK. I just wanted to give people real chocolate, chocolate that everyone and anyone could eat, healthy chocolate that tastes amazing. And because I hadn't found any chocolate that was all of those things, I decided to start making it myself…" Love that.
They have lots of different flavors, but I tried the plain one: Cacao powder, cacao butter, agave nectar, coconut butter, carob powder, cinnamon and Himalayan salt. Good stuff! Found it at Whole Foods.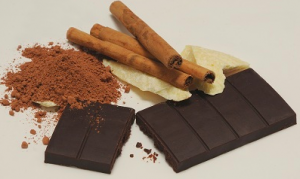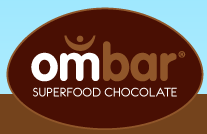 The name says it all, right? How could I not try it? These cute little bars are packed with fun healthy treats — goji berries, blueberries, coconut –– even probiotics! Crazy. Plus, they sweeten with coconut sugar, which I personally prefer to agave nectar. I loved the acai/blueberry bar. Of the company's beginnings, they say, "a person's dabblings with cocoa beans can only go so long before the desire to make a chocolate bar becomes too loud to ignore." Amen. This one was also available at Whole Foods.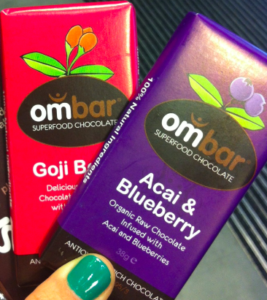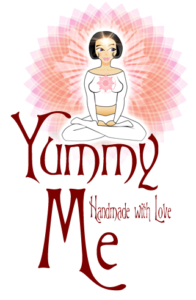 These chocolates were too pretty and enticing to ignore. With names like "Bliss," "Gratitude," "Passion," and "Courage," I was really intrigued to see what was inside.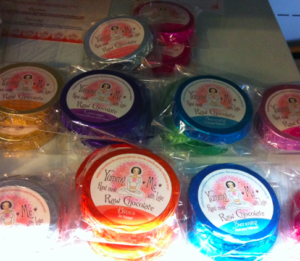 Check out the message I found in mine! SO GOOD:
From founder Ma Prem Soham: "Every flavour represents a different quality of the highest potential of human nature. Messages are wrapped within each chocolate, subtly reminding us to reconnect to the qualities which already lie within us." So flipping cool.
I really enjoyed the "Innocence" flavor: cacao butter, coconut butter, coconut palm sugar, Himalayan salt, raspberry powder. I found these chocolates at the Portobello Wholefoods health food store in Notting Hill, but it looks like you can order them direct too.
Clearly, raw chocolate is rocking the UK. Get some.
What's your favorite raw chocolate brand? Let me know in the comments!