Hello, friends.
I don't know about you, but I have a HUGE collection of books that I haven't read. I have the intention to read them, but often I either start a book without finishing it (especially non-fiction books) or I purchase a book and it gets lost in the shuffle and ends up at the back of my closet.
The other day, I was tipped off to an app called Blinkist.  
Blinkist condenses all the best non-fiction books into bite-sized "blinks," or summaries, of the most important concepts in the book.
You can listen to an "entire book" (the biggest takeaways) in 15 minutes!!! 
That's right. It's so awesome.
You would only need ONE HOUR to listen to 4 books – or, at least, to get the main point of 4 books. What!!
(You can also read the text instead of listening to the audio if you prefer).
How awesome is that!?!? I understand that it's not actually equivalent to reading the entire book, but isn't getting the main points of a book SO much better than simply letting the book collect dust under your couch!? 
YES, I say, definitely YES.
Blinkist is a digital learning app that distills the key insights of the world's bestselling nonfiction books into powerful packs you can listen to in just 15 minutes or read on your favorite device.
Yesterday, I read Happier by Tal Ben-Shahar, Ph.D. and I Thought It Was Just Me, But It Isn't by Brené Brown.
One was about the keys to happiness, and the other was about shame and vulnerability. After "blinking" each book, I definitely felt equipped to have a conversation about these books and hit upon the main ideas. Both of these books have been sitting on my bookshelf for years. 
You can get one free day of Blinkist here.
After your free day, you can stay on the free plan which gives you 1 book per day – or you can upgrade to Blinkist Plus for text-only books or Blinkist Premium (that's the one I have) which gives you the audiobooks too. I love listening to audiobooks while I'm cleaning, commuting, or taking a long walk. 
They break it down into the key insights of the books, which they call "blinks." 
This app is so perfect for someone like me. My bookshelves are almost caving in, I buy so many personal development books. In fact, I had to move clothes out of my closet to make room for more books – many of which I'll likely never read. 
But now!? I WILL BLINK THEM. 
Here are the books I have in my Blinkist library so far: 
15 Secrets Successful People Know About Time Management by Kevin Kruse
Contagious by Jonah Berger
Facebook Marketing by Greg Brooks
Growth Hacker Marketing by Ryan Holiday
Happier by Tal Ben-Shahar, Ph.D.
I Thought It Was Just Me (but it isn't) by Brené Brown
How To Make People Like You In 90 Seconds Or Less by Nicholas Boothman
Jab, Jab, Jab, Right Hook by Gary Vaynerchuk
Madness in Civilization by Andrew Scull
Out Of Our Minds by Ken Robinson
Permission Marketing by Seth Godin
 The Case Against Sugar by Gary Taubes
Wait by Frank Partnoy
…and those were just the ones I added upon first glance. There are thousands more. 
See all of these book descriptions on Blinkist
I'm really excited about this. I can't wait to blink more books tomorrow. Think about how much fun this will be on flights!? I could blink TWENTY BOOKS on a 4 hour flight. That's nuts. My brain would be on overload but I'd possibly be the most well-read person on the flight. ;)
In case you're curious, Blinkist was launched in 2013, is based in Berlin, and has over 2 million users at the present moment. 
What books will you blink first!?!? 
Try Blinkist Now and see all 2,000+ titles. 
HAPPY LEARNING!!!!!!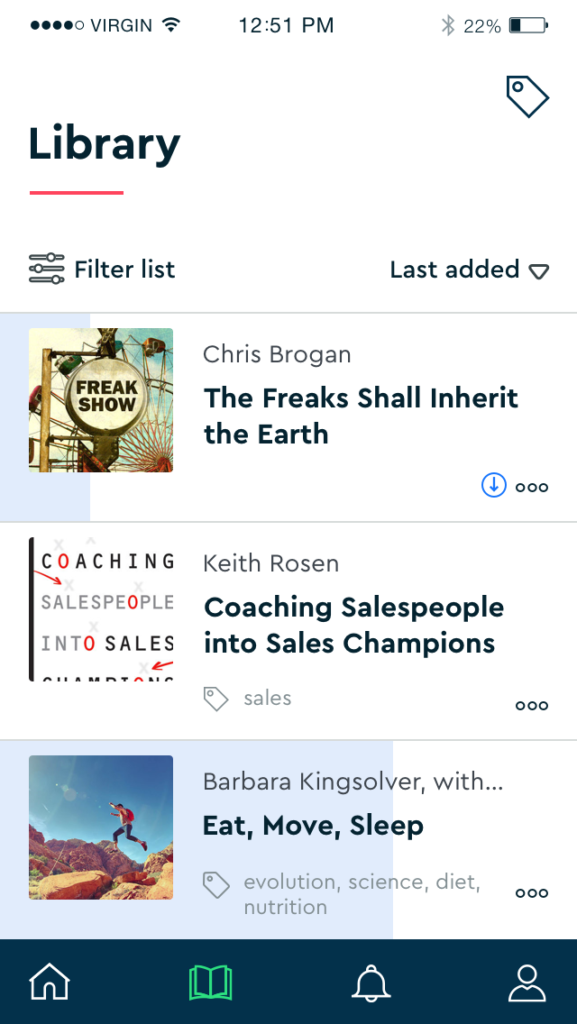 Have you tried Blinkist!? What books have you blinked? 
Thank you to the Wellness Gangster for tipping me off to my new favorite way to learn.