Up until a few weeks ago, I thought I didn't like eggplant. I guess I've just had bad eggplant experiences in the past. Little did I know what I have been missing out on! Despite my hesitation, I was convinced to try the eggplant sandwich at Birch Coffee – much to my surprise, it was so delicious, I was immediately converted to an eggplant fan. I dabbled in eggplant-land yet again at an Italian restaurant called Supper the other night, and realized – hey – eggplant is AWESOME!
Since eggplant and I are still in our honeymoon phase, I decided to share some of the love with you — with a simple recipe for roasted eggplant.
Ingredients:
1 eggplant, sliced into thick slices
Drizzle of extra-virgin olive oil
Sea salt
Black pepper
Pre-heat oven to 350. Line eggplant slices on a lightly olive-oiled baking sheet. Drizzle each piece with a tiny bit of olive oil, a sprinkle of sea salt and a sprinkle of black pepper.
Bake for about 20-30 minutes or until eggplants are tender and beginning to brown.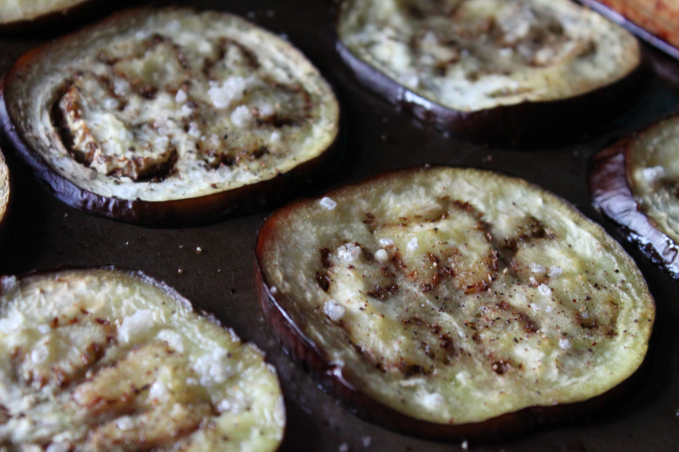 Eat the eggplant on its own, or try my creation of a slice of roasted eggplant + spicy white bean spread + Ezekiel toast!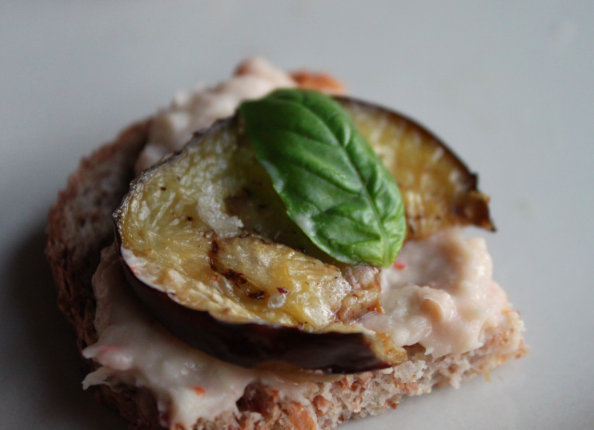 Eggplant….I'm sorry I doubted you for so long. Love you.