Root vegetables, according to the principles of food energetics, give you a grounded, relaxed energy. They are great to eat when you're feeling spacey or unfocused. Also, they taste great and are a super nutrient-packed way to give your taste buds some sweet and savory satisfaction! I love that.
What are root veggies? Quite simply, they are vegetables that grow underground. Since they are literally underground roots, they soak up nutrients from the soil. (Get organic if you can)!
Recently a friend of mine whipped up a roasted root vegetable medley for me. He made it seem so simple – just chopped up whatever veggies he had at his apartment, tossed them together with some simple spices, popped them in the oven, served them over rice, and voila! A healthy, bursting-with-flavor extravaganza.
Today, I got the final kick in the pants to start roasting roots when another friend posted a delish picture of roasted root veggies. I knew it was GO TIME!!
I went out and bought every root veggie I could see, plus some brussels sprouts just for added flare. This dish is so perfect for fall. Hearty, healthy and comforting to the max.
Ingredients:
Whatever root veggies you want (or non-root veggies too – go crazy)! I used:
Sweet potato (2 kinds: white + orange)
Carrots
Beets
Parsnip
Daikon radish
Fennel
Onion
Garlic
Brussels sprouts
Other ingredients:
Extra-virgin olive oil (enough to lightly coat veggies)
Fresh sage, rosemary, thyme or a combo of herbs (I just used sage)
Sea salt + black pepper to taste
1 lemon
Pre-heat oven to 400.
Chop up all veggies and herbs into small pieces and add them to a large bowl. Add olive oil, salt and pepper and mix well until all veggies are evenly coated.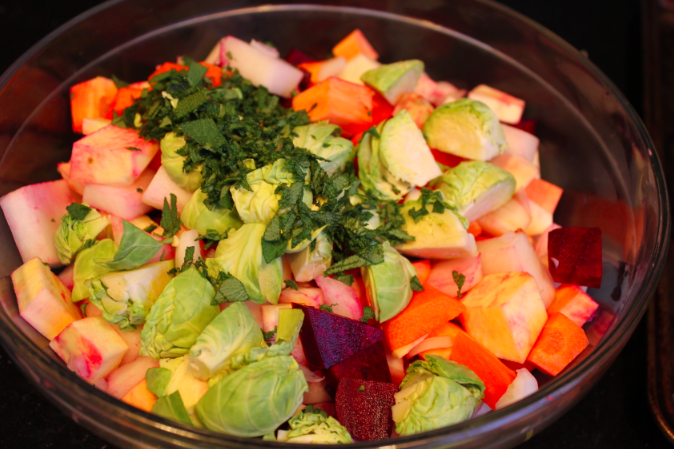 Transfer coated veggies to a baking pan. Slice lemon and put lemon slices on top.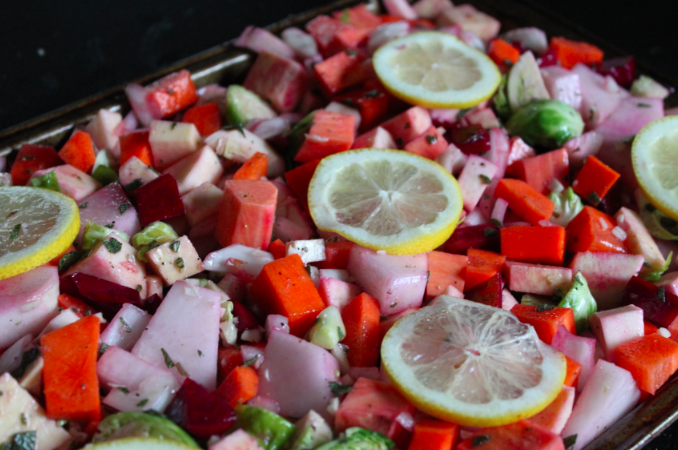 Roast for about 45 minutes or until veggies are tender and starting to lightly brown. I had to roast mine a little longer because I went bonkers and added way too many veggies to the baking sheet! Try not to crowd them too much. :)
Taste and add more salt, pepper or fresh herbs if desired!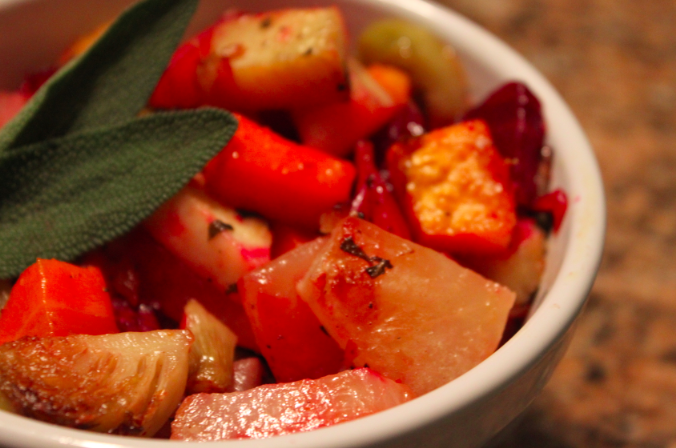 This is an amazing, savory, grounding and satisfying addition to any fall or winter meal! YUM!