I did a marathon once. Ok, I walked it, but still. I walked the Walt Disney World Marathon, back in 2005 with my mom and sister. Ever since, I've considered running a half marathon or just training for something in general, but I haven't committed.
I know one thing –  if and when I do sign up for a marathon or half marathon, it has to be a fun one. Meaning, the course must have things to keep me occupied and entertained. That's why I think the Rock 'n' Roll Marathons sound SO COOL.
Last weekend, I visited a close friend out in beautiful San Diego. She works for the Rock 'n' Roll Marathons, and we spent some time chatting about what they're like and why they rock so much.
My friend described the Rock 'n' Roll Marathons as 13.1 or 26.2 mile "block parties!" There's music every mile, composed of local and regional bands. Each city has it's own unique race vibe based on the local music scene. How awesome is that?
There's also a headliner who does a post-race concert at the finish line festival. Examples of bands who have been involved are Sister Hazel, Bret Michaels, Goo Goo Dolls, Vertical Horizon, Everclear, Flo Rida, and the B52s. The headliner is usually announced on the marathon website about 2 months before the race, and the local bands along the course will be listed in the race packet.
They have totally figured out how to make running fun, and it appeals to a variety of runners. Any fitness level is welcome – from elite racers to walkers.
Before the race, there's always a 2-day free expo, open to the public, with 100 vendors from the health & fitness industry. Sweet!
Each race benefits charities – check them out here.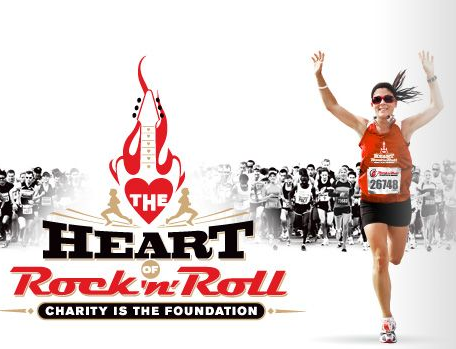 Check out the upcoming dates and locations here!

Talk about the perfect marriage of 2 of my favorite things – music and running! I'm getting excited just thinking about the possibility of running in one of these someday!
Have you ever run in a Rock 'n' Roll Marathon? Are you planning to? Let me know! Maybe I'll join you. :)