The other day I posted a picture of this incredibly gorgeous salad on instagram. I instagram a lot of things I eat, especially when they are healthy and beautiful like this particular salad.
As soon as I posted it, I got a few comments asking for the recipe. Ok, understandable. Peeps wanna know.
The thing is, my friend Jeremy and I spontaneously co-created this salad, and it definitely wasn't any type of exact recipe. So, I figured it would be helpful if I posted another picture of all of the ingredients we used, encouraging people to use whatever amounts they like.
So I did. I posted a photo of all of the ingredients, and with it I wrote out a full list of everything we used in the salad.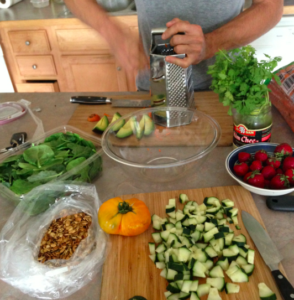 Then I got messages from people saying "Thanks but I was hoping for the exact recipe."
…
Not to be a dick, but come on.
Next, I got a private message from someone on Facebook, saying "You really shouldn't be posting pictures of any salads unless you're planning to share the exact recipe with everyone." 
YO….Who you trying to get crazy with, ese!? Don't you know I'm loco??
(My life is so dramatic, I know).
So I started thinking.
Dudes. Listen. While sometimes I create exact, specific recipes for my blog (and I love sharing them with you), there are other times when life just happens, and all I can provide you with is a haphazard list of ingredients and hope you'll be inspired to create something you love based on your own tastebuds. (Besides, not everyone wants to use such a crazy amount of cilantro like I do)!
I know it feels nice and safe to have our hands held through new endeavors. Believe me, I'm totally down for a little hand holding…but the real learning comes in when you have to figure it out on your own and forge your own path. (Are we talking about salad still?)
I actually don't even really like using recipes, because creating meals based on intuition is so exciting. Most of my cooking is intuitively inspired, and I want to encourage you to do the same and just feel it out. Cooking is a serious form of creative art. (Do not, however, try this with baking…I've learned that lesson the hard way one too many times).
I especially don't use recipes when creating salads. They are the ultimate act of culinary creative inspiration!! It's almost rude to yourself to use an exact recipe when making a salad.
So why not take the list of ingredients, a photo of a meal, or inspiration from a restaurant and design your own unique creation that has exactly the amount of avocado or cilantro that makes you happy? It's fun, I promise.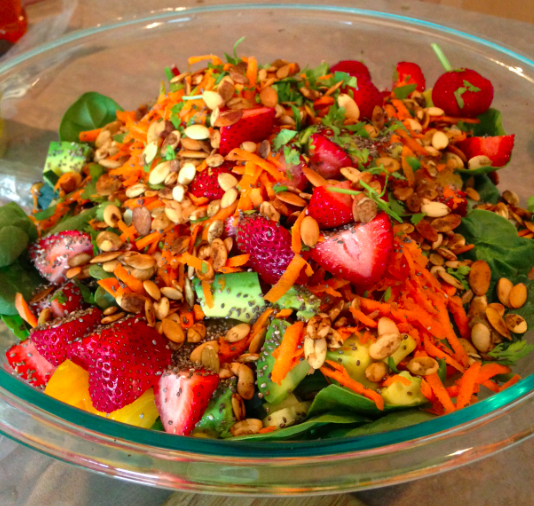 So that being said, here is the exact LIST of ingredients that went into this salad, and the dressing. I know, maybe it's a little more difficult when you don't have the exact amounts for a dressing, but I trust your judgment and I think you can handle it. The dressing was Jeremy's creation and I can safely say that he didn't measure out any specific amounts, so just taste as you go!! What's the worst that can happen, really?
Salad:
Greens (whatever kind you like)
Avocado
Strawberries
Yellow tomato
Carrots
Cucumber
Chia seeds
Pumpkin seeds
Cilantro
Dressing:
Olive oil
Balsamic vinegar
Bragg's
Dijon mustard
Honey
Garlic

"The only real stumbling block is fear of failure. In cooking, you've got to have a what-the-hell attitude." -Julia Child
SO GO….walk boldly into the unknown territory of intuitively inspired salad creation!
I deeply love and cherish you guys. Really. :)