Let's get real. There is nothing better than salty chocolate. Well, ok, there are probably a FEW things better. But I can't think of any right now.
Today at the Vegetarian Food Festival in NYC, I had the pleasure of tasting some incredible raw chocolate made with sea salt. My taste buds were in heaven. If you're anything like me and love the salty-sweet combination, trust me, you'll love salty raw chocolate too. It is truly the definition of "the best of both worlds." I knew I had to share my love of salty chocolate with you guys, so here are 3 decadent choices for you.
The first salty chocolate we'll visit has been one of my favorites for awhile: Gnosis Fleur de Sel. This is my favorite of all the Gnosis flavors. Gnosis packs all of their chocolates with raw vegan superfoods, so you can have your chocolate and eat it too. Fleur de Sel, a hand-harvested sea salt, contains 92 minerals! I love this brand and treat myself to a Fleur de Sel bar whenever I need a salty/sweet burst of guilt-free goodness. It is, after all, "the world's most nutritious chocolate." :)
Ingredients: cacao beans*, agave nectar*, Fleur de Sel Salt, Pink Himalayan Salt, Blue-Green Algae*, Vanilla Bean*, Love. *organic
The next sweet & salty chocolate I'm going to focus on is more of a truffle. I just tried it today for the first time and it is definitely worthy of being included in a post alongside Gnosis. The company is called Sol Vitality, and their line of raw chocolates is called Aphrodisia Raw Chocolate. At the time of this post, the Sea Salt flavor isn't yet up on their site, but at the Veg Fest they told me it was a new flavor — so I'm sure it will be available for purchase soon. All of their other flavors do have sea salt in them, though, so go nuts!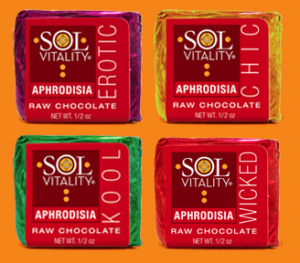 The last nugget of magical delight we'll chat about is my hands-down-favorite chocolate brand of all….drumroll please…FINE AND RAW! This brand is hand-crafted right down the street from me in Brooklyn and has a very special place in my heart. Once you try this chocolate, you'll never go back to the refined sweetener/chemical-laden chocolates that you may have loved in the past. You will only have eyes for raw chocolate. My favorite is the bonbon – made with, of course, Himalayan sea salt. To me, this is seriously the holy grail of chocolate. "For the eco-chic & forward and anyone whose tongue is bored and heart plays loud music that no one else can hear." Pure bliss.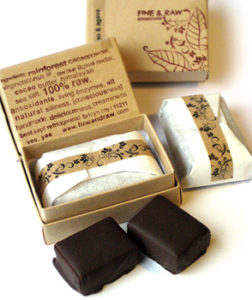 Do you have a favorite healthy salty/sweet combo?