Ok, I'll admit it – before I went to nutrition school, I had never cooked brown rice before. I'd only used the instant brown rice packets! Now that I make brown rice the regular way, I can't even imagine eating that instant stuff again! Brown rice cooked properly tastes so much better and is so much more nutritious, it's crazy.
When I started coaching, I quickly found out that I wasn't the only one who was intimidated about cooking brown rice the real way. Luckily for all of us, it's super easy. Yes, it takes a bit longer than the instant kind, but it's so worth it! If I'm going to make a dish that includes brown rice, I just start the brown rice first, and once I'm done preparing everything else, the rice is done! Easy.
Brown rice is a staple health food for so many reasons. It can aid digestion and help alleviate depression. Because it's a whole grain, it gives you a long lasting, slow burning energy. It makes a regular appearance on my dinner table and I love it!!
Here's the inside info on how to cook basic brown rice:
About 4 servings:
1 cup brown rice (I like short grain the best)
1 ½ cups water
Rinse rice before cooking. Bring water and rice to a boil and simmer on low for about 45 minutes.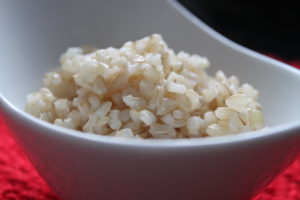 That's it! See? Not scary.
Here's a little trick – use coconut water instead of regular water to make coconut rice! I learned that from a chef at an Indonesian restaurant a few years ago. Makes the rice sweet and coco-nutty!
What's your favorite way to eat brown rice?