I'm a sauce person. Always have been. In my opinion, a great sauce can totally bring a meal to life. When I come across a great sauce at a restaurant, I always try to re-create it. (One of my all-time favorites? This cilantro garlic sauce).
Last night, I was having dinner at Souen last night with 2 of my roommates from when I lived in Australia a few years back. One of them ordered the squash tofu entree, and I remembered how delicious their miso-tahini sauce is.
I created a miso-tahini sauce that's way too good to keep to myself. It's not the same as Souen's, but it's incredibly awesome. Creamy, savory, a hint of sweetness – oh man!!! It's good!
Spicy Miso-Tahini Sauce
2 tbsp tahini
1 tbsp white miso
1 clove garlic
Juice from 1/2 lemon
1/4 cup water
1 tbsp tamari
1 tbsp apple cider vinegar
1 tbsp olive oil
1 tbsp maple syrup
1 pinch cayenne
1 pinch red pepper flakes
Add all ingredients to a blender. Blend until smooth!
Add more red pepper flakes to the top of the sauce, just to make it pretty.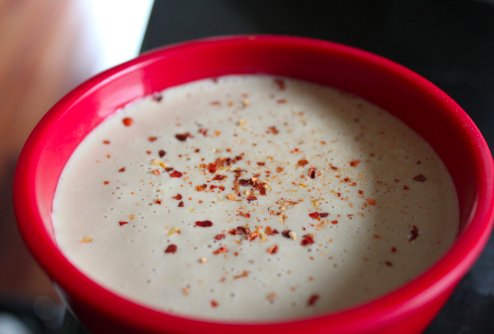 This sauce is awesome for all kinds of dishes – ESPECIALLY roasted veggies. For instance….maybe brussels sprouts? ;) I know. It's completely and utterly genius.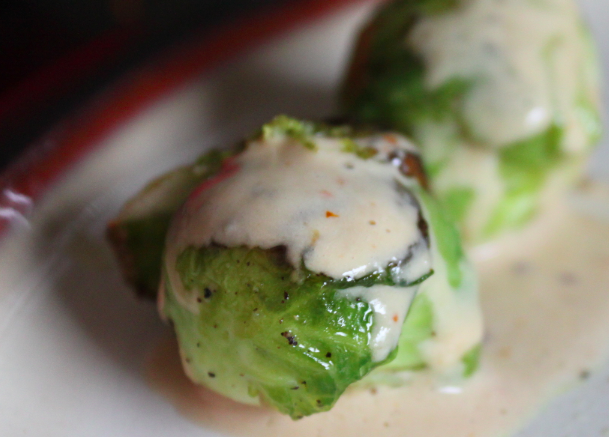 Go on! Make it. Love it.