This white bean spread can make for a great filling snack, and is awesome as an appetizer or party food. It packs a bit of spiciness from the red pepper flakes, which you can omit if you don't like spicy!
Ingredients:
1 can or about 2 cups of cooked white beans (navy beans, cannellini beans, etc). If using canned, use Eden Organic!!
2 tbsp olive oil
1 clove of fresh garlic, chopped
juice from 1/2 lemon
pinch of sea salt
pinch of black pepper
generous pinch of red pepper flakes
fresh basil leaves for top
Add everything except basil to a blender or food processor and mix well – but leave it a little chunky.
Add fresh basil leaves to the top!
You can use this white bean spread as a dip for veggies or crackers, or spread it on some Ezekiel bread.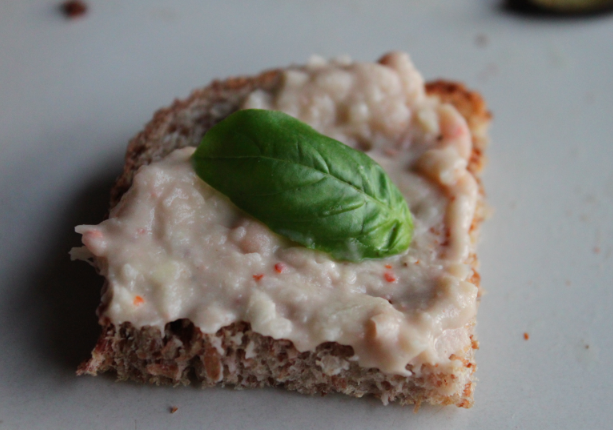 Even BETTER….top it with roasted eggplant!