Yesterday marked the launch of best-selling author and motivational speaker Gabrielle Bernstein's second book – Spirit Junkie: A Radical Road to Self-Love & Miracles, published by Random House (with a foreword by Marianne Williamson)!
Gabby has been a very important figure in my life for the past 4 years – as a friend, a coach, a mentor, a business partner, and as a sister to me. The fact that I've witnessed a lot of her transformation into the woman she is today, as she publishes Spirit Junkie, makes this book that much more special, authentic and real. Just holding this book in my hand, I can feel how much love she poured into it!
Spirit Junkie is part memoir and part how-to guide based on a text called A Course in Miracles. She goes deep into her own personal story of overcoming fear, anxiety, drugs and the party scene, relationship co-dependency, and lots of other "life stuff" that everyone can relate to on some level. She teaches material from A Course in Miracles to show readers what helps her on a daily basis to live a more peaceful, centered, loving life in every area.
A Course in Miracles can be super tough to understand and get through at first glance – it's a huge, thick book that uses a lot of unfamiliar terminology (to me) -which is why it's awesome that Gabby translates it for us here. The main point of the course is to choose love over fear – and that happiness, peace and endless miracles can be the "norm" in our lives. (Basically, that you can live a life of serious awesomeness). Who doesn't want that?! :)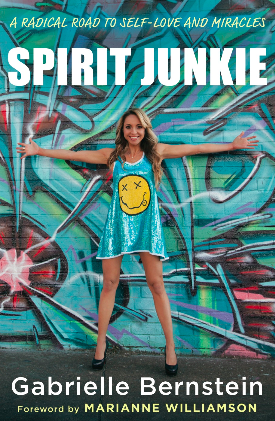 As you can see by the cover, Gabby gives off the impression that self-improvement can be fun, exciting – basically a vibrant fireworks display of colors. She makes personal transformation accessible to people who wouldn't normally dive into this stuff. I know personally that I would have been too intimidated (or uninterested) to actually pick up A Course in Miracles, but Gabby's book- with her fresh perspective, vibrant energy & edgy cover – could practically fall off the shelf into my hands – and into the hands of the millions of young women who relate to her.
Her lectures are always packed, she's been called a "new role model" by the New York Times, and recently had a 4-page feature spread in Elle Magazine. This girl is definitely making waves.
So, I encourage you to grab a green tea, pull out your meditation pillow, crack open Spirit Junkie…and soak up some zen (with a modern twist). :)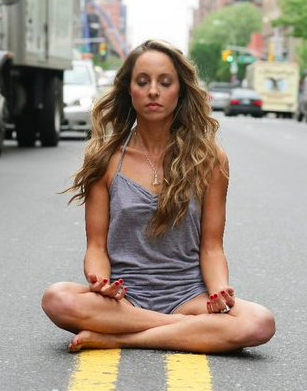 Watch videos of Gabrielle here.

Learn about Gabrielle's monthly coaching group and sign up for October to join us (from anywhere)!
Gabrielle will be doing a LIVE chat this Wednesday, September 21st at 9pm ET. Ask questions & win prizes during this Tom's of Maine Wicked Fresh! event. Watch it live below!!