You must be thinking, what kind of blog title is this!?
I know, it sounds odd, but I wanted to tell you a story about my day today.
Today I was drinking my new favorite drink (the High Vibe beverage from Cafe Gratitude), pictured above.
Ingredients: coconut H2O, blue spirulina, cannabidiol (CBD) oil, essential oil of lemon.
First of all, BLUE SPIRULINA!? YES. 

Second of all, this drink is AWESOME. With blue spirulina and CBD oil being known to relieve pain and anxiety, it's a high vibe beverage for sure. 
But that's not what this story is about.
As I was drinking this beverage and my mind was being elevated to the 12th dimension, I thought, "Hey, I used to drink coconut water with spirulina in it, years ago, and it felt sooooo good….where was that!?" 
OH RIGHT –
One Lucky Duck. (now closed).
I even wrote about coconut water with spirulina in it in my Guide To Mind-Blowing Healthy Highs back in 2011.  Here's what I said about drinking coconut water with spirulina after getting a colonic (I know, TMI):
"I went down the street and got a coconut water with blue-green algae in it. As I was drinking it, I felt a ridiculously happy high. Because my body was so clean, the green superfood affected me immediately and I felt tingly (a good tingly) and couldn't stop smiling. There is simply NOTHING like the feeling of being totally cleaned out and then adding the most powerfully nutritious green superfoods to your body. In that moment, I knew I was having a clean, extremely high-level experience."
YES.
Makes you want to drink it right now, doesn't it?
Anyway. I had that nice little memory of walking down 17th street in Manhattan, stopping into One Lucky Duck, and then blissing out with my blue/green coconut drink. 
And it made me think of Sarma.
As all NYC wellness-aficionados are well aware, Sarma Melngailis used to own 2 of the best, most popular and most delicious raw vegan restaurants in all of New York City: Pure Food and Wine (an upscale restaurant with a gorgeous back patio) and One Lucky Duck (a raw vegan takeout spot with a couple of small tables).
Those two restaurants were a huge part of my life in NYC for many years. Especially when I did a stint for a month as a raw vegan. I had countless late-night dinners in the patio of Pure, and endless trips to One Lucky Duck for pints of raw vegan ice cream and bags of nut-based cheezy quackers.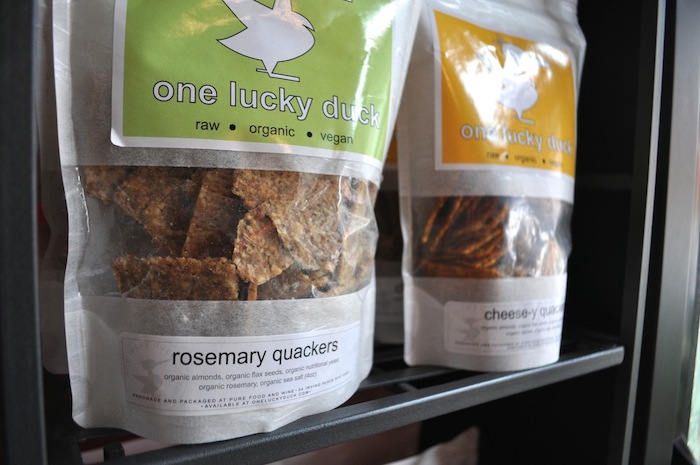 And oh….you remember.
The mint sundae. THE FREAKING MINT SUNDAE!!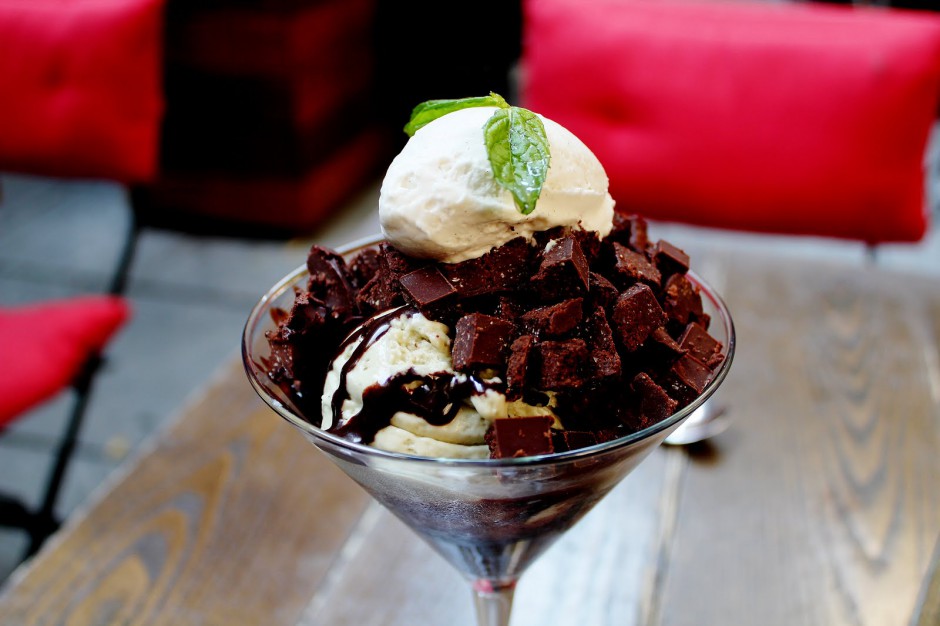 Those raw vegan mint sundaes were from another planet. These restaurants were health food treasures in NYC.
And who could forget the t-shirts covering the wall above the counter at One Lucky Duck: "Eat Raw, Live Long." 
And now? Both places are closed…and Sarma is in jail on Rikers Island. 
So. As I was drinking this lovely spirulina drink, I thought of Sarma, and pulled up her Instagram feed. I wondered what had happened. I hadn't been following the story very closely for a long time, so I didn't know she was currently in jail. I read her last instagram post before heading to Rikers. 
I don't know Sarma personally, but at this point I was invested in the story so I looked up the correctional facility where she's staying. The first thing I read was, "the center is a women's jail that's considered one of the worst female lockups in the nation regarding staff sexual misconduct." 
That made me cry.
Like I said, I don't know Sarma, and I obviously don't condone the crimes and fraud she committed, nor will I pretend to know all the details of what happened. I am sure the people impacted by her stealing money from them had to go through a lot of hardship, and that really, really sucks. But criminal or not, Sarma's restaurants had a major positive impact on me and my community while they were open – and the bottom line is, she must be in a lot of pain right now. And my heart was hurting to think about that.
Her instagram post was about sending letters or old paperback books to her in jail, if inspired to.
So I walked to the store and I got a card to send to her in jail. I had woken up feeling a bit funky today, and remembering that other people are suffering and could use a moment of brightness and joy, and that maybe, just maybe, I could have a hand in offering that…well, it made me feel warmer.
Maybe I can send a little bit of gratitude, and give a small nice moment to someone who's likely in pain. 
I walked home and went through my box of books that I kept when I left New York, and the first one my hand touched was The Invitation by Oriah.
I opened it to a random page.
"I want to know if you can see beauty, even when it's not pretty, every day, and if you can source your own life from its presence." 
And then-
"We are not offered guarantees. What we are offered is knowledge of life and ourselves, and if we are awake, glimpses of the wisdom held in the story our life is telling the world." 
Even though this is one of my favorite books, I thought – yes. I'll send this.
I thought, you know, I don't have to do it. I don't really even know why I am. I could not go through with this idea, and she would never know, and nobody would be affected. Who knows if she'll even get it, or if she'll care at all.
But then I thought, what a waste of a positive idea that would be!
What if every time we THOUGHT about doing something nice for someone – even a stranger – we actually did it?!
What if we could provide even a tiny moment of hope in a difficult situation? It's worth a try, I think.
Thank you, Sarma, for the mint sundaes on the back patio. The nights of raw vegan dinners with big groups of friends, the healthy raw cacao buzz of laughter spilling out into the Manhattan streets. The bags of cheezy quackers I'd pick up to give to my friends as gifts. The epic raw taco salads with cashew cheese shared in the corner table at One Lucky Duck, with the sound of the Vitamix making smoothies in the background. The raw vegan ice cream I ate when I was still loopy from my dentist appointment. The mocktails your bartender would make me. The number of times I said the words, "let's meet at One Lucky Duck."
You made an impact.
I didn't expect to think about this today, but that's how it turned out. So I go with it. Always an unexpected and wild journey of the mind going on in my head each day.
Today, it was sparked by spirulina.
I should drink more of this stuff.