Hello from Bali, where – side note – we had a 6.4 earthquake this morning at 7:10am. IT WAS CRAZY and the whole building was shaking tremendously for about 20 seconds. We are all ok. But whoa, I've never felt an earthquake like that before.
———–
Recently, when I was at my home base in NYC for a couple of weeks, I popped next door to my friend, next door neighbor, and health coach extraordinaire Amanda's apartment for some much needed couch therapy. After all, every health coach needs a health coach, am I right!? I confessed to her that I was finding myself snacking all the time instead of making meals for myself – a common theme I've faced on and off when I have long stretches of time alone at home. When I'm cooking for someone else, I love making beautiful and delicious meals, but when I'm alone it feels all too easy to just eat some hard boiled eggs or nuts or almond flour crackers with hummus or a protein bar instead of taking the time to cook an actual meal with vegetables in it.
(FYI I'm not saying snacks are bad, I love snacks, I just realized I was getting into a habit of having snacks instead of meals and massively skimping on veggies…no bueno, mis amigos). 
Amanda (follow her instagram here) is really good about making super nourishing and healthy meals for herself even if she's home alone. She'll often text me and let me know that she made food if I want to come over and eat, and it's always something gorgeous like this. I really admire the way she takes great care in making her plate of food colorful and beautiful and health-supportive. 
She gave me some really simple advice.
"Why don't you just get a bunch of broccoli and other vegetables, and every time you feel like eating a protein bar or a bunch of crackers, cook some veggies instead!? It's super quick and you can make them so delicious. Put them all on a big bed of greens and add whatever protein you want."
It's funny to me that no matter how much we "know" about nutrition, it can be easy to forget about having lots of vegetables in favor of eating something quicker. Sometimes it just feels like "a lot" to cook a whole meal for myself, but in reality, I just didn't have a solid, streamlined veggie process in place. Now I do.
I decided to take on the challenge of consciously adding more vegetables into every day and actually taking the time to cook them. It sounds so simple, but it was a profound shift.
It became so much fun, I started to feel great (digestion is way improved when you're eating lots of green vegetables, which affects energy and mood). I sort of got addicted to veggie cooking. 
I think the biggest issue for many people when it comes to eating healthy is that they don't know how to quickly and easily make veggies taste awesome. 
I went to the store and got a bunch of organic broccoli, asparagus, zucchini and greens (mixed salad greens, spinach, kale). 
Here's the thing. Why do you think things like garlic bread, Italian pasta dishes, etc are soooooo delicious? 
It's not because of the bread or pasta, FYI  (yes, carbs can be addicting, but it's not just the carb aspect that is making you love the taste so much).
The 3 things you need to make veggies taste EXCITING AND AMAZING: 
Drumroll please…..
BUTTER (grass-fed!) or coconut oil
GARLIC (fresh garlic)
So simple, so easy, so good.
All you need to do is:
Wash the veggies & add a little butter or oil to a pan on low/medium heat (don't let it get crazy hot or you might burn your little baby garlics).
Chop up the veggies and a couple of cloves of garlic and throw them all into the pan. Let 'em sizzle in there for a few minutes, until they reach your desired softness.
Sprinkle a little salt on them.
AND HELLO, YOU HAVE DELICIOUS VEGGIES TO FILL YOUR TUMMY WITH!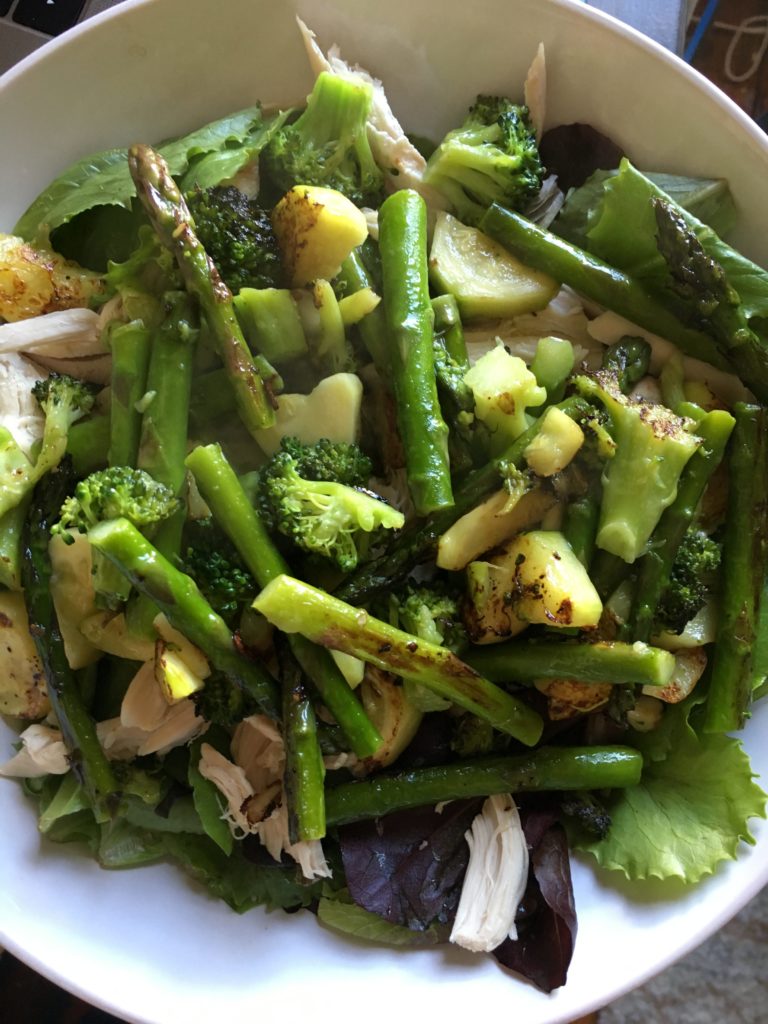 I like to prepare a big bed of mixed greens or spinach (thank you Amanda) and then put all the veggies on top.
After that you can add an egg or chicken or whatever protein you'd like. (It makes it even quicker if you have pre-cooked chicken or eggs on hand).
I know this may all sound so simple, and you may be thinking, "obviously," but sometimes the simplest advice is the best. 
Obviously, there's more you can do here (I also love adding cayenne and turmeric) but you really CAN'T go wrong when you do butter (or your favorite healthy fat or oil), garlic and salt. All the glory and taste sensation of a pasta with garlic bread meal, but with a jillion nutrients to keep you buzzing with energy. 
Best of all, when I left for Bali, I had a bunch of organic vegetables left in the fridge that I happily passed onto Amanda in a bag as I walked out. My heart got warmed at the thought of her eating them. :)
Now that I'm traveling again, I've been making a conscious effort to order meals with a lot of veggies in them whenever I can. It's great.
Over and out my friends! VEG OUT TO THE MAX! 
What's your favorite quick and easy way to eat more veggies? Can you try swapping in some veggies (especially green ones) instead of snacks? I promise, it's fun.
love,