Hi Holiday Friends!
If you're still looking for last minute gifts, make sure to check out my High Vibe Gift Guide.
Today I'm sharing something with you that I've been having a seriously intense love affair with all week. While I was on a run the other day, an idea popped into my head to make a winter holiday green smoothie with two very special ingredients…cinnamon and mint! I can't believe how delicious (and good for you) this smoothie is.
When I first made it, my roommate and I couldn't stop saying "wow" over and over.
It's packed with greens and health-enhancing superfoods, but also gives you that cheerful minty holiday feeling. It's absolutely perfect, and an awesome way to keep getting greens in during the holiday season.
Cheers!
Holiday Green Smoothie (serves 2-3):
Please note amounts are approximate, please adjust to your own taste. Also note – if you don't have the maca, spirulina and cacao you can definitely still make this smoothie without them!
1 1/2 – 2 cups coconut water
1 cup almond milk
2 cups spinach
1/2 avocado
handful of mint leaves
2 tsp cinnamon
1/2 tsp nutmeg
a few ice cubes
Extra boosts:
Blend in blender. Feel groovy.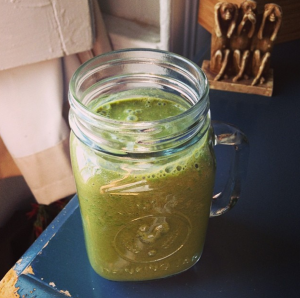 Two very enthusiastic thumbs up! Fine holiday fun.
Get your greens on this holiday season.
Love you guys!
J