Update, 2014: After hearing what these yoga teachers had to say about the best yoga mat, I ended up getting a Jade yoga mat and I've had it for about 2 years now. I love it!! It's still in fantastic condition, too.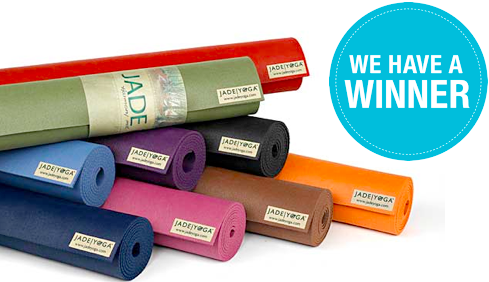 Every time I go to yoga class, I can't help but scope out all the different mats around me. I always wonder – how do you pick out the best yoga mat? What are the best yoga mats out there? What makes a good mat?
I decided to find out once and for all. And who better to ask than yoga teachers themselves? I wanted to go straight to the source, so I gathered up a bunch of my yoga teacher friends and asked them the following question:
What's the best yoga mat and why? What should someone look for when trying to find the best yoga mat?

The best yoga mat according to 3 out of 6 yoga teachers was the JADE mat. Why? Here are the yoga teacher responses. Read through these yoga mat reviews, check out the different yoga mats, and let this guide you to pick out the best yoga mat for you!


Rebecca: I have used all different fancy and expensive yoga mats throughout the years, and I've come to love my most basic one the most! I got it from YogaDirect – it has 1/4 inch of extra cushion and is really soft. I think it's the best yoga mat. I have bad knees so the extra cushion is great for any kneeling poses and most sitting poses. It's still firm and sticky enough to keep you balanced when standing. It comes in different lengths too, which is great for men and taller women! The most important thing to look for, in my opinion, is comfort and stickiness. You want the mat to grip your feet but not "rub" you the wrong way. I find the very thin or textured mats to be a little too abrasive on my sensitive skin. Rebecca's favorite mat


Ali: I'm in a pretty serious affair with the Jade Eco-Travel Mat. I love all Jade mats, the fabric is supportive and your hands don't slip while holding down dog (a problem I've encountered quite often). I went with the travel mat because you can FOLD it – not just roll it, so its easier to store and have handy. Another plus is that its just not that heavy. Being a New Yorker and walking everywhere, there's nothing worse than coming home from yoga and having to do more yoga to release the tension in your shoulders from carrying your mat! When finding your perfect mat, know what your major points are – do you sweat and slip often? Do you need more support under your knee and back for variations and back bends? Do you like sleek or gradient texture while practicing? Will vibrant colors and a fun bag make you want to practice more? When you're looking for the best yoga mat, don't settle — the yoga experience should be about the presence and focus, not a game of slip and slide! Ali's favorite mat

Lindsey: I am madly in love with my Jade Yoga mat. It's very grippy and lightweight enough that it's comfortable to lug around the city. I've been using it almost daily for the past 18 months and it's just gotten better over time. The only thing is that I'd recommend getting a yoga towel (e.g. Yogitoes) if you do a lot of hot yoga – otherwise your mat (of any brand) gets smelly fast. Jade makes the best yoga mat.
Lindsey's favorite mat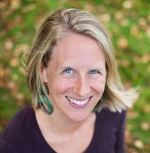 Annie: I personally LOVE the JADE yoga mats. The best yoga mat I've used. Not only are they made in the U.S. with natural rubber (no PVC or synthetic rubber), the company is committed to giving back to the earth which I am super passionate about. "Buy a Mat. We Plant a Tree." So awesome and powerful. Another important factor is that the JADE mats are non-slip and provide great grip, even for the hot, sweat-drenched yogi/yogini. They are also very comfortable & resilient, plus there is a fabulous selection of colors & thickness, depending on your mood & what you are looking for. Annie's favorite mat


Caitlyn: By far my favorite is "The Mat" from Lululemon. They have a light travel one for people who live in a city and don't want to lug around a heavy mat, or a regular one that is a little heavier but has more padding. But most importantly "The Mat" is NON SLIP. So no need for any more yogi toes or sliding – this is an all-in-one fix. I recommend this to all students, and have yet to hear a negative review! I think it's the best yoga mat. Caitlyn's favorite mat
Melanie: When I first started practicing seriously, I bought a non descript sticky mat the studio I practiced at sold with the studio logo on it. A no name brand. For years I practiced on this blue mat until it turned a not so bluish shade. Several months ago, I decided it was time to upgrade. I borrowed a well known branded mat to test run a few times before purchasing it ($100). Perhaps it's just that I don't like change, but the firmness I've heard many other yogis/yoginis say they love was a bit too much on my knees. Since I loved my first mat so much (less than $20), I bought a new one in a vibrant red – it's the best yoga mat. It wears quickly and I'll probably have to replace it again soon, but I feel at home on it. While some people might prefer buying a fancy, expensive mat that they'll have for 5 + years, I'd rather buy one that feels good even if I have to replace it once a year. Melanie's favorite mat

Wow- 3 out of 6 yoga teachers picked the Jade yoga mat!!! 
The Best Yoga Mat is…..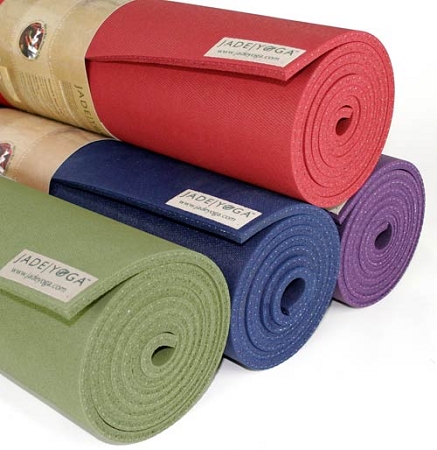 I agree that Jade is the best yoga mat. :) I love my Jade!!! It's eco-friendly, non-slip, and lasts for a long time. I have the dark blue one. It's awesome.

Please chime in!! What do you think is the best yoga mat? Why?