The thing I loved most about attending the Institute for Integrative Nutrition is that they have such a well-rounded, no-nonsense approach when it comes to being healthy. When I graduated from the program, I felt so much more relaxed about what it meant to be healthy. I realized it doesn't have to be one specific/strict way all the time for every person – that different ways of eating can work for me at different times of my life. There's no magic pill or method that works for everyone all the time. That's awesome. Sometimes I feel more drawn to juices and raw foods. Sometimes I feel more drawn to organic eggs or fish. Sometimes I want to eat lots of soups and roasted veggies. And none of them are "the right way" for everybody every day. For me, as long as I'm eating the most natural, whole foods possible and limiting the foods that suck the life out of me, I'm good.
The other day I was reading through the Integrative Nutrition book (get it for free here), and I came across this 12 Step Nutrition Plan. I love it, and I have it saved on my desktop now so I can always have it as a gentle reminder.
Feeling good and eating healthy doesn't need to be a strict, insane thing. There are guidelines here, that if you follow for the most part, your life will improve immensely.
Here they are. What do you think?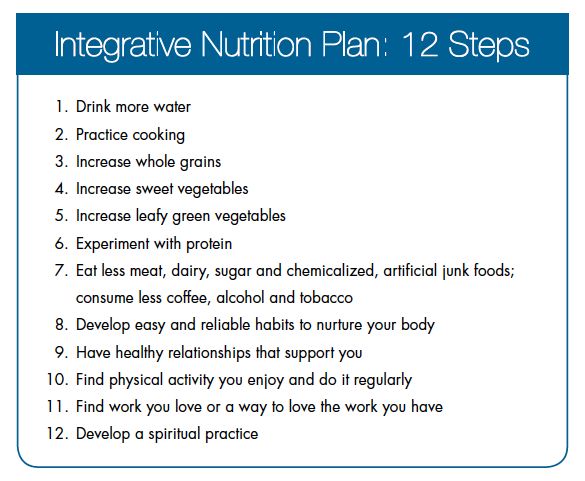 Are there any habits here that you know you could add to your life? For me, at the moment, I'd love to increase my water intake and focus more on my relationships. Oh, and do more things that excite me. :)
Intuitively, one or more of these steps probably jumped out at you. Which ones?
By the way – today (2/16/12) is the last day to take advantage of my $1,000 scholarship to the IIN program! One of the best decisions I've ever made for myself. Call the school at 877-730-5444 and tell them Jenny Sansouci sent you in order to claim it.
xo!
J