When I took the 9 month Food Therapy certification course at the Natural Gourmet Institute, one of the class descriptions that intrigued me most was the "low-stress weight loss" class. My teacher, Dr. Annemarie Colbin, is a very wise woman who has been in the nutrition/natural health world for a long time – and I knew she'd have some no-nonsense insight for us.
One of the things about weight loss is that it's usually anything but low-stress. If you've ever been on a diet or known someone who has, let's just say calorie-restriction and diet foods don't usually lend to cheerfulness. ;)
Here are a few of Annemarie's tips for low-stress weight loss:
Chew every bite of food until it's liquid. Train yourself to chew. For 1 week, pay attention. Notice the texture of the food before you swallow. Don't swallow big pieces.
Eat whole foods. This means fresh, natural, non-processed foods. Whole grains, beans, fruits, vegetables, nuts, seeds and organic meats and eggs if you choose. No "fat-free" or "diet" foods, sugar or dairy.
Don't focus on calorie restriction. If you're eating only whole foods and chewing properly, your body will drop any unnecessary weight.
Don't eat 2-3 hours before bed.
Not so stressful, right?
If you're skeptical, why not try it? Be honest – do you really chew your food until it's liquid and eat no processed foods? Or do you eat processed diet crap, have crazy cravings and end up overeating with no focus on chewing – leading to bad digestion, bloating, and probably bad moods? :)
Worth a try, friends!
More from Annemarie Colbin: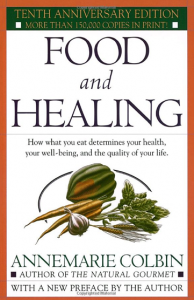 Articles on nutrition by Annemarie Colbin
Natural Gourmet Institute Public Classes