It's almost June! Warmer weather, for me, means lots of salads. My favorite thing to do on a Saturday morning is head over to the farmers market, pick out the freshest looking vegetables, and make a huge salad full of goodies.
I have an insanely easy go-to salad dressing that I use on pretty much every salad. It's perfect because it's not too heavy or too strong, so it really brings out all the amazing flavors of the vegetables or whatever you're putting in your salad. So forget the bottled salad dressings and try this!
The Simplest Salad Dressing:
2 tbsp extra-virgin olive oil
Juice from 1 large lemon
Pinch of sea salt
Pinch of black pepper
Small pinch of cayenne
Whisk all ingredients together and pour over salad. Mix well!
That's it! SO EASY!!
Here's a picture of one of my favorite/most awesome salads, that this dressing was perfect for.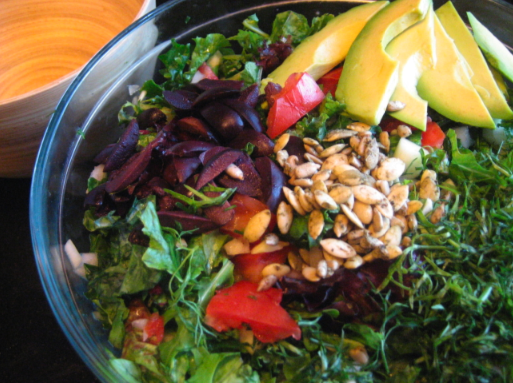 Enjoy your fresh, crisp summer salads with this couldnt-be-easier dressing. :)
Do you have any favorite simple salad dressing ingredients?