So, I'll admit – this may not be the healthiest breakfast ever (I usually start my day with a green smoothie), but once in awhile, like on a holiday weekend, I like to indulge in some treats! :) Especially DELICIOUS treats. I made this breakfast sandwich over Labor Day weekend and it's totally amazing – and VEGAN! No animals were harmed in the making of this sandwich, which makes me feel great after visiting the Woodstock Farm Animal Sanctuary this weekend. So let's get crackin..
Ingredients:
2 slices Ezekiel sprouted grain bread
1 slice firm tofu (as thick as you want for a sandwich)
Generous sprinkling of Daiya cheddar cheese
Earth balance buttery spread
2 slices tempeh bacon
1 small tomato
Salt & pepper
Sprinkle of onion powder
Splash of apple cider vinegar (or whatever vinegar you like)
Cook the tofu and tempeh bacon in a pan with the earth balance buttery spread, salt & pepper. Just like a bacon & eggs. :)
Toast your Ezekiel bread.
While the tofu/tempeh are cooking, make your "ketchup." Dice up your tomato really small and mash it together with a splash of vinegar and a sprinkle of onion salt.
When the tofu is browned and crispy, put the Daiya cheese on top. Let it get melty.
Put the tofu, tempeh bacon & cheese on your bread.
Spread tomatoes on top.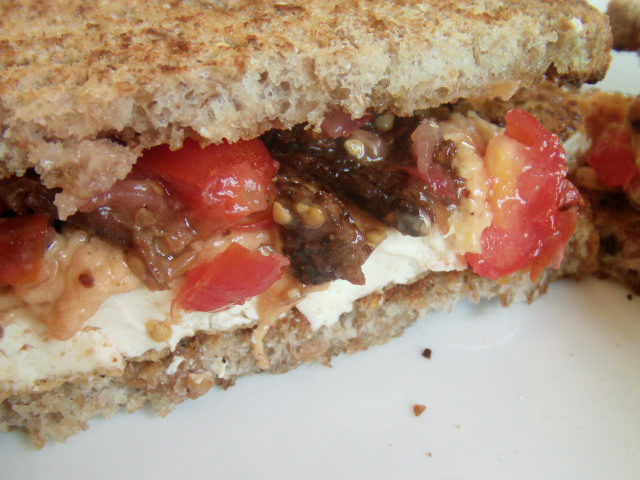 Voila! Eat up, friends. Happy weekend. <3