A couple of years ago, I was working at Everyday Health. My office was in DUMBO, Brooklyn at the time (memories!).
There was a really cool bookstore right underneath the office, and every day when I went out for my lunch break I would take a peek into the window.
The same book caught my eye every time: The Vegetable Dishes I Can't Live Without by Mollie Katzen. The bright green cover with delightful looking little veggies swirling around just gave such me a good vibe. Honestly, I don't know why I didn't buy it at the time…but I remember thinking "I'll buy this for myself as a gift someday."
Well, the other day I decided to pop into my local kitchen store and get myself a little celebratory gift for publishing my 2nd Ebook. It's hard for me to celebrate myself sometimes (you too?), so it feels good to pick up a little trinket of appreciation when I reach a fun goal.
Anyway, I was browsing through the store, looking at all the fab kitchen things, pondering what I might gift myself. That's when I saw it. The same book that had caught my eye years ago. I smiled. I knew it was time to own it.
So now I can't wait to start cooking. The inside of the book is even better than the cute cover!!! Some of the recipes I'm most excited about:
Grilled Lemon-Spiked Artichokes
Avocado-Strawberry Saladita
Broccoli Dipped in Wonderful Peanut Sauce
Braised Brussels Sprouts in Maple Mustard Sauce (omg)
Crispy Sage Leaves
Spaghetti Squash Pancakes
….the list goes on and on and on!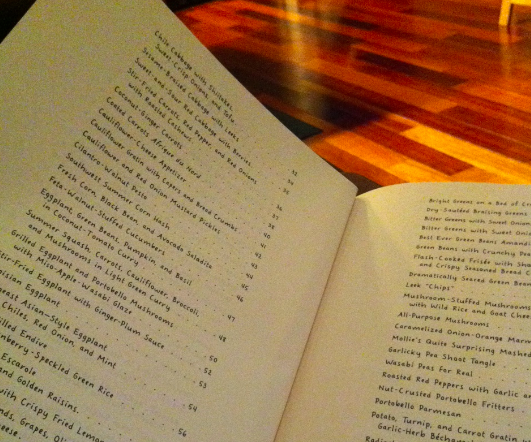 Honestly there are SO MANY recipes in this book that I'm freaking out a little. I had to stop listing them just now because I got too excited and spilled a glass of water on my lap. Maybe I'll do a "Julie & Julia" type thing and just make every single recipe in here. STAY TUNED!
That being said….here are some of MY vegetable dishes I can't live without:
What are YOUR vegetable dishes YOU can't live without? Don't get too descriptive on me or I'll faint with excitement! ;)
xo