Hey guys!!! I'm really excited to be writing this post. I never thought I'd actually be posting fitness photos of my body on my blog, so it feels a little crazy and it makes me nervous…but I truly think this is for the greater good of humanity. ;)  For the last 2 months, I've been telling everyone I know about this workout, and I figured it was time to share it with you here.
And you know what?? I'm really freaking proud of myself for the work I've been doing.

The workout I've been doing is…drumroll…the Kayla Itsines Bikini Body Guide. And it's changing my body FAST!!! I almost can't believe the results I'm seeing from it. Even though I have always exercised in various ways, I've always struggled with consistency. I feel so much stronger from this workout…and it really only took a week or so for me to realize how effective and powerful it is.
I started watching Kayla's instagram feed about a year ago. She's followed by 3.3 million people for a reason — her workouts work, and people are getting awesome results from it. One thing I love about Kayla is she's always saying this isn't about a "quick fix" or any crazy diet plan — it's about commitment and consistency, and as a result there's a huge community of people working hard and celebrating their strength.
Even though I post on instagram all the time about working out, I wanted to wait a few weeks before sharing the specific workout I've been doing, because, to be honest, I was afraid I wouldn't stick to it, so I didn't wanna commit publicly too early. But I can say with total certainty now that this workout WORKS, it's really FUN, and it's easy to stick to. It's the best workout to do while traveling because you can do it anywhere and it only takes 25 minutes.
The prices for the guide on Kayla's site are listed in Australian dollars, so it's actually going to be less than the listed price if you're purchasing from the US!! Use this currency converter to find out how much it will cost, based on the current exchange rate.
Listen – I know this workout is called "bikini body guide" — but in reality this isn't just about looking good in a bikini…even though you will. It's about feeling strong, confident, powerful, and more in control of how you feel physically. Which you WILL. In less time than you think.
It's a 12-week program and I'm about halfway through right now.
Here's my 5 week bikini body guide progress photo: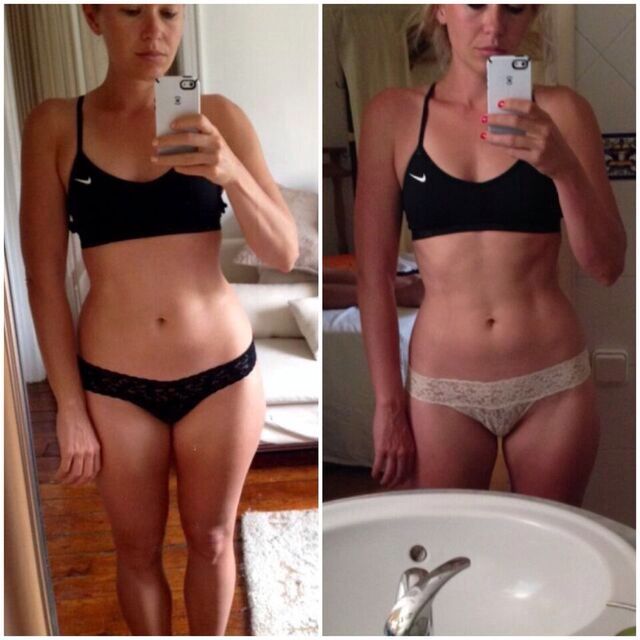 The picture on the left is before I started the BBG. The picture on the right is after 5 weeks of doing the workout consistently (yes, those are abs…wtf!) Consistency is KEY here!!!!
FYI, I do have a butt progress photo too….but I don't really want butt photos floating around on the interwebs. ;) I will say this, though…it's getting rounder and firmer by the day!!! Ha. Seriously though. Squats are no joke.
I have been doing the workout 3x per week, usually Mon-Weds-Fri, with walks or jogs on the other days (and a rest day). The BBG workout is designed so you do the strength training 3x per week, on whatever days you want, but I find it relatively easy to stick to a Mon-Weds-Fri schedule.
I did take a full week off when I was sick right after my month of traveling, but aside from that I find it super easy to stick to — because it's quick and you can do it ANYWHERE.
Here are a few examples of other "gyms" I've used since I started Kayla's BBG workout — all you really need is a bench and some space!!!
The beach in Barcelona…I used that little bench as my gym every single time I worked out when I was there! I was doing burpees on the beach while everyone was sipping on cocktails and giggling at me. It was awesome. :) If there were parts of the workout that needed weights, I would either improvise or do the weighted parts later when I had something heavy to hold.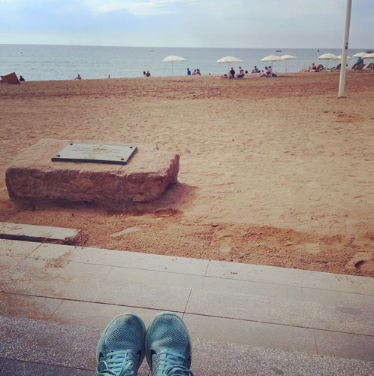 The "play turf" at Brooklyn Bridge Park: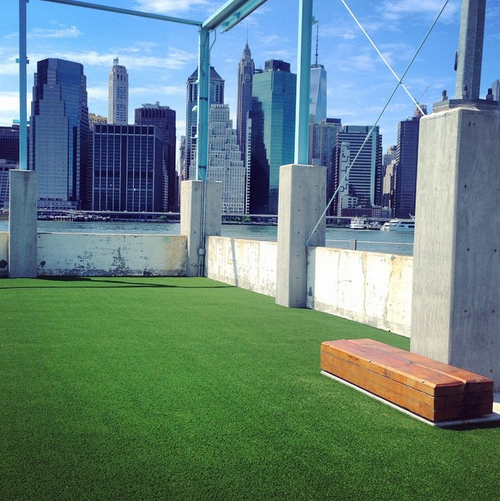 I used those little rocks in the photo below as weights for weighted squats!!! So much fun…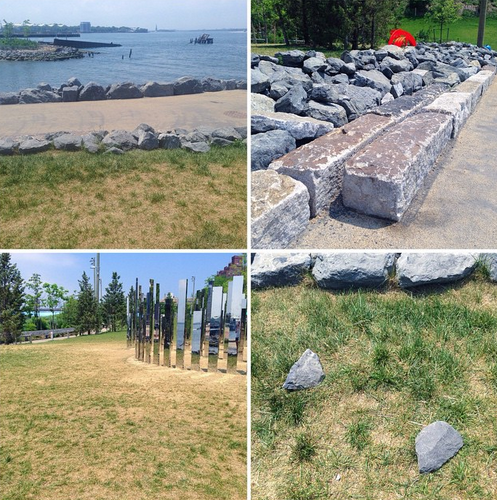 My little "gym" overlooking Manhattan at night…used that bench for "knee-ups." :)
A "gym" in a hotel room….burpees on that carpet, step-ups on that "bench.." EASY! No excuse not to do it. :)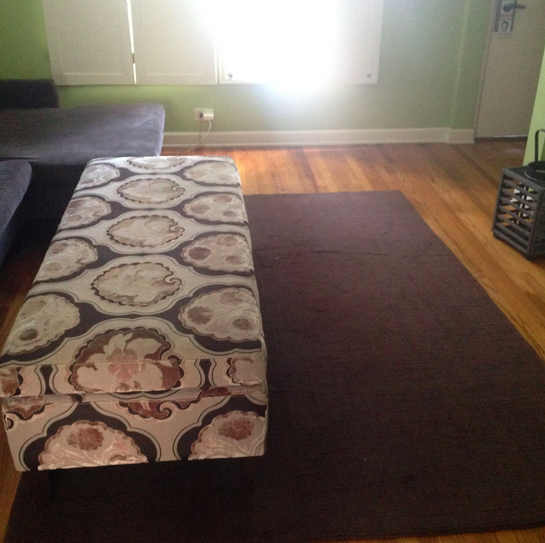 Reasons I can't stop gushing about Kayla's BBG workout:
It comes in PDF form –— I just take my iphone with me and look at the workout, wherever I am. No videos to watch or anything – just straight up, easy to understand exercises with photos and clear instructions.
It takes about 25 minutes, start to finish, 3x per week. Maybe a little longer if I take breaks to catch my breath. ;) It's a HIIT workout (high intensity interval training) and you'll do each exercise for about 10-25 reps before you move on to the next one. It's hard, but it's fun and it's quick.
You can literally do it anywhere — as long as you can find a bench type apparatus to step up onto, and ideally something to use as weights – even rocks. :) Outside is my favorite place to do it but I've done it in hotel rooms and my apartment plenty of times.
No gym membership required. No paying for fitness classes. You just buy the guide once and you're good for months. I love fitness classes, but I can't justify spending the money on it when I have this workout at my fingertips at all times.
NO COMMUTE!!! I used to commute for about an hour total to get to bootcamp classes in Manhattan. No more. Not saying I never will again, but I've cut out so much time just by being able to run outside to the park and do this workout.
It's the best workout for traveling. I travel ALL THE TIME…I just spent a month on the road – I was in Barcelona, Berlin, Portland, San Francisco and San Diego…and I had no excuse not to do this workout 3x per week, or at least improvise and do it to the best of my ability (except when I was sick — I let myself rest and take a week off).
You can pick up where you left off anytime. Sometimes if I'm REALLY pressed for time, I'll just do half of the workout and then do the rest later when I get home. I never have any excuse not to work out for 10-15 mins. Right? Right.
How I feel since starting the BBG workout:
Stronger. I'm seeing muscle definition where I've never had it before. We're talking shoulder and back muscles. It's really cool.
More confident. I've been wearing dresses that show off my arms and even shirts that show off my stomach (I've NEVER done that before). And I feel great doing it. WHAT!!!!!! It's totally nuts.
More powerful. Knowing that I have this simple workout schedule, and knowing I can do it on my own time from wherever I am, makes me feel a lot more powerful and in control of my fitness and health.
Able to "bounce back" quicker. Those abs in that photo aren't always as visible (i.e. when I eat bread and gelato in Europe for a couple weeks….!!!!) but having more muscle (and having a specific PLAN!!) allows me to bounce back way more quickly if I go through periods of not eating as cleanly as I usually do.
What about food?
Kayla does have a food guide too, but to be honest I haven't used it. I tend to eat pretty cleanly already (see here for what I typically eat) and if I'm feeling like I've overdone it with food in any way I usually go for juices, soups and smoothies for a day or 2…and I manage to balance myself back out pretty easily. Having the BBG workouts on my side – and having more muscle tone – makes me feel way more confident that I'll be able to bounce back easily from any "setbacks." In fact, although I'd never really recommend eating sugar, bread, etc…I am able to have this kind of thing once in awhile without feeling like I'm soooooo affected by it. I think having more muscle and being in better shape physically helps a lot with that (activated charcoal helps too ;)). I actually feel like my body can tolerate more carbohydrates than before, now that I'm doing the BBG consistently.
Don't get me wrong, guys. This workout isn't EASY – it's hard work!!!!
Burpees, squats, lunges, planks…this stuff ain't a nap. But you can take one after your 25 mins are done. ;)
But the bottom line is:
I've never had a workout that I've stuck to so consistently.
I've never had this much fun working out out before.
I've never seen physical results this quickly, that make me feel so strong.
I've never felt more at ease, confident and in control when it comes to my fitness plan.
I'm just REALLY happy with it!
I recommend this guide to all my friends because I want them to see how strong they can become with a little consistency and direction in their fitness plan. Plus it's fun to have fitness buddies!!!! I love texting my friends who are doing the BBG with "halfway through!!!" They motivate me and I motivate them…it's freaking cool.
Ok – questions?? Leave them in the comments section!!!
I can't WAIT to get to the 12 week mark and post another progress photo. :)

AGAIN…the prices for the guide are listed in Australian dollars, so it's actually going to be less if you're purchasing from the US (the workout guide will be about $50, not $70)! Use this currency converter to find out how much it will cost, based on the current exchange rate.
Love you guys!! Wishing you tons of strength, confidence and fun with your fitness plan.
Love,
Jenny
Follow me on instagram for more (mostly) healthy fun.
Follow Kayla Itsines on instagram for fitness inspiration.
P.S. — I just got an email from someone saying they are disappointed in me for sharing something that you have to purchase, and that they don't believe my results are "real." For complete transparency, YES, there are affiliate links on my blog, YES, my blog is a business, and YES, if you purchase something I make a small commission and it helps sustain me as a writer. But I would never, EVER share something I wasn't 100% obsessed with. If you know me in person, you know how insanely true that is. And that's a promise. If you'd rather not purchase the guide, Kayla does have options for free sample workouts on her site, and there are tons of various free workouts on youtube, so those might be more your style. For me, BBG has been a complete game changer and that's the truth. I've been working hard, and I'm really, really proud of myself. So thanks for reading, guys. :)