I know, TOMS shoes have been around for awhile now and I'm late to the party. I get it.
I've seen TOMS shoes on lots of feet, and I always thought they seemed comfy, but I never really took the time to look into them. That all changed a couple of weeks ago at Wanderlust when my friends told me I "must read" this book – "Start Something That Matters." I trust these friends, so I kindled that puppy right away and started reading it on my 6 hour flight to Los Angeles. Maybe it was the altitude, but I was so inspired by the book that I found myself taking pages and pages of notes! Don't you love productive flights?
Anyway, the book is the story of how Blake Mycoskie started the company TOMS (which stands for Tomorrow's Shoes). Blake had been traveling in Argentina and saw how many children had to go without shoes, and how it affected their lives and their health severely. He wanted to do something to help. Along came the "One for One" concept that is the foundation of the TOMS company.
The One for One concept is simple but it's changing lives every day. For every pair of shoes purchased, the company gives a pair of shoes to a child in need. Pretty amazing stuff. Buy some shoes today, help a child in need have a better tomorrow (hence "tomorrow's shoes"). During TOMS first year they sold 10,000 pairs of shoes, so Blake went back to where he was first inspired in Argentina and gave away 10,000 pairs of shoes to poverty-stricken kids. As of 2010, the company had given away one million pairs of shoes to children. I mean, how awesome is that?
I just ordered my first 2 pairs of TOMS shoes, which means I helped 2 shoeless children get shoes too. THAT RULES SO MUCH. I don't think I've ever felt that good about a shoe purchase. Check out the ones I got: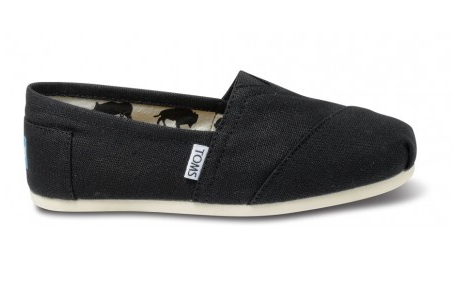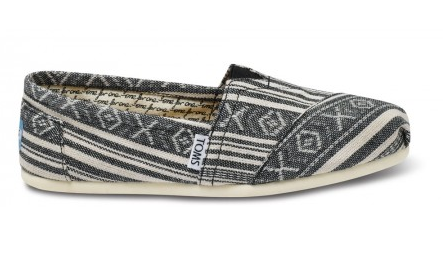 TOMS is also selling eyewear now (super cute eyewear, actually) and the One for One concept holds steady — for every pair of eyewear sold, they give someone in need the gift of sight (prescription glasses, eye surgery or medical treatment).
Oh man – as if that weren't enough goodness, I just read the fine print on the cover of the book – "with every book you purchase, a new book will be provided to a child in need." YOU GUYS!
According to his site, this book is for you if you want to love your work, work for what you love, and have a positive impact on the world—all at the same time. That sentence excites me. You too?