After attending Integrative Nutrition, turmeric quickly became an everyday staple in my kitchen. Why? Well, believe me, this spice is actually pretty magical.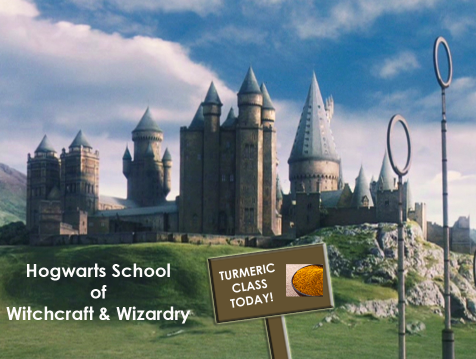 Ok, so I got a little carried away in Photoshop just now. But in all seriousness, turmeric is quite possibly the most important spice in your spice cabinet!!
I first heard about turmeric from one of the IIN teachers, Dr. John Douillard, who has a PhD in Ayurvedic Medicine. According to Douillard, turmeric is one of the most powerful anti-inflammatory spices out there. Curcumin, the active ingredient in turmeric, can help protect against cancer, decrease physical pain and liver ailments, increase mental clarity, increase intestinal health, increase fat loss, and lower cholesterol. It has even been shown to outperform chemo drugs for colon cancer!!
Turmeric is anti-viral, anti-fungal, anti-oxidant and anti-inflammatory. Inflammation is the cause of many chronic diseases that cause health to deteriorate. In India, they eat turmeric every day and have the lowest rate of Alzheimer's in the world!
Great health starts in the gut, and turmeric actually pulls mucus off the walls of your intestinal tract.
Douillard also let us know that when you mix turmeric and black pepper together, you increase your body's absorption of the turmeric by 2000%! That's right – you should always mix black pepper in with your turmeric!
Turmeric is one of the best things you can eat for enhanced health and disease prevention — and it's delicious! Sprinkle some turmeric (and black pepper!) on basically any dish that you'd use savory spices for. Stir-fry, rice, vegetables, eggs, meat/fish…anything, really. Just use it! I make an amazing sauce for rice & vegetables using turmeric. It's a mixture of tahini, white miso, coconut milk, tamari, ume plum vinegar, turmeric, black pepper, cayenne & sage.
Get some turmeric
What's your favorite way to incorporate the magical turmeric into a meal?