Over Memorial Day weekend, I spent a few days upstate at the Omega Institute. Although there were many amazing and beautiful things about the weekend, what stood out to me most food-wise were the jam dots in the cafe! They were vegan, gluten-free, and made with no refined sugar. Plus, they tasted like heaven. I don't think a better jam dot has ever existed.
The ingredients list was posted in the cafe, so I decided to take matters into my own hands and create a jam dot of my own. I'm so glad I did. :)
Here are the ingredients you'll need for this delicious, Omega-inspired healthy version of jam dots. By the way, I used 2 types of flour here (almond and oat). You can use both or just use 1 full cup of 1 type of flour.
1/2 cup almond flour
1/2 cup gluten-free oat flour
1 cup gluten-free oats
1 cup toasted almonds
1/4 cup maple syrup
1/4 cup brown rice syrup
1/4 cup coconut oil
1/2 tsp sea salt
1/2 tsp cinnamon
1/2 cup jam of choice (use a jam without refined sugar. Suzanne's Specialties is the brand used at Omega, sweetened with brown rice syrup)
Pre-heat oven to 350.
Combine flour, oats, salt, cinnamon and toasted almonds in food processor or blender. Blend until well combined, but still a little chunky.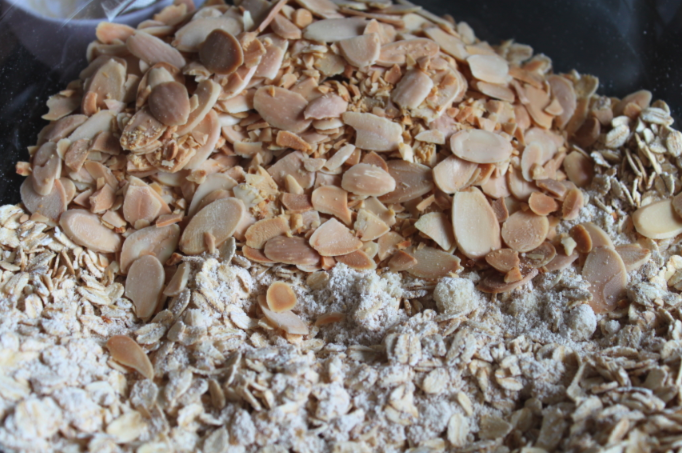 Stir together brown rice syrup, maple syrup and coconut oil in a separate bowl. Add to dry mixture and mix well to form a batter.
Spoon batter onto cookie sheet and put a thumbprint in each. Spoon jam into the thumbprint.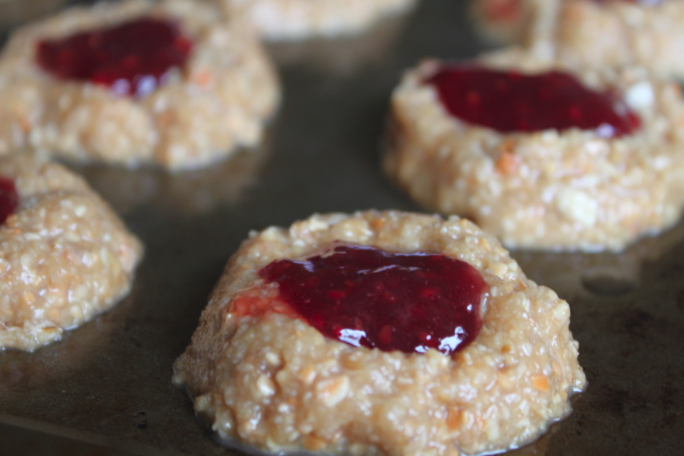 Bake for 10-15 minutes (keep a close eye on them and remove them when they start to turn golden). Let cool and enjoy!!