Last week I was working my lovely 7am member shift at the Park Slope Food Co-op. As I opened up boxes of grass-fed beef hot dogs and began stocking the meat shelves (I lead a glamorous life), I started wondering aloud what I should rate next on the vibe meter. My roommate was happily stocking shelves of flax crackers in the aisle behind me and she yelled "ketchup!" "OH YEAH," I said – "Everyone is obsessed with ketchup." Another guy who was working our shift chimed in about his friend's ketchup company, and we all just really got into it.
Fast forward to today, I saw this packet on the ground and I knew it was a sign. Time to vibe it up!!!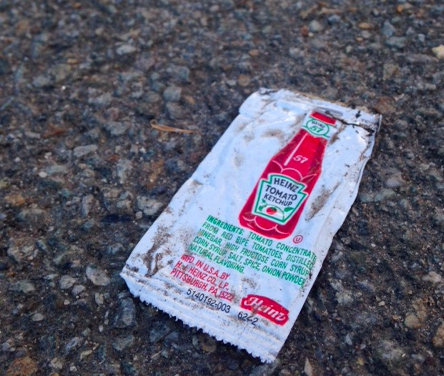 Ketchup is one of those things that even my most nutrition-conscious friends don't seem to think twice about before they pour it on their food. It's like this weird anomaly. Honestly, people love ketchup so much it scares me.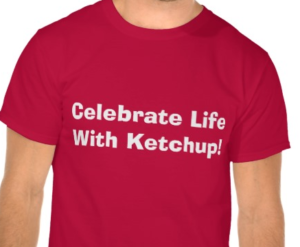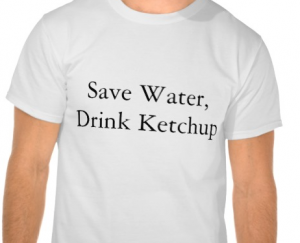 I'm breathing into a paper bag right now.
So, drumroll please…my opinion of the conventional ketchup (aka liquid corn syrup) you see in most restaurants and in packets:

CONVENTIONAL KETCHUP: LOW VIBE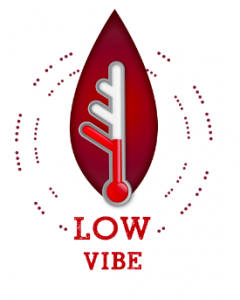 Why? Let's take a look at the ingredients in the a couple of leading ketchup brands.
Heinz (Original): INGREDIENTS: TOMATO CONCENTRATE FROM RED RIPE TOMATOES, DISTILLED VINEGAR, HIGH FRUCTOSE CORN SYRUP, CORN SYRUP, SALT, SPICE, ONION POWDER, NATURAL FLAVORING.
Hunts original ketchup is basically the same exact list. Interestingly enough, Hunts did remove HFCS from all products… and then brought it back.
High Fructose Corn Syrup AND Corn Syrup — Why use both?! Corn syrup is degrading our health and our food supply. Read more here about why corn syrup is not your friend.
Natural Flavoring: According to this awesome article by my investigator friend Food Babe, the term "natural flavoring" can include SO many things — genetically engineered fruits, vegetables, meat, hidden forms of MSG derived from yeast, etc — things that make you actually feel addicted. No wonder people have a freak out over ketchup! GUYS!
Non-organic tomatoes can contain high levels of pesticides, and you can assume the corn syrup used comes from GMO corn. But I love that they say "from red ripe tomatoes." So darn cute.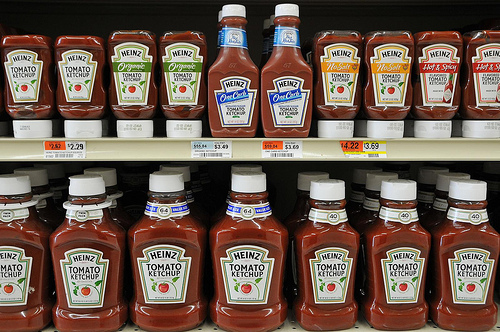 But what about the other versions of Heinz and Hunts…the organic versions?
I don't recommend supporting those ketchups. Heinz and ConAgra (who owns Hunts) are both fighting GMO labeling (which would allow us to be aware of whether or not we're consuming genetically modified food). Fighting GMO labeling is low vibe.
Other companies that are fighting GMO labeling here and here and here. I actually couldn't read all of these articles fully because I'm kind of freaking out. (It's a good thing I'm not involved in politics).
So what's a ketchup-lover to do?
Here are some Medium Vibe Ketchup options you can probably find at your local store. (By the way, "medium vibe" means not the best thing you could do, but not the worst).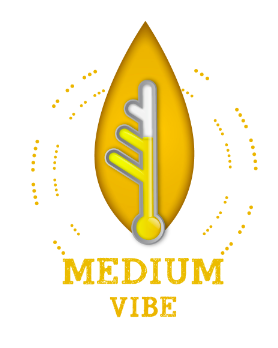 I consider these to be medium vibe because although they are organic and corn syrup free, they still contain sugar. Use in moderation.
Annie's Organic Ketchup: tomato paste, distilled white vinegar, water, cane sugar, sea salt, onion, allspice, clove (all organic ingredients)
Woodstock Organic Ketchup: tomato paste (water, organic tomato paste), organic sugar, organic vinegar, salt, organic spices, organic onion powder.
High Vibe Ketchup Options: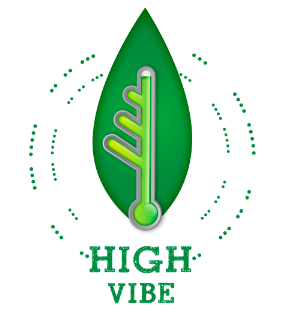 Make your own:
Homemade ketchup recipe from Nourished Kitchen
Homemade ketchup recipe from Chocolate Covered Katie
Try eating more foods that you don't need to cover in ketchup. :)
Tessemae's Ketchup: Someone just tipped me off to this ketchup and it  looks super high vibe!!! OMG. Ingredients: Tomato puree (Tomatoes, Salt), Date puree (Water, Organic dates, Lemon juice), Filtered water, Apple cider vinegar, Sea salt, Lemon juice, Onion powder, Garlic powder.

WOW. Ok so there you go. What do you think? Please answer the poll below and then leave me a comment with all of your ketchupy thoughts.
[socialpoll id="2180756″]
If you know of any other medium/high vibe ketchups we should look into, please comment!
Love, Jenny
Resident Vibe Critic