HEY, my extremely patient friends.
I know I'm posting this a few days late – I'm so sorry to keep you waiting. I've had "shiny object syndrome" lately. Sooo distracted!!! But all good things. And I'm here now. I'm writing this recap from a bachelorette party in Montauk. Everyone else is out right now getting brunch but I couldn't put this off any longer or I'd spontaneously combust.
While in Montauk, I've been on the hunt for Jack Porter at the Stowaway (jk, sadly it's not a real place), but I just got a text from my friend who spotted him on the street in Austin this weekend. This means he's not actually in Montauk so I don't really have a huge reason to be leaving the house anyway. We all know Aiden isn't here (ugh) and who cares about Daniel. Am I right?
(I'm delusional).
Anyway…let's do this thing!!!!
Here's the results of the Vitamix S30 contest.
First of all. You guys are SO AWESOME!! I seriously am so beyond excited about how cool you are. The entries to the contest were so fun and hilarious. Some people even made videos with music!! To see them all you'll have to search the hashtag #healthycrush on instagram. Trust me, it's worth it.
It was really hard to pick just one winner, but my sister got on the phone with me and we went through all the entries together and we finally chose one that we both had a great feeling about. It's too bad I couldn't choose my sister's entry, because it's AMAZING. Check out all the energy she gets from eating maca. ;)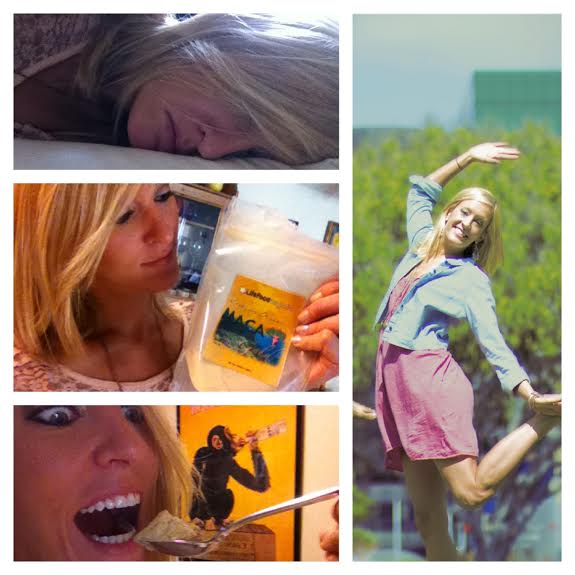 Anyway – to recap, I asked you guys to share your favorite herb or spice on instagram. The reason? Because I want to celebrate the fact that the Vitamix is good for more than just smoothies. We're talking savory delights. Sauces, soups, spreads, dressings.
Some of the herbs and spices you guys posted? Well, cilantro, of course. But also dill, lavender, curry, turmeric, ashwaganda, chives, basil, cinnamon, garlic, parsley, red pepper flakes, paprika, mint, ginger, sea salt and more. So many great ideas for creating delicious concoctions!!! Make me wanna get cooking NOW.
Originally, I was pretty sure I was gonna choose one of the cilantro ones, since cilantro is MY favorite thing in the world, and there were some great cilantro entries.
Ultimately, I chose to go with someone who clearly put a lot of effort into creating their entry. This girl went above and beyond what I was expecting — she took the time to line PEAS up into words — and she gave us a great recipe idea. That, my friends, is dedication.
So…drumroll please…the winner of the Vitamix S30 is:
@katehorodyski!!!!!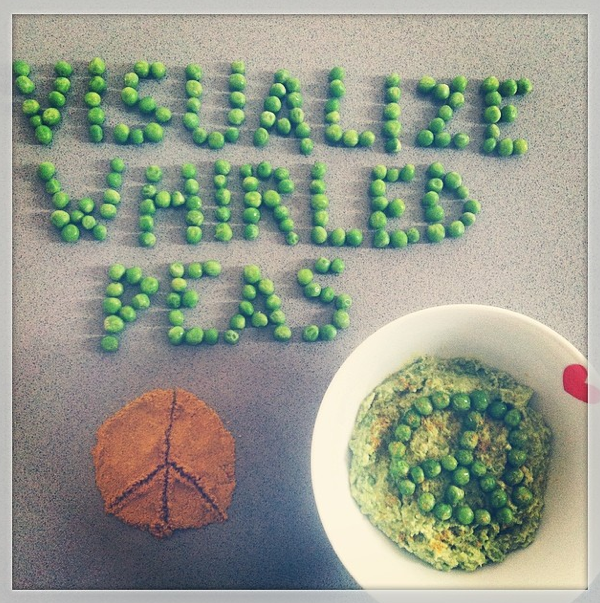 I love this!! So funny and it must have taken her forever to put it together. Look at the 2 peace signs! I'm so impressed. :)
She writes…
"Whirled green peas and curry powder with a message: Visualize World Peace. My favourite spice is curry powder – I add it to everything. I had some green peas on hand, so I made a hummus and subbed them in for the chickpeas."
Amazing! If you want to try that idea, here's a basic hummus recipe – just replace the chickpeas with green peas and make sure to add some curry powder. :)
Kate recently wrote on her blog that she's taking a break from social media – so hopefully she sees this. ;) Congrats, Kate! I can't wait to see what recipes you come up with in your new Vitamix S30. I've been using mine on the daily and I can attest to the fact that it is baller status amazing.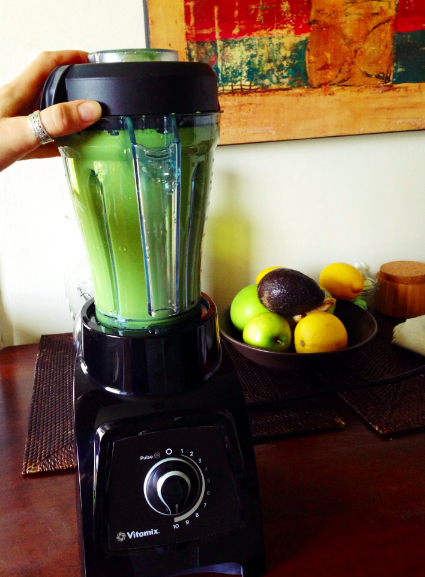 Ok, I love you guys!!!! Thanks for participating.
And thanks for bearing with me while I got distracted by every shiny object in sight. Sometimes life gets big and you gotta make room for it.
Catch you on the flip side.
Happy blending.
Also…here are 2 more songs that are probably already rocking your summertime jam fests, but let's just blast it off right.
Neon Trees – Sleeping With A Friend
Justin Timberlake – Not A Bad Thing
bye! xx