Last night, one of my best friends in the world and her boyfriend cooked dinner for me. It was a magical experience just being nourished and cared for by my friend (cooking is definitely one of my love languages), and one of the veggies, I had never tried before.
SUNCHOKES! 
What is a sunchoke!?
Well, turns out sunchokes are a pretty crazy type of root vegetable.
They LOOK like fresh ginger, originally go by the name Jerusalem Artichoke, and they're a species of SUNFLOWER!
They taste a bit like a nutty, tangy potato.
By the way, sunchokes have nothing to do with Jerusalem or artichokes, and the name "Sunchoke" was made up in the 1960s by a wholesale produce distributor.
Sunchokes are often eaten as a substiute for potatoes, and have a similar consistency, but the carbohydrates in sunchokes come in the form of inulin, which is is a prebiotic fiber that helps nourish beneficial bacteria in the gut and can be helpful in regulating blood sugar. For this reason, it's reported that it can be a good potato substitute for diabetics.  
Read More: Sunchokes Regulate Blood Sugar
Read More: Health Benefits of Inulin
"The most valuable attribute of sunchokes is that they are an exceptional prebiotic. The health benefits of probiotics are well publicized, but it's only recently that the importance of prebiotics has been recognized.

A prebiotic is a type of nondigestible fiber found in specific foods such as sunchokes, artichokes, asparagus, garlic, onions, chicory root, burdock root, dandelion root, plantain bananas, whole wheat, rye, and barley. Prebiotic foods encourage the growth and activity of beneficial microbes in the intestinal tract, thereby promoting overall good health." -Donnie Yance, Herbalist/Nutritionist
Read More: Sunchokes: A Humble Food With Many Health Benefits
How To Cook Sunchokes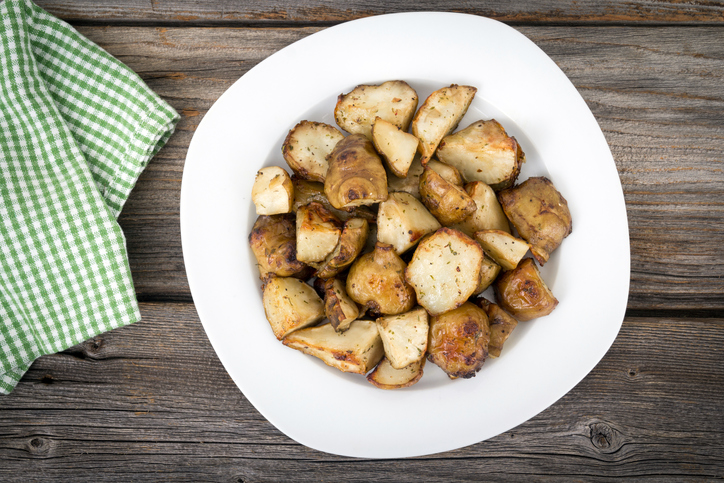 You can roast or sauté sunchokes just as you would potatoes or other root vegetables. The photo above is roasted sunchokes.
Last night, we sautéed them in a cast iron skillet with olive oil, salt and pepper, similarly to diced potatoes, cut up like the photo above, until browned and fork-tender. Here's a similar recipe: Pan-Fried Jerusalem Artichokes in Sage Butter (YUM).
Here's another cast-iron skillet one — Crispy Jerusalem Artichokes with Aged Balsamic
As for roasting, these babies would do great with olive oil, salt, pepper, and maybe some fresh herbs like rosemary or thyme. Here's a great recipe for Roasted Sunchokes.
You don't have to take the peels off the sunchokes, but it's a good idea to scrub them really well to get rid of any dirt.
Check out this article for a sunchoke soup recipe that looks incredible.
Read More: Wikipedia: Jerusalem Artichoke
These sunchokes were such a cool surprise. I can't wait to scope them out at the farmer's market and try making them myself. 
Have you ever had sunchokes? What's your favorite way to make them?
Love and sunny tubers,