Hey snugglies,
It's too cold to function today in New York City. This morning I was walking around in my Brooklyn neighborhood (Boerum Hill) and I had the hugest urge to dip into a coffee shop and book a plane ticket to somewhere warm. I even texted my friend Nicole who's currently in Antigua and told her to stay put, because it's too cold to even consider coming here. The good news, though, is that it was cold enough for me to (finally) take the AC unit out of my window today. So, that's an accomplishment.
I'm not going anywhere for the rest of the night as a matter of pure defiance towards the cold, so I figured I'd share with you guys the drink I drink almost every night before bedtime, to wind down and relax. I'm about to make some in a few minutes. Yesss..
Interestingly enough, whenever I speak to health coaching patients at Dr. Lipman's office about developing healthier habits, one of the most common things people say is they can't give up is their glass of wine at night. Now, I'm not telling you to give yours up, do whatever makes you feel good. BUT…if you're having that glass of wine every night mainly to help you relax and wind down, and you are up for a little experiment, you could try something else…something super relaxing and great for your body, and arguably just as fun as wine. :) Something called….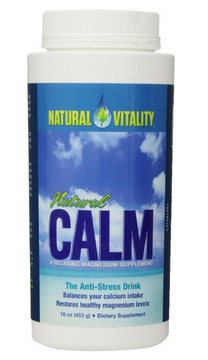 I mix about 2 teaspoons of Natural Calm magnesium powder into hot water, and I drink it as my pre-bedtime drink.
I love to drink this magnesium tea while I'm reading at night. I just finished reading The Girl On The Train, WTF WAS UP WITH THAT BOOK! Everyone in that story was completely and utterly nutso. But now I can't wait for the movie to come out in October. Side note: I do not recommend reading that book at night. Anything even mildly creepy makes me lay awake for hours bugging out, therefore negating the benefits of the magnesium tea. #life
Anyway, back to the magnesium. The cool thing is, it also comes in packets which are perfect for traveling with – ESPECIALLY if you have trouble falling asleep in new places or you get constipated when traveling (it helps with that too).
I usually use the plain flavor of Natural Calm, but recently my sister really got me liking the lemon flavor (which is sweetened with stevia). She came home for Thanksgiving and she didn't even know I was all about the Natural Calm. She was like, "hey, have you heard of this magnesium powder? I've been drinking it every night and I'm sleeping so well!" I was like…"wait, what? shut up. shut UP!!"
By the way, BE CAREFUL when you pour the hot water in, the magnesium is fizzy and may overflow! I suggest pouring the water in slowly. :)
A few benefits of drinking magnesium tea:
Calming and relaxing
Lowers stress and anxiety
Relieves constipation and helps with regularity
Boosts magnesium levels (which most people are deficient in)
Eases muscle cramping
Check out this Wellness Mama article about more benefits of magnesium & signs of magnesium deficiency.
Have you ever tried Natural Calm? It's the bomb diggity.
If you're having trouble relaxing in the evening or you're constipated, GIVE IT A TRY!!! *Spoiler alert: this tea is recommended as part of your evening routine in my Rapid Reset Cleanse!*
Order yourself some Natural Calm today (they also sell it in most health food stores).
I'm gonna go make my cup of magnesium tea now. So dreamy. Especially when I have my essential oil diffuser going. Who needs a spa when you have essential oils and magnesium tea in your own home? Yeah, try and get me cold weather!! I'm staying HERE!
Love and snuggles.
Stay warm out there my friends…