Hey sniglets!
Right now I'm sitting at a cafe in the El Born neighborhood of Barcelona. I've been here for a couple of weeks now (aside from a 3-day trip to Berlin) and I can say with confidence that Barcelona is my favorite city in the world (so far). You can see my photos of this beautiful city on instagram. I've never actually had a city that's claimed the exclusive title of favorite before, so this experience feels particularly sweet to me. I absolutely love the culture here, the pace of life, the food, the streets, the architecture…the general vibe of the city. I have been dancing through the streets! It's just that kind of town. I'm here in Barcelona for another 2 days before heading out to Portland, Oregon for the World Domination Summit. But before I do, I wanted to take some time to share my DNA test results with you guys. :)
Last week (was it last week?) when I posted my blog about Activated Charcoal, I mentioned that I'd post about my 23andMe results as my next post, so here I am, taking a break from wandering around eating tapas to give you guys an overview of what you can expect when you order the 23andMe test for yourself.
By the way, you could go down a serious RABBIT HOLE researching this stuff, so just use this post as a starting point. :)
What is the 23andMe test?
23andMe is a DNA test that uses your saliva to help you learn more about your genetic makeup.
What kind of information does 23andMe provide?
23andMe provides your ancestry information and can help you connect with potential DNA relatives. 23andMe used to provide health information (i.e. what risks you have for certain diseases, what genetic mutations you have, etc), but as of December 2013, the FDA no longer allows 23andMe to provide direct health information.
December 2013 – Pending an FDA decision, 23andMe no longer offers new customers access to health reports. Customers who received their health information prior to November 22, 2013 will still be able to see their health reports, but those who purchased after that time will only receive their ancestry information as well as access to their uninterpreted raw data.
Bummer, BUT guess what? There's a loophole here. See that little line called "uninterpreted raw data"? Yeah. There's where the gold is. :) Once you get your raw data from 23andMe, you can run it through a few different sites — Genetic Genie will do it for free — and get allllll the data interpreted for you about what genetic mutations you have and what this means about your health. NutraHacker will provide you a free report based on your raw data that tells you what supplements might be helpful or harmful based on your mutations. Promethease ($5) can give you an overview of your *potential* disease risks. I find this fascinating!!!
What I learned from 23andMe on its own: my ancestry composition. Turns out I'm 47.1% British & Irish, 17.1% French & German, 2.8% Scandinavian (ooh), and .4% Iberian (which explains why I like the jamon iberico so much in Barcelona…hehe!!!!)
Kinda interesting. (Find out your genetic makeup here).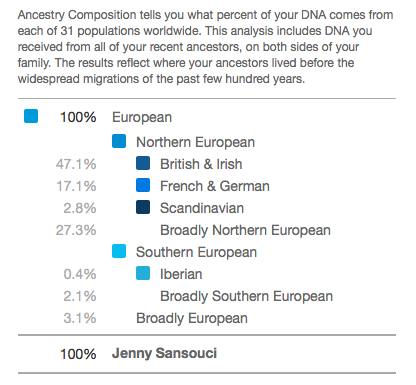 What I learned from Genetic Genie (free): my detox/methylation profile & genetic mutations:
After uploading my 23andMe raw data to Genetic Genie — the most important part of this for me was checking to see if I have an MTHFR mutation. I hear about this mutation a lot at Dr. Lipman's office and I kept having this little inkling that I may possibly have the mutation. Intuition. Along with many other things, having an MTHFR mutation can affect the way your body eliminates toxins, and can inhibit your body's production of serotonin, melatonin and dopamine (i.e. MOOD and SLEEP!)
In general I've always felt like things affect me a lot (bad quality food/toxins/etc) and have always had this feeling like I need to "do so much work" to feel good. I guess that's why I got into health and nutrition, ya know? Because I noticed such a significant difference in how I felt with different food and lifestyle changes. And whenever I go on a strict "detox" type of program I feel a million times better than when I'm not on one, maybe because my body needs extra detoxification support vs. someone who doesn't have the mutation and their body's natural detoxification process is stronger. Know what I mean?
Learn more about MTHFR here from Dr. Ben Lynch (one of the leaders in MTHFR research)
Turns out I have a double (homozygous) mutation on the MTHFR A1298C gene!! This is one of the major ones, along with MTHFR C677T (which I don't have a mutation on).

Info about MTHFR A1298C from Genetic Genie:
MTHFR A1298C is involved in converting 5-methylfolate (5MTHF) to tetrahydrofolate (THF). Unlike MTHFR C677T, the A1298C mutation does not lead to elevated homocysteine levels. This reaction helps generate BH4. BH4 is important for the detoxification of ammonia. The gene is compromised about 70% in MTHFR A1298C (+/+) individuals, and about 30% in people with a heterozygous (+/-) mutation. BH4 acts as a rate limiting factor for the production of neurotransmitters and catecholamines including serotonin, melatonin, dopamine, norepinephrine, and epinephrine. A MTHFR A1298C + status may cause a decrease in any of
these neurotransmitters or catecholamines. BH4 is also a cofactor in the production of nitric oxide. A dysfunctional BH4 enzyme may lead to mental/emotional and/or physical symptoms. Mercury, lead, and aluminum may act as a drain on BH4.
MEANING: I need more support to get rid of toxins (from food, environment, etc) feel my best, keep my immune system strong, and to produce feel-good brain chemicals. I knew it!
My other homozygous mutations (i.e. got them from both parents) in case you're interested:
My heterozygous mutations (i.e. got them from 1 parent):
MTHFR 03 P39P
COMT V158M
COMT H62H
VDR Bsm
VDR Taq
MAO-A R297R
MTRR A66G
MTRR K350A
BHMT-02
The Genetic Genie report explains what all of these mutations mean, and Nutrahacker (below) takes it a step further by recommending specific supplements to take/avoid.
You have to get the 23andMe test first, though!
What I learned from Nutrahacker (free): what supplements I should take/avoid based on my mutations:

This is actually super helpful to me. I already knew that some of my gene mutations would affect the way my body detoxifies in general (the MTHFR mutation specifically) but this was really cool to see. For instance, it recommends I take NAC and whey protein, which both help the body produce glutathione (the master antioxidant, responsible for efficient detoxification), and of course it recommends taking methylated folate and B vitamins to support my methylation process. Yowza! Am I confusing you yet? I know, it's a lot, but it's kinda cool you gotta admit.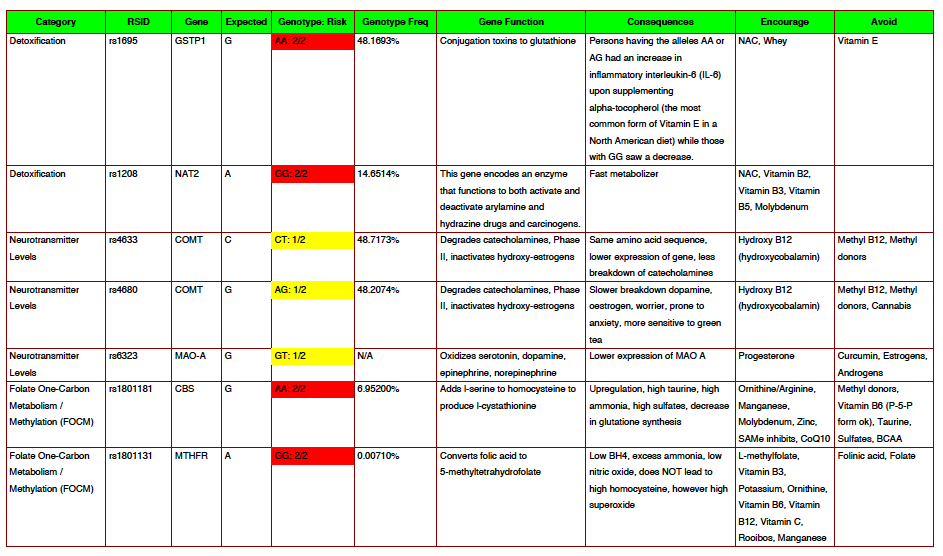 What I learned from Promthease ($5):
The Promthease test does provide a TON of information about possible disease risks, but I found it the least helpful because what I really wanted to know about was my gene mutations and how I could take action immediately. Knowing that I have an increased risk of developing endometriosis, that I have a high risk for developing a peanut allergy and lactose intolerance, that I have a hypersensitivity to drugs and medications, etc is quite interesting to read — but I have a pretty strong feeling that I can lower my disease risk significantly by living clean. So I appreciated the gene mutation/supplement reports more than the disease risk reports, personally. But you may really enjoy reading through this report, it is very detailed.
OK! So what am I doing now?
I actually think this is kind of exciting, because knowing stuff about your body is powerful. :)
I consulted Dr. Frank Lipman and also my friend/hormone expert Nicole Jardim and they both told me I should DEFINITELY be taking methylated folate and B vitamins. Nicole also recommended I take Crucera SGS (a broccoli extract supplement that supports phase II of detoxification in the body). I also take Activated Charcoal with ANY meal I didn't cook myself (i.e. restaurant meals) or when I eat or drink ANYTHING of questionable quality. I feel so good on it.
Supplements I'm taking to support my body's detoxification and methylation process, which is hindered by the double MTHFR mutation:
I am also OIL PULLING daily with coconut oil to further rid my body of toxins (I have been for a couple of months now). It's legit, read these Amazon reviews if you're curious about what kind of results you can get. And my mouth feels so fresh and so clean.
Ok so this is a jumping off point. Please don't take my blogs as medical advice, just use it as a starting point to do your own research on your own body!
Start by getting the 23andMe test!!
Anyone else have experience with this? Let me know.
Are you a MTHFR mutant too? Let's be friends!!!!!
Questions? I'll do my best. :)
I'm a newbie at this stuff but thought it was worth sharing.
Hasta luego…off to find some more tapas in Barcelona and take more activated charcoal. WAHOO! THE LIFE!
Love,
Jenny
P.S. Thank you big time to the Institute for Integrative Nutrition for getting me started on this whole journey of healthy living. You guys rule!