Coconuts make me so happy. There are so many things we can eat that come from them. Water, milk, meat…and even sugar!
You may have heard it called coconut sugar, palm sugar, coconut palm sugar, coconut nectar, coco sugar (the cutest name by far), coconut crystals, palm nectar, or something similar. A lot of health food products have been using it as a sweetener, many of them switching from agave, and I've tried it countless times myself.
In fact, a couple of months ago, I entered this recipe in a "Sweetener Upgrade" contest held by Purely Elizabeth, and I won an entire case of coconut sugar! That was a good day (and now I have to come up with lots of new sweet recipes). So with all the hype around this sweetener lately, I figured it was time to give coconut sugar some attention.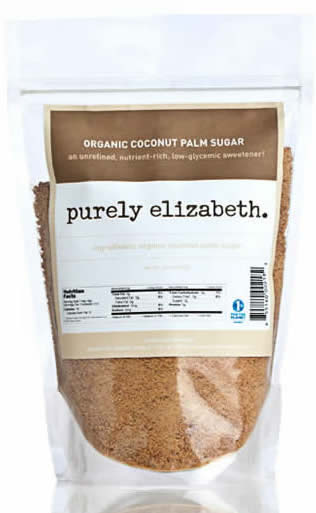 So, what is coconut sugar?
Coconut sugar comes from the sap of blossoms of the coconut tree.
Why is it healthier than refined white sugar?
Well, for one, it has a glycemic index of 35 (compared to cane sugar at 68). This means you won't get the super high blood sugar spike and crash like you would with regular sugar.
Coconut sugar also has a lot of minerals (potassium, magnesium, zinc, iron and vitamins B1, B2, B3, and B6) that stay intact through the extraction process, while white sugar is stripped of all nutrients.
Coconut sugar is considered safe for diabetics, but don't just take my word for it, please consult your doctor if you have diabetes.
Can I use it for baking, cooking, in my coffee….?
YES! You can substitute coconut sugar one-to-one for regular white sugar. It has a bit of a different taste, more like brown sugar….a little more caramel-y, so just be ready for that. It's really good.
I've made muffins, cookies, raw chocolates…and tons of other awesome stuff using this coconut sugar and it never disappoints!
THAT BEING SAID, MY FRIENDS….sweeteners are sweeteners, so let's not go overboard. Cool?

Have a yum-fest with some of my coco sugar recipes:
Gluten-free chocolate chip cookies

Vegan Pumpkin Muffins

Chocolate Chip Peanut Butter Banana Muffins
Check out this Dr. Oz video about coconut sugar
Order some coconut sugar here!
Have you ever tried coconut sugar? What do you think?