I've been drinking kombucha pretty regularly for about 5 years now and it totally rocks my world. My dream home has kombucha on tap 24/7. I can't even explain in words exactly what it is about it…but it makes my life more magical.
It's probably because there are probiotics in it that help with digestion, which makes everything better. Digestive health = incredibly important for all bodily functions. After all, good health begins in the gut.
"Having a healthy gut is connected to everything that happens in your body. That's why I almost always start helping people treat chronic health problems by fixing their gut." – Dr. Mark Hyman. Check out what else Dr. Hyman has to say about it.
Anyway, Kombucha is one of my favorite health drinks. It's becoming more mainstream these days, but I still get a lot of questions about what it is. Basically, it's a fermented tea. It's made with a kombucha "mushroom" (culture), green or black tea, and usually cane sugar. Wikipedia describes it as an effervescent fermentation of sweetened tea that is used as a functional food.
Because of the fermentation process, kombucha usually contains about as much alcohol as a non-alcoholic beer. It tastes a little bit like sparkling cider, depending on what flavor you choose. It's kind of an acquired taste. I remember the first time I tried one…I was like, "what the heck is this stuff? It tastes weird and I think I'm buzzed." Now, that very same weird flavor I tried for the first time (GT's Multi-Green) is my favorite go-to health drink.
To further answer about kombucha, I decided to head straight to the source, some of my favorite kombucha brewers, to get some more details for you.
—————–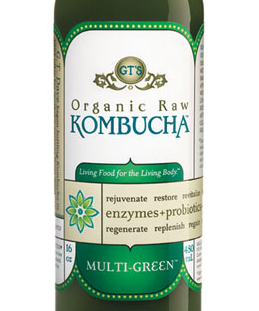 "What It Is – Totally raw, All natural, Organic, Naturally anti-bacterial/anti-fungal, Low in carbohydrates, Low calorie Naturally rejuvenating, Vegan, Kosher.
What It Isn't – Pasteurized, Sugary or overly sweet, Caffeinated, Artificial, Filled with preservatives/ additives
Serving Suggestions
Try one in the morning instead of coffee.
Have one an hour before your workout.
Sip it throughout the day for sustained energy.
Drink it with or without a meal to help control your appetite.
Drink one now! You'll feel better."
—————–
"We use the same technology that was used over the last two thousand years: by fermenting tea and sugar using a kombucha culture known as a SCOBY (Symbiotic Culture Of Bacteria and Yeast). When we add the culture to our special blend of organic, fair-trade sweetened tea, that's when the magic happens! It begins a several week-long process that transforms the tea to probiotic, yummy kombucha. Like winemaking and beer brewing, the art of brewing kombucha follows a special procedure, but is made unique depending on each kombrewer's special knowledge and technique. Kombucha is a fermented tea beverage that is both delicious AND health-supportive. Today, it is known around the world for its detoxifying and energizing effects. This elixir contains:
Probiotics
Polyphenols
B Vitamins
Vitamin C
Organic enzymes
Vital amino acids
Organic acids"
—————–
There's some more interesting information here on the Kombucha 2000 site.
There's a huge laundry list of health benefits people claim they experience from kombucha, ranging from digestive health to anti-aging to boosting immune system to fighting cancer- I can't confirm them all, but check it out for yourself next time you happen to see a kombucha. If nothing else, it will be a fun experiment, and you just might feel good. :)