Nothing motivates me or inspires me more than music. (Well, except for maybe cute guys who do yoga…oh, and of course, helping people). I kid. Admittedly, I don't really like to do aggressive workouts very often. Almost never. I've never liked going to gyms and I've never been into any type of aerobics classes. I prefer doing yoga and taking really long walks, wandering the streets of whatever city I'm in for hours. I used to run a lot, but after a couple of injuries I reluctantly learned to tone it down. But once in awhile, I feel like doing something more physically intense, like running up the stairs at Fort Greene Park in Brooklyn as many times as I can. Running up long flights of stairs is an aggressive workout that takes a lot of energy, and every time I do it, I've noticed there are certain songs that pump me up to keep going.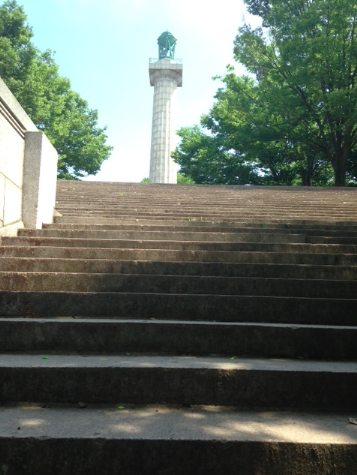 I have songs and playlists for all different moods and activities. You probably do too. Chill out songs, more spiritual feeling yoga songs, melodic moody love songs, and songs that are positive and inspirational…but for running stairs, I just need something that makes me feel more intense and fired up. It requires that I get in a totally different zone than I need to be in for a long walk or a yoga class. So I put together a playlist on Spotify called "STAIRS" – these are 25 of the songs that get my adrenaline pumping so I can actually get in the zone for this kind of workout.
NOTE: A couple (not all) of these songs are a tiny bit aggressive/vulgar (this ain't a restorative yoga playlist, friends), so if that makes you uncomfortable, don't listen to all of them (especially #6). If you're looking for super positive and inspirational songs, I got you here.
By the way, we're in the judge free zone here on this blog, in the trust tree, in the nest, so don't go around being all judgey about my music…or I'll delete you. ;)

So here are 25 of my current stairs-running songs. I actually tested every single one today running the steps at the park while I was thinking about writing this post and I can vouch for their effectiveness. Since not everyone has Spotify (although truly, Spotify is epic), I've linked to the songs so you can preview, purchase and download them as mp3s, if you want.
So light 'em up!
2) Fall Out Boy – My Songs Know What You Did In The Dark
8) Imagine Dragons – Radioactive
9) Patrick Stump – Spotlight (New Regrets)
10) Chamillionaire – Ridin' Dirty
11) Panic! At The Disco – There's A Good Reason..
.
12) Maroon 5 – One More Night
13) Justin Timberlake – LoveStoned
14) Fall Out Boy – The Phoenix
16) Gym Class Heroes – The Queen And I
17) Britney Spears – Break the Ice
21) The Offspring – Self Esteem
25) Fall Out Boy – This Ain't A Scene
Ok, I want to hear from you. Let me know what songs get you fired up to workout and I promise I won't judge! Let's collaborate in the comments.
What do you think are the best workout songs? What's on your workout playlist?