Recently, I had the pleasure of attending the Wanderlust in the City yoga event at the Santa Monica pier in Los Angeles, as part of the YogaAid World Challenge. The event was awesome – there were 2 free yoga classes outside – I did both, and ended up with a sweet yoga tank top tan.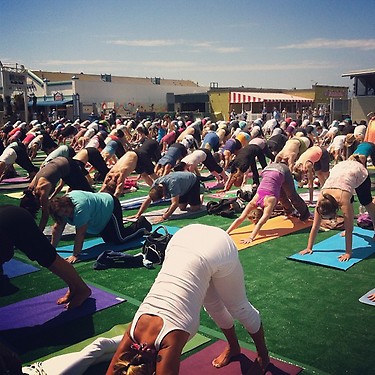 The event was opened up by Marianne Williamson and Seane Corn, who talked a lot about the way yoga and politics can be connected, and they previewed the conversation that will be happening at their upcoming event in November, Sister Giant.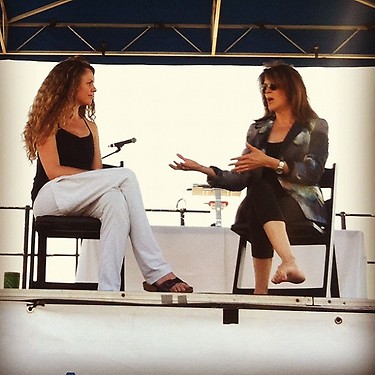 Marianne: We (yogis/people on a spiritual path) should be the last people sitting out of the political process. If you have clues and understanding as to what changes your life, which yoga and meditation gives you, you are someone who has clues as to how to change the country and change the world. Nothing is spiritual or enlightened if it would lead you in any way to ignore the suffering of other sentient beings. Some forces in our society would like to think people who do yoga are lightweight-thinking nutcases. Who's the nutcase? The ones who are destroying the planet or the ones who are trying to find inner peace?
Seane: Often in politics and activism, it's run by this male paradigm of action over vulnerability. I'm seeing a shift that's happening in the yoga community. People are moving, they're feeling, they're creating space for their vulnerability. When we feel, we can't help but become more empathetic. It's that empathy that unites, rather than separates. What would it be like if more people – men and women – ran for office or got involved in politics, but came at it from a more feminized interpretation?
Marianne: This is absolutely the essence of the Sister Giant message. We have 17% of the US Congress comprised of women. We don't have anything near equal voices of men and women. The problem is that women are not running for office. This is not just about gender, this is about a higher consciousness perspective. We're trying so hard to get away from negativity, anger and reactiveness – so we say "I don't want to go there." That's why Sister Giant is about creating our own conversation.
It's interesting – in some countries, they have 2 brands of toothpaste but 14 brands of presidential candidate. We have 14 brands of toothpaste but only 2 brands of presidential candidate. We don't owe it to either Democrats or Republicans to have the conversation they are determining. This community – yoga, transformation, higher consciousness – we need to stop thinking of ourselves as mere step-children to all of that, be the adults that we are prepared to be by things like yoga, and say, we're going to have the conversation we want to have, thank you, and make a difference, and make love. We need to change the organizing principle of human civilization from an economic organizing principle to a humanitarian organizing principle. That's not going to come from a corporate-controlled conversation. That's going to come from those of us who are listening to our hearts.
At Sister Giant, we'll be talking about the psychological, spiritual and emotional issues that are involved in having a political conversation that does not engage with the old paradigm.
I know a lot of people who know everything about politics, but haven't even begun the consciousness journey that we're talking about here. Then I know a lot of people who are really involved in the consciousness journey who aren't quite savvy with the political facts. If you take somebody who knows everything there is to know about politics but is just starting on a consciousness journey, that'll take years. But if you have people already involved in the consciousness journey, but just don't know all the political facts? Give me a weekend!!! I can take you there.
Seane: I hope you will all take advantage of this and join us at Sister Giant – it's November 10th and 11th in LA at the Saban Theater in Los Angeles. This is for people who are interested in running for office, interested in running a campaign, interested in getting the facts or just curious about why don't we engage politically. I know for many women in my life, one of the reasons is they don't have the education or information and it brings up feelings of insecurity. This is an incredible opportunity.
…at that point, my iphone overheated in the sun and the recording got cut off, so that's all I got. :)
The Wanderlust event finished off with even more high-vibes – a great performance by MC Yogi. He is so awesome. My favorite songs are "Sun Light" and "Give Love." Check them out!!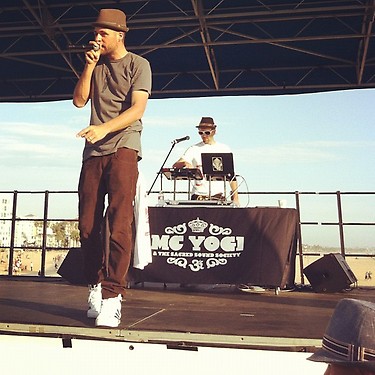 So what's the good word – anybody planning to go to Sister Giant? I will be there getting all the nitty gritty details for you if you can't attend!
Any thoughts on what Marianne and Seane said about yogis and politics?