Last summer, I left my apartment and life in New York with a heavy heart and ventured out to live in Los Angeles for a few months.
Every time I sat in a meditation and asked for guidance on what to do next, I kept getting the message "focus on your healing and everything else will fall into place." When I asked what I needed to do to heal, my intuition kept saying "yoga." So I listened. Once I got to LA, I threw myself into whatever yoga classes came my way. One day I decided to venture over to Runyon Canyon for a 10:30am outdoor yoga class in the park, taught by Daniel Overberger. Despite the fact that we were practicing outside on the dirt on a slanted hill, and there were sometimes bees buzzing around me and ants crawling around on my mat, it quickly became my favorite yoga class to go to.
The reason? Well, at the end of the class, Daniel would always say these words:
"You're living your dream. Don't miss it. Namaste."
Every time the class ended with that phrase, I would think about my life. "You're living your dream." I would realize that even though my life was far from perfect and I was going through some really difficult emotions, there were so many beautiful things I did have in my life that I'd only dreamed about in the past. Every time, it filled me with intense gratitude.
It also made me realize how much time I spend thinking about the things I don't have yet, the things I've lost, the things I need to "work on" and living from the "when I have _____ everything will be great" mentality.
While it's cool to have goals and dreams for the future, I think most of us spend a lot of time trying to get that next thing we want, and then saying "NEXT!" without actually taking the time to appreciate and be present for the beautiful life we've created. "You're living your dream. Don't miss it."
A few of years earlier, sitting at a 9-5 job, I had dreamed about creating a life where I could travel and live bi-coastally and do work that mattered to me. At the time, it seemed so out of reach. Now I was living it. My sister and I had always talked about living together. Now, I was sleeping in a bedroom across the hall from her in Hollywood. For so long I had dreamed about being a writer. Now I had a healthy living blog that was allowing me get press passes to yoga festivals on the regular. I mean, so much amazing stuff was happening that I wasn't really taking the time to fully appreciate. 
Maybe I didn't have everything I had ever dreamed of all at once, there was heartache and endless things to work on and improve and figure out, but it was true…in so many ways, I was living my dream. And in so many ways, through focusing on hurt and lack and endlessly searching for the next thing I needed to change, I was missing it.
With all of the gorgeous blessings in our lives, we so often choose to focus on the areas we feel lack. Focusing so much attention on what's not working in our lives totally takes away from the pleasure and enjoyment of what we do have, even if we feel like we're not "there" yet. I mean, really, are we ever "there" anyway? How about being HERE? Here is actually pretty damn good, if we would actually pay attention.
It reminds me of a quote from a Paramore song, "Looking Up" – this quote gives me the same feeling.
"Taking for granted most everything that I would have died for just yesterday."
Think about where you were a year ago, five years ago, whatever. What do you have now that you only dreamed about then? Big or small, it doesn't matter. Do you take the time to really soak up all the wonderful things you've created for yourself, or are you always just onto the next thing, never feeling like it's good enough or "complete"?
Sitting on my dirty yoga mat in Runyon Canyon with an ant crawling over my foot, I realized, even with all the tears and the difficulty, how kick-ass life really is.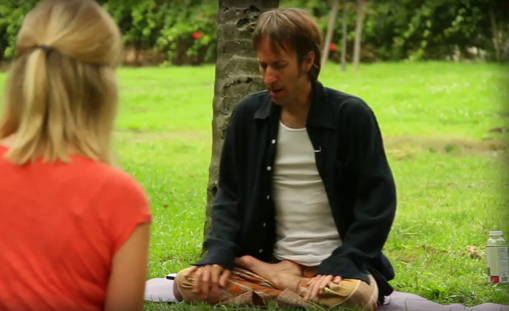 I decided to ask Daniel where he got the phrase, and what it means to him. Here's what he had to say:
"In 2003/4 I was working building and repairing home movie theaters. I was working at Joel Schumacher's (yes Batman Forever) home and I had to move his couch. Behind a large pillow that fell over was a small pillow with "you're living your dream don't miss it" printed on it. It was like a lightning bolt. It seemed ridiculous and complete profound in the same moment.
I had just gone threw a very traumatic time in my life. I felt I had looked death in the eyes and that changed EVERYTHING. I saw that my time here was short. From that moment on I thought, If there is anything you want to do, you had better get on with it. I stopped everything I was doing and wrote the words down. The original paper I wrote it on hung on my wall until just recently when I moved.A year later when I became a yoga teacher (05) it became my final statement in class, as it is to this day.
Imagine you're on your death bed and you say, I wish I would have……fill in the blank. Don't wait. Please start today. Live and experience your dream… NOW."

—–
I like that Daniel and I have slightly different interpretations of the quote, but the point is still the same: experience life now. Get to it!
What things about your life, big or small, are you experiencing today that you had only dreamed of? Are you taking the time to appreciate what you do have in your life? Let's get some gratitude on here, friends…
"I have been missing the rapture this whole time, of being forever incomplete." -Alanis Morissette