"What does unsustainable actually mean? It means it can't go on this way."
-Michael Pollan
There are a number of documentaries out there about the industrialized food system. At this point you've probably heard that industrialized agriculture and factory farming are tragically destroying our environment and our health — and are completely unsustainable practices. In fact, Michael Pollan describes the sanitation and pollution problem created by factory farms as "manure lagoons full of toxic waste, hormones, pesticides and pharmaceuticals."
It's great to be aware of these things — but what could happen if people actually did something about it? That's what the documentary Fresh explores — people who have taken action to create their own systems — systems that redefine the way they eat and live. Can you really create your own lifestyle that avoids supporting the industrial food system? These people have.
It's time to shift to a different paradigm.
Fresh, directed by Ana Joanes, features people around the country who are changing the way we eat. Some of the people featured include urban farmer and activist, Will Allen, sustainable farmer and entrepreneur, Joel Salatin, and supermarket owner, David Ball, who challenges our supermarket superstore-dominated economy.
One hog farmer in Missouri, Russ Kremer, spoke about what happened when he began using antibiotics in his hog farming.
While putting together what he thought was a more "efficient" operation, he says, "I spent half my day sometimes injecting pigs and treating them for diarrhea. It wasn't a very pleasant lifestyle." One day, a hog stabbed him with his tusk. 2 weeks later, his leg increased 50% in size. He had contracted a mutated infection from the hog that couldn't be treated with any antibiotics because it was an antibiotic-resistant monster strain.
Russ realized this was the kind of pork he was selling on the market. His conscience got to him, and he couldn't do it any longer. He had to exterminate his herd and begin to cultivate a new, all-natural hog farm. "By throwing my drugs away and eliminating my veterinary bill, I saved $14,000 in my first year."
Will Allen runs a non-profit called Growing Power in Milwaukee. Growing Power has six greenhouses and grows about 150 varieties of greens, veggies and herbs. He also raises animals like chickens and goats, has beehives and a completely sustainable way to raise fish like tilapia, re-creating a natural environment. His goal is to change the existing food system so everybody has access to healthy, sustainable food. Growing Power makes healthy, affordable, fresh food available to areas that mostly only have access to processed foods — and they sell the food to retail stores, food co-ops, and restaurants in Milwaukee and Chicago.
Joel Salatin, who runs a completely chemical-free sustainable farm and sells his produce to consumers and restaurants, says we can raise everything we need without any of the industrial food system — that we should marry the wisdom of our traditional heritage with the best of the technology we have today.
David Ball, owner of a chain of grocery stores in Kansas and Missouri, partners with local farmers to sell local food and support the health and economy of his community. At his grocery stores, he sells things like locally produced honey, meat and fresh produce, all of which supports the local farmers.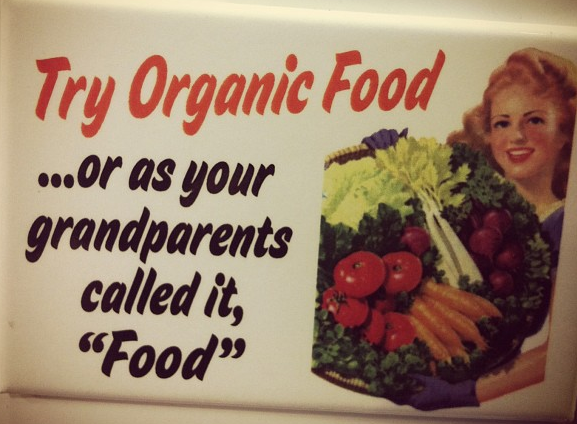 One of the complaints people often have about making organic food more widespread is that "you can't feed the world with it." According to Andrew Kimbell, Executive Director for the Center for Food Safety, that's completely wrong. "Medium-sized organic is far more productive than any-sized industrial agriculture. All those inputs – all the expensive machinery, the pesticides, herbicides and fertilizers make it unsustainable…our soil is depleting at 13x the rate that it can be replaced."
George Naylor, former president of the National Family Farm Coalition, is a voice for farmers who are growing conventional crops, paid for by the government, but they want to change. Many farmers have done what they had to do to survive, knowing it's not the best thing for themselves and society, but they would all go broke without the government subsidies. He says there needs to be a policy in place that supports sustainable agriculture and family farms.
So, what can we do? Well, there are lots of ways we can support local, sustainable, real food practices. Shop at a farmer's market. Join a CSA. Support farm-to-table restaurants. Become an activist. Maybe even grow your own food!
If you're currently doing any of those things, or have other great ideas on how to support this, please let me know in the comments! I'd love to hear.